Who is in Garth's team of the week? Marcus Rashford, Joe Gomez, Raheem Sterling

By Garth Crooks
Football analyst
Last updated on .From the section Premier League

There was plenty of derby drama in the Premier League, with Divock Origi's bizarre late winner sparking manic scenes of celebration at Anfield.
Earlier on Sunday, Arsenal rallied from 2-1 down to beat Tottenham, and there were good wins for Manchester City and Chelsea over the weekend too.
At the bottom, Southampton threw away a 2-0 lead against Manchester United and missed the chance to move out of the bottom three.
But which players shone to make it into my team of the week?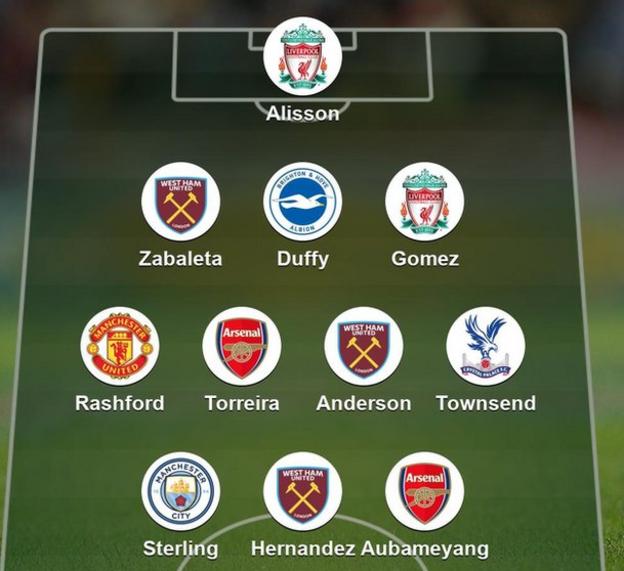 Goalkeeper - Alisson (Liverpool)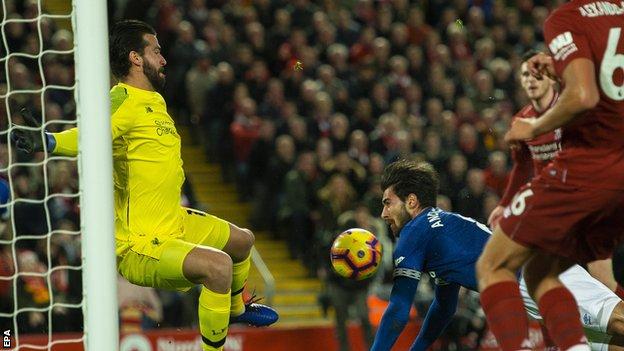 Two amazing saves by Alisson kept Liverpool in the Merseyside derby against Everton. The stop from Andre Gomes' header was superb, while his positioning to prevent Theo Walcott from negotiating his way around him to put the ball into an empty net cannot be underestimated.
Everton played brilliantly and Alisson needed to be at his best. A draw would have been a fair result - and that's how the game would have ended but for Jordan Pickford's moment of madness in the Everton goal. Precisely what came over Pickford, only heaven knows.
Did you know? Liverpool have conceded five goals in 14 games - the second-best record in history at this stage of a top-flight season (Chelsea let in four in 2008-09).
Defenders - Pablo Zabaleta (West Ham), Shane Duffy (Brighton), Joe Gomez (Liverpool)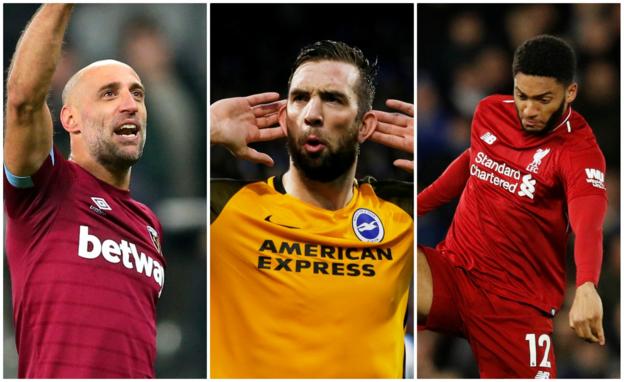 Pablo Zabaleta: He may be 33 and coming to a stage in his career where television punditry beckons but he's still very capable of making the crucial challenge when it matters. The full-back's tackle on Newcastle's Solomon Rondon when West Ham were 1-0 up was the turning point in Saturday's game. If Newcastle score it's a whole new ball game. Instead Zabaleta played a crucial part a rare clean sheet for the Hammers.
Did you know? Only Fabian Balbuena (10) made more clearances than Zabaleta (six) for West Ham in their 3-0 win at Newcastle.
Shane Duffy: No ifs, buts or maybes, Steve Mounie had to go. The Huddersfield striker's tackle on Brighton's Yves Bissouma was reckless, leaving referee Michael Oliver no choice but to give the player his marching orders. Once Mounie left the field, the game was over and it was only a matter of time before Brighton made the Terriers pay for their folly. The quality of Shane Duffy's timing into the box was matched only by that of his equalising header. What Chris Hughton is doing at that club is nothing short of the miraculous.
Did you know? Duffy won more aerial duels than any other player (11) as Brighton won 2-1 at Huddersfield on Saturday.
Joe Gomez: Regular readers will know what I think of Joe Gomez so I won't waste any more column inches on that. Suffice to say this: How the England centre-back kept the ball out of Liverpool's net with Allison beaten during Sunday's game with Everton, I will never know. Gomez is starting to display a sixth sense when it comes to the dangers in and around his own penalty area. Defenders such as Ashley Cole and John Terry had it, and so does this lad.
Did you know? Gomez made more clearances than any other Liverpool player (five) during their 1-0 win in the Merseyside derby.
Midfielders - Marcus Rashford (Man Utd), Lucas Torreira (Arsenal), Felipe Anderson (West Ham), Andros Townsend (Crystal Palace)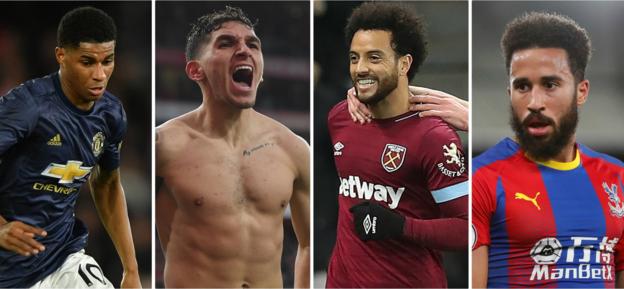 Marcus Rashford: This really can't go on. Jose Mourinho is killing Marcus Rashford. The lad pulled Manchester United from the jaws of defeat at Southampton and then Jose gave the one man who was desperate to win the game for him the hook? It made no sense.
The kid was on a roll and anyone who has played the game could see that. Mourinho may have won trophies but he destroys players in the process. He is doing to Rashford what he did to Arjen Robben at Chelsea. Rashford must get out of United now before what little confidence he has left is destroyed.
Did you know? In Saturday's 2-2 draw at Southampton, Rashford provided two assists in a single game in all competitions for only the second time in his United career (the other occasion being against Crystal Palace in September 2017).
Lucas Torreira: What a game of football the north London derby was! This match was a throwback to the derbies of old when both teams put everything on the line. Neither team gave an inch to the other but in the end, and I say this through gritted teeth, the best side won. Lucas Torreira was outstanding and the Gunners' driving force in midfield. The smallest man on the field had the biggest heart.
Did you know? As well as netting his first Arsenal goal in Sunday's 4-2 win over Tottenham, Lucas Torreira made more recovery challenges (12) than any other player on the pitch.
Felipe Anderson: I said a few weeks ago that Felipe Anderson had developed a taste for scoring goals. A run of four goals in four games makes the point. His performance against a battered Newcastle was outstanding. Anderson is no Philippe Coutinho but the Brazilian could be the man to finally replace Dimitri Payet.
The Hammers fans love a playmaker and while Anderson may not be as gifted as Payet, hopefully he will turn out to be considerably more loyal.
Did you know? Anderson had the best passing accuracy of any West Ham starter against Newcastle (88.6%).
Andros Townsend: The scene was set. Crystal Palace were playing at home, Wilfried Zaha had returned from injury and the ultras were back. All the Eagles needed was a display to get the Palace fans jumping again. Andros Townsend dutifully obliged with a goal worthy of winning a cup final.
I haven't seen Townsend play like this since his England days and that was also under Roy Hodgson. Read what I have to say about the return of the Palace ultras in the Crooks of the Matter below.
Did you know? In Palace's 2-0 win over Burnley on Saturday, Townsend scored and assisted in the same Premier League game for only the fourth time, and the first since he did so against Arsenal in December 2017.
Forwards - Raheem Sterling (Manchester City), Javier Hernandez (West Ham), Pierre-Emerick Aubameyang (Arsenal)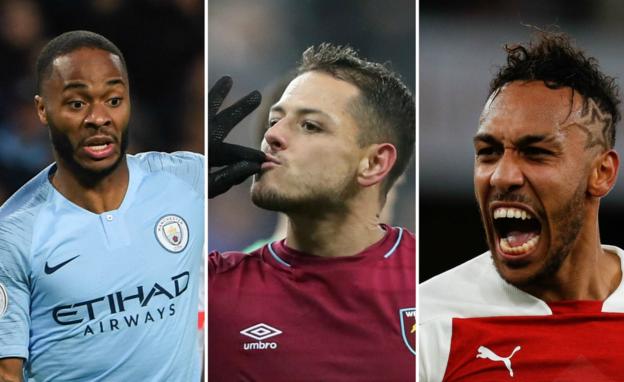 Raheem Sterling: I hope Raheem Sterling gives Pep Guardiola a mention in his prayers at night. Without the interventions of the Spaniard, Sterling's game would not have developed.
Against Bournemouth on Saturday, Sterling displayed signs of a world-class performer. He is unrecognisable from the precocious talent that left Liverpool, and it's all due to Guardiola. Manchester City have an excellent teacher as a coach while Manchester United have a manager who cannot teach.
Did you know? Sterling became the first player to score in each of his first six Premier League appearances against a specific opponent, thanks to his goal in the weekend's 3-1 victory against Bournemouth.
Javier Hernandez: All credit to West Ham's manager Manuel Pellegrini. He went to Newcastle and played with two up front and it paid off.
Marko Arnautovic and Hernandez always looked a threat but it was the superb finishing of the Mexico international that put the gloss on the sort of selection away from home that takes guts and deserves praise.
Did you know? Javier Hernandez scored with both his shots on target at Newcastle.
Pierre-Emerick Aubameyang: In big games, you need big players and Aubameyang always seems to deliver. His second goal in the 183rd North London derby was simply sensational. It left Hugo Lloris rooted to the spot and staring at the ball, praying for divine intervention.
Did you know? Aubameyang is the first player to 10 Premier League goals this season. He's scored with each of his past 10 shots on target.
Now it's your turn
You've seen my picks this week. But who would you go for? Pick your XI from our list and share with your friends.
Pick your Team of the Week
Pick your XI from our list and share with your friends.
The Crooks of the matter
And about time. I said in Crooks of the Matter at the start of the season that it was vital that the Crystal Palace ultras had to be reinstated as a matter of urgency.
Without their men in black, Selhurst Park was rapidly becoming a graveyard. A football ground without atmosphere is like a symphony orchestra without strings - it simply doesn't work. The team were starting to suffer from their absence; they were beginning to look somewhat exposed.
This is about something special between the fans and the players. The money men have no real understanding of this unique relationship. Owners only ever take matters like this seriously when there is a threat to their finances. Nothing focuses the mind like the threat of relegation.
Palace's victory over Burnley was very timely and the lift the ultras gave the entire event was enormous. Common sense has clearly prevailed and normal service has been resumed.