Willie Collum: No plans to keep referee away from Rangers games, says SFA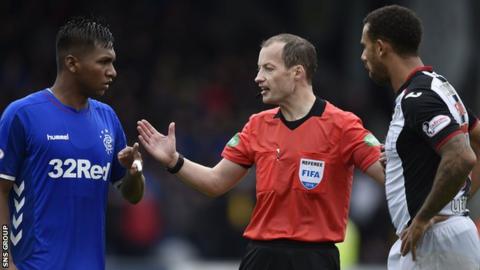 Scottish FA chief executive Ian Maxwell says there is no plan to prevent Willie Collum from taking charge of Rangers games while the club await the outcome of disciplinary charges over their criticism of the referee.
Rangers issued a scathing statement after Collum dismissed Daniel Candeias against St Mirren and a subsequent appeal against the second yellow card was unsuccessful.
That prompted five charges for Rangers in a notice of complaint from the SFA's compliance officer Clare Whyte.
But Maxwell told BBC Scotland: "Willie will be allocated games throughout the usual methods by our referee department.
"It's not something there's been any discussions internally about. The referee allocations will be made on an ongoing basis as they always are."
In a statement, Rangers said: "It is understood that a number of people within the Scottish FA are in no doubt Mr Collum's judgement was flawed" but Maxwell declined to elaborate when asked if the governing body is looking into whom the Ibrox club were referring.
"Obviously there's an ongoing notice of complaint. That process needs to be completed," he added.
"I'm sure that will be gone through and the panel will find what the panel will find. I don't think it's appropriate to get into the whys and wherefores.
"What I would say is that I think it's important as an association that we have lines of communication with all our clubs and that's something we're happy to do."
Rangers have until Tuesday to respond to the notice of complaint, with a principal hearing date set for Wednesday, 19 December.
Collum was the fourth official for Livingston's 1-0 win over Motherwell on Saturday and is not on the list of referees for six Premiership matches on Wednesday.