Premier League stats: Why Everton don't love their neighbours Liverpool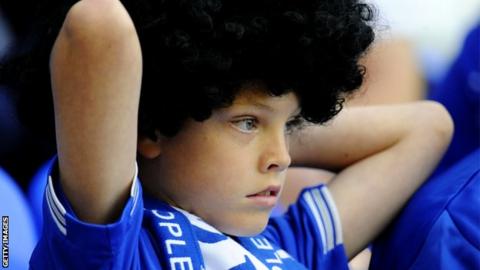 Love thy neighbour is a motto that a lot of Everton fans might struggle to go along with.
Because they really won't love seeing that lot who live over Walton Road and across Stanley Park.
When Liverpool substitute Divock Origi scored that bizarre injury-time winner in Sunday's Premier League game at Anfield, it was not the first time Everton had been left heartbroken at the very last by their neighbours.
In fact, it was the fifth time.
Liverpool have now scored five winners in the 90th minute or later against Everton in the Premier League.
No-one has delivered more late drama against another side in Premier League history.
As if that wasn't tough enough for Toffees fans to stomach, here are a few more stats to make them feel queasy...
Liverpool have kept 21 clean sheets against Everton in the Premier League - more than they've accumulated against any other side.
The Reds are unbeaten in each of their past 18 matches against Everton in all competitions, winning nine and drawing nine. It is their longest unbeaten run against their rivals.
Everton have not won in their past 22 matches at Anfield, a run stretching back to Kevin Campbell's winner in 1999.
A game of two halves for Arsenal....
Arsenal fans could be forgiven for slipping into football cliche this season - one in particular.
Because it has really been 'a game of two halves' for the Gunners on plenty of occasions this season.
If all of their 14 Premier League matches had finished with the half-time scoreline, Arsenal would be 19th in the table.
Unai Emery's side have not once led at half-time. They have been level in 10 of the games and, including Sunday's 4-2 win over arch rivals Tottenham, trailing in four.
After the break, it has been a different story.
Since losing to Manchester City and Chelsea in their opening two games, in which they also lost the 45 minutes after half-time, Arsenal have dominated the second half of their games.
The Gunners have showed renewed resilience and confidence under Emery - a never-say-die attitude that has seen them score 24 second-half goals this season.
Hernandez is a real 'fox in the box'
"He is that 'fox in the box' we have been talking about."
Francis Jeffers' predatory instinct was talked up by Arsenal manager Arsene Wenger when he signed the young Everton striker back in 2001 and it was a moniker that stuck with the Englishman throughout his career, even though he only scored 37 league goals in a 16-year career.
It would be better applied to Javier Hernandez. The Mexico international has scored all 48 of his Premier League goals from inside 18 yards.
The West Ham striker proved on Saturday he is still one of the best scavengers in Premier League penalty boxes, producing two clinical finishes inside the area in a 3-0 win at Newcastle.
Hernandez's tally is bettered by only one man, who often used his head...
Players who have scored all their Premier League goals inside the box
Tim Cahill
56
Javier Hernandez
48
John Terry
41
David Unsworth
38
Kevin Doyle
37
Ashley Ward
33
Iain Dowie
33
Carl Cort
28
Guy Whittingham
27
Jonatan Johansson
27
What about those players who did all their Premier League scoring from outside the box?
Obviously the 'long rangers' are not quite as prolific as the 'foxes in the box'. How many of those who only scored goals from 18 yards or more do you think you can remember?
Warning: this is tougher than sticking it in the top bin from 25 yards...
Can you name the Premier League's leading 'long rangers'?
Pace = problems = penalties
Defenders hate coming up against players with pace, don't they? Yes, judging by the Premier League players who win the most penalties.
Leicester striker Jamie Vardy scored from the penalty spot for the second successive week on Saturday, this time picking himself up to convert after being brought down by Watford keeper Ben Foster.
It is no secret the England international's pace is his biggest strength. Yet it seems Premier League defences have still not figured out how to stop him - fairly, at least.
Vardy has won 14 penalties in the league since the start of the 2014-15 season - more than any other player.
And the fact Raheem Sterling and Wilfried Zaha are just behind Vardy, and way ahead of the next group of players, indicates top-flight defenders make rash decisions and mistimed tackles when the speedsters are running at them in the box.
Who has won the most penalties?
* since the start of the 2014-15 season
Jamie Vardy
14
Raheem Sterling
11
Wilfried Zaha
11
Christian Benteke
6
Harry Kane
6
David Silva
6
Dele Alli
6
Eden Hazard
6