Hearts v Rangers: Steven MacLean on injuries, ageing & grabbing Kouassi

By Tom English
BBC Scotland
Last updated on .From the section Hearts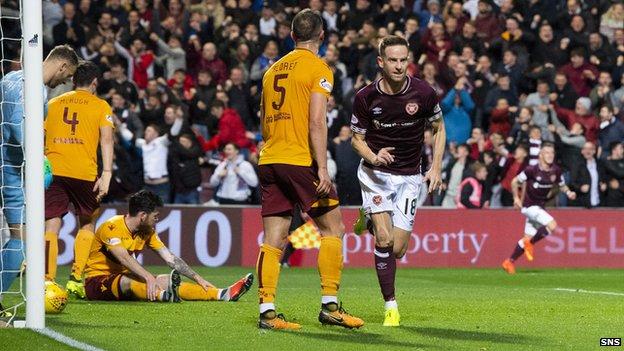 Scottish Premiership: Hearts v Rangers
Venue:
Tynecastle, Edinburgh
Date:
Sunday, 2 December
Kick-off:
12:00 GMT
Coverage:
Listen on BBC Radio Scotland; live text commentary on the BBC Sport website
When the final whistle sounded at St Mirren last weekend, Steven MacLean swallowed hard and then went to the away end to applaud the visiting Hearts support.
He did it while knowing that buckets of stick were going to be thrown at himself and his team following their wretched 2-0 defeat, but he did it none the less.
Gratitude was a part of it. So many had travelled and he wanted to acknowledge that. Contrition was another part of it. He knew that those fans deserved better than what Hearts delivered that day.
"We had to go and hold our hands up," he says. "Maybe as a team we thought we could just go there and win, but St Mirren were fit and hungry and they played like boys who were playing for their livelihoods and they did the dirty work and we never. We got stick and we deserved it."
Hearts are struggling to find a way through a bleak spell. A while back a bubonic plague descended on Tynecastle and took out some of their stellar players, most notably the central defensive partnership of Christophe Berra and John Souttar and the attacking threats that are Steven Naismith and Uche Ikpeazu.
One defeat in the first 16 games of the season has given way to four defeats in the past five as their injury-ravaged squad struggles to keep the show on the road. In those past five matches Hearts have not scored a single goal. In the previous five they scored a dozen times.
'It's wrong, but you laugh and get on with it'
In the midst of this poor run, MacLean got himself suspended for, er, a cheeky squeeze of Eboue Kouassi's unmentionables in a game against Celtic.
Not a lot of things have made manager Craig Levein smile this past while, but that was an episode that brought a chuckle, even if it did cost him his one fit striker for two games.
"You have to laugh about it," smiles MacLean. "I've been doing it for years and I don't know many times a goalie has done it to me and you just laugh and get on with it. It's wrong, aye, but I thought to myself after I got banned that when a goalie does it to me the next time am I going to go down and roll about? I'm not."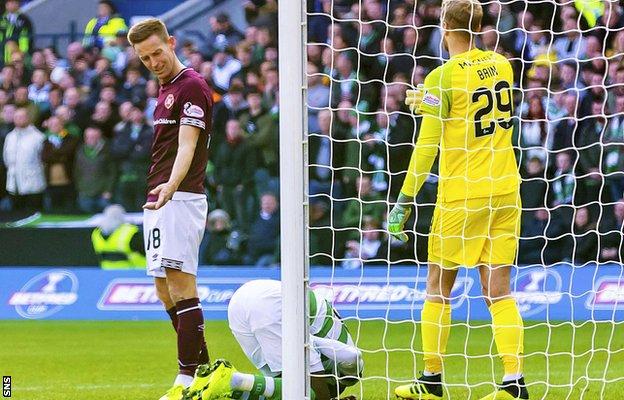 Things are not set to get any easier for Hearts. On Sunday, they host MacLean's boyhood club Rangers at Tynecastle. "We have a point to prove," he says. "They have more steel to them this season. You go toe-to-toe with the centre-half and you know you're in a game. If you leave one on somebody you know you're going to get a bit back. It'll be a proper game."
The turbulence that Hearts are experiencing is nothing new to MacLean. He's 36 and he's seen it all before in a career that started at Ibrox before taking him to Scunthorpe and Sheffield Wednesday, Cardiff and Plymouth, Aberdeen and Oxford, Yeovil and Cheltenham, St Johnstone, where he had his greatest days, and now Hearts.
As a senior man at the club - and a striker to boot - there's a burden on him, but it's one he wants to carry. "We've had a horrendous few weeks but we're still right there in the league table and that's down to the great start we had," he explains. "It's got to turn around now, though. We have to start picking up points again or else our good start becomes nothing.
"Myself, Naisy and Uche had a great understanding. We were speaking the same language up front, but we have to forget about them until they reappear. As bad as it sounds, they're no use to us now.
"We're in the trenches in a way. We had a get-together on Monday after the St Mirren game, a social thing, and it helped. We said 'what has gone has gone and let's forget about it and let's look after each other on the pitch'. It's when you have a few disappointments that you find out who the real characters are. Players can tell, the fans can tell. They're not stupid, they can tell who'll go through that extra bit to get a result."
'Some of the boys are the same age as my son'
MacLean's move to Hearts in the summer was a surprise, not just to a sceptical support, but to the player himself. His years at St Johnstone were the most satisfying of his career, his relationship with Tommy Wright going beyond that of player and manager and into friendship. It wasn't easy leaving, but a club as big as Hearts were a hell of a lure.
The striker isn't a social media animal, but his teenage son is and from Twitter's frontline his boy gave him updates about how the move was going down among Tynecastle's faithful. Very little of the feedback was favourable. He knew he had a fight on his hands to win them over.
"I spoke to Craig [Levein] and said, 'you'll get flak from the fans for signing me' and he said, 'don't worry, I can handle that' and I said, 'I can handle it, too'," MacLean recalls.
"I said I'll prove to the fans that I deserve to play for Hearts. I'm still hungry and I still want that adrenaline that football gives you. Some of boys in our dressing room are the same age as my son, who's 16. They keep you on your toes."
MacLean says he's energised by the youth at Hearts, but the truth is that the youth at Hearts could do with learning from MacLean's story of perseverance.
He has had to battle throughout his entire career. He left home in Peebles, bound for Rangers, before his 16th birthday and soon suffered the horrors of a ruptured cruciate. He's been a martyr to his knees ever since.
He had his first child when he was 19. "Becoming a father so early gave me that incentive," he explains. "I mean, I was a dad and I had to make my football work. It's all I knew. I went to Scunthorpe and scored lots of goals, then I went to Sheffield Wednesday and did well there, too.
"I'd had a broken leg and came back from it and then Cardiff came in for me. Lots more money, a second child on the way. What are you going to do? I loved my life in Sheffield, loved the club, but you have to go and earn your money, don't you?"
No regrets, not in joining Cardiff or making any of the other moves he has made, and certainly not in joining Hearts, where he is frustrated in the present but determined to use his experience on and off the park to make it better in the future. How could he have regrets when he's played more than 500 senior games and is still playing at one of Scotland's top clubs?
He carries on and on. What would he give for a win on Sunday? "Oh, anything and everything," he adds.