Sam Ricketts: Shrewsbury Town appoint Wrexham boss as new manager
Last updated on .From the section Shrewsbury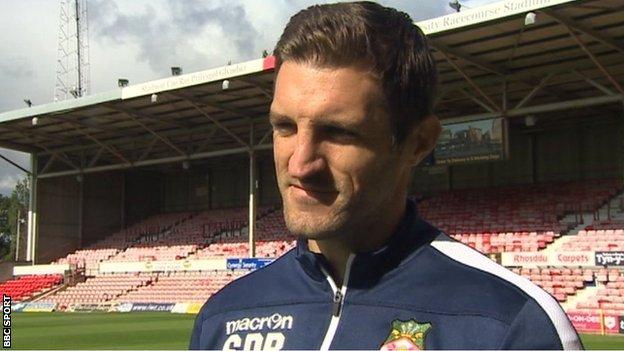 Shrewsbury Town have appointed Wrexham boss Sam Ricketts as their new manager.
Having impressed in his first role as a manager, the ex-Wales international had Wrexham fourth in the National League.
Ricketts' assistant manager Graham Barrow, the former Wigan Athletic and Chester boss, will now take charge of the first team on an interim basis.
Wrexham are now looking for their fifth manager on 'a permanent basis' since since Andy Morrell left in February 2014.
Ricketts' appointment, on a two-and-a-half year contract, ends Shrewsbury's three-week search for a new manager following the sacking of John Askey on 12 November, after winning just four of 17 league games during his five months in charge.
Since then, goalkeeping coach Danny Coyne has spent six matches in caretaker charge, winning five of them - including two out of three in League One to help the club rise three places in the table to 15th, seven points clear of safety.
Including the second of Coyne's two spells as caretaker boss, Ricketts will be the seventh man to pick the Shrewsbury side in less then five years - and their fourth of 2018.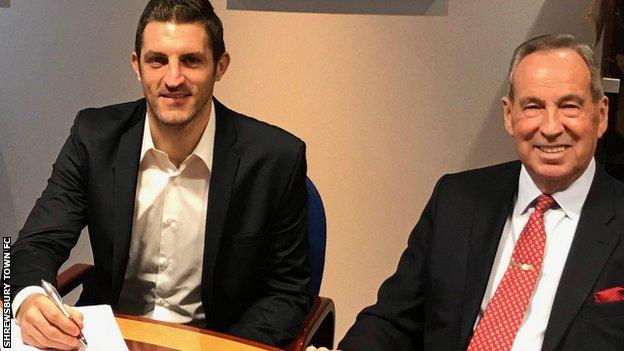 Shrewsbury club statement
"After discussions with Wrexham, compensation was agreed to allow the Town to speak to Sam. Those discussions have been successful and the club is pleased that Sam has agreed to join Shrewsbury.
"Whilst making the decision, chairman Roland Wycherley and chief executive Brian Caldwell were determined to include Danny Coyne in the selection process.
"Sam has known Danny for a number of years playing at international level together for Wales and he also knows (Shrewsbury head of academy - and caretaker assistant boss) Eric Ramsay, who he holds in high esteem.
"We believe that the appointment will add to and complement the existing structure and provide stability for success in the coming months."
Wrexham club statement
"Following an approach from Shrewsbury, we did everything possible to retain Sam's services. However, once this interest became known, Sam expressed his desire to speak to them regarding their vacancy.
"Shrewsbury triggered elements in Sam's contract enabling them to approach him and, at that point, we were obliged to allow him to speak to them.
"Following his discussions with Shrewsbury, Sam informed us of his intention to take up their vacant manager's position on Saturday morning and in the best interests of Wrexham, we asked him not to attend our FA Cup second round fixture versus Newport on Saturday night.
"Wrexham are in a strong position after 22 league games of the 2018-19 season. We are fully focused on further improving upon this situation going forward. Wrexham have already begun the process to appoint Sam's successor."
Shrewsbury's managers over the last five years

Graham Turner:

11 Jun 2010-21 Jan 2014

Michael Jackson:

21 Jan-12 May 2014

Micky Mellon:

12 May 2014-6 Oct 2016

Danny Coyne:

6-24 Oct (caretaker)

Paul Hurst:

24 Oct 2016-1 June 2018

John Askey:

1 June-12 Nov

Danny Coyne:

12 Nov-3 Dec (caretaker)

Sam Ricketts:

3 Dec-
Analysis
BBC Radio Shropshire sports editor James Bond
Sam Ricketts fits the bill for Shrewsbury Town, who declared they wanted a young, up-and-coming man in charge.
Ricketts is only 37, and after a 16-year playing career that includes some top clubs, he's made a good fist of things in his first managerial role this season at Wrexham.
Shrewsbury have shown during the three weeks since John Askey was sacked that they have a very capable backroom staff, which will help Ricketts in his first Football League post.
Ricketts already has a good standing in Shropshire. He played for the old Telford United in the 2003-04 season when they went bump.
He earned a lot of warmth and respect as one of the players who continued to play for no wages, helping to take Telford to the semi-final of the FA Trophy.