Liverpool v Everton: Best squad I've faced in Merseyside derby - Jurgen Klopp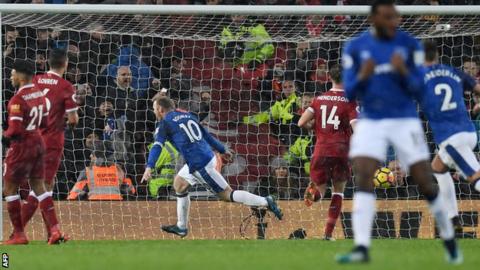 Liverpool manager Jurgen Klopp says his team will face the "best-tuned" Everton squad he has seen during his reign in Sunday's Merseyside derby at Anfield.
Klopp takes on Everton boss Marco Silva for the first time in the fixture, with the Reds aiming to make it 18 games unbeaten against their neighbours.
Klopp believes Silva has a better squad than predecessors Roberto Martinez, Ronald Koeman and Sam Allardyce.
"Analyse Everton and then tell me it will be an easy game," said the German.
"It will be a proper fight but we expect that in the derby. That's how derbies should be.
"He has the best squad. Since I've been at Liverpool, Everton was always really busy [in the transfer market] but now it's the best-tuned squad."
Liverpool are also looking to extend their 19-year unbeaten record against the Toffees at Anfield, but Klopp says he pays no attention to previous results between the sides.
"If you didn't say that I wouldn't even think about it. How can I know what people make of that? I'm not a bit interested," he said.
"You cannot make anything of these results in the past.
"We have to make sure as a club we create an atmosphere so exceptional it will make it a little bit easier for the players to come into it 100% in a fighting mood."
Liverpool are unbeaten in the Premier League after 13 games and go into the weekend in second place, two points behind Manchester City, who host Bournemouth on Saturday (15:00 kick-off).
Everton will remain sixth with victory but have not taken three points from Anfield since Kevin Campbell scored in a 1-0 win in September 1999.