Peter Mitchell: Former Leeds United player inspiring scholars after 2002 car crash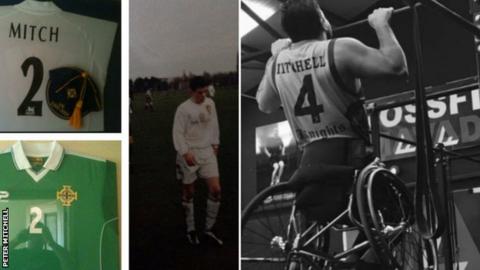 By the time the car came to a halt on its roof, it had left the road and veered on to a golf course. With his body sandwiched in between the front and back seats, Peter Mitchell tried to shout out "help me".
But no air could escape from the 18-year-old Leeds United right-back's crushed ribs. His back was broken in two places.
He had been a passenger, simply on his way to get some food. He had not been wearing a seatbelt. He lost the use of both his legs.
That was 21 July, 2002 - the day the Northern Ireland Under-19 captain's promising football career ended.
More than 16 years later, 34-year-old Mitchell speaks from his wheelchair to 18 young hopefuls at Forest Green Rovers' academy, with a powerful message - make the most of every opportunity.
Having refused to give up on his life, the former Coronation Street actor and international wheelchair basketball player has been giving a series of talks at English Football League clubs' academies this autumn.
"The big message is 'lads, you're here. You're living the dream. You're incredibly privileged. Grab your opportunity. Seize the day'," Mitchell told BBC Sport.
"It doesn't matter how talented you are. Your talent can only get you so far. You have to have the right attitude and apply yourself."
Mitchell's workshops - on behalf of League Football Education [LFE] aim to focus young apprentices on resilience, safe driving, and the fact that there is more to life than football.
He has been speaking to six clubs in Wales and the West of England before the EFL's Day of Disabilities on Monday, 3 December, when clubs "highlight and share some of the positive work that has been undertaken to ensure an inclusive environment for disabled supporters".
Nevertheless, Mitchell says he "hates" the word 'disabled', describing himself as "far from a broken man".
'Acting was a huge challenge - I did not even make the school play'
Since the accident, he has repeatedly looked to exceed expectations.
Lying in hospital in Belfast in 2002, he was told he would struggle to be home by Christmas. He thought 'I'll beat that', aiming to treat life like a match.
He made it home by October.
He admits to feeling "completely lost" for a while, before feeling like an independent man once again after playing wheelchair basketball for Ireland - one of many times when he has vowed to "make the most of every opportunity".
After taking a chance to present a documentary an unexpected career as an actor followed, starring in 15 episodes of Coronation Street as well as featuring in Hollyoaks and Doctors.
"I love a challenge. Acting was a huge challenge for me. I wasn't even in the school play. It was a lucky break for me but I grabbed that bull by the horns," he added.
"But nothing compares to football. Nothing touches it. Unfortunately for me, it was cut short."
Mitchell - whose grandfather was a Northern Ireland international and dad was a semi-professional footballer - recalls "living the dream" as a youngster at Leeds, who he joined in 2000.
He would spend two full seasons with the Elland Road club's youth teams, at a time when the senior side - which included Rio Ferdinand, Mark Viduka, and Harry Kewell - would go on to reach a Champions League semi-final.
"What a side. Leeds were also pumping money into the academy and I absolutely loved every second of it, at a big club," Mitchell recalled.
"I was never a 'wonderkid', technically gifted or tidy on the ball. I was just a grafter. I got stuck in. I was fit. I was fast.
"A lot of people lose that drive as they get older, maybe as they start going on nights out. I tell these lads: 'You've got the best job in the world. You're living the dream. Don't forget that.'
"It's a tough age for any young man. These lads are transitioning from boys to men."
The talks are part of the LFE's Life Skills programme, with other speakers - including Kick It Out's Troy Townsend - focusing on topics ranging from emotional well-being, to social media training, to equality and diversity.
"It is crucial to develop the person behind the player and connect on a level that will make a positive impact - not only in the short term but on future development," said Simon Williams, LFE Life Skills manager.
"Peter is inspirational yet humble, and tells a gripping tale. There is more to life than football and Peter reflects this powerfully through his mindset and resilience."
Vicky French, assistant academy manager at League Two side Forest Green, added: "It is not just about what happens on the football pitch, for our scholars.
"It is also incredibly important to us that they get a well-rounded education and can have successful careers in football or another walk of life."
Mitchell's talks - which have also been held at Newport County and Cheltenham Town - also hit home about how short a footballer's career can be.
"If you take your eye off the ball you can lose it, and you're only ever an injury away. It's a short career," he added.
But Mitchell has not always been able to speak about his accident.
He was first encouraged to help young players by former Leeds and Doncaster Rovers Belles forward Lucy Ward, when she was head of education and welfare at Leeds prior to 2015.
"I'd go back to Leeds and I'd be a blubbing mess. Lucy would have to come in and console me," he admitted.
"I wasn't ready then, it was still incredibly raw for me. But I'm 34 now. I'm ready, I can talk about it. Now I'm confident enough.
"If I can go and be in front of a camera and pretend to be someone else, acting on television, then I can talk to these lads."
'For two years, I could not watch football'
Yet the trauma of reliving the crash was not the only difficult mental aspect of Mitchell's recovery - for a long time, he found he was unable to watch football.
"In 2009, seven years after the crash, I couldn't watch football. It frustrated me too much. I spent around two years not being able to watch it," he continued. "It was too tough. I didn't watch it at all.
"Then one day a friend took me to Liverpool and I felt the atmosphere. That's when I got my love back. Now I can't watch enough of it, I drive my wife crazy. There's football on every night."
The LFE and the Professional Footballers' Association are lining up more talks for Mitchell in 2019 - but he also wants to broaden his involvement in the game.
"It's helping me as a person too, talking about my accident. And seeing the academies, I'm getting that hunger back and I'm thinking of different things I'd like to do now," he said.
"Scouting, or maybe going back home and coaching, would be something.
"My life has moved on. I have to learn to live with the frustration. I'm an extremely happily married man with a baby girl. Now it's about me growing as a person now. I'm ready now."