Dave King: Rangers chairman set to give evidence in contempt of court hearing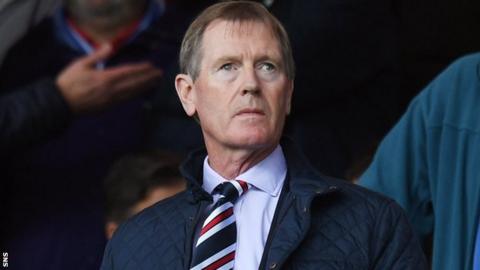 Rangers chairman Dave King is expected to give evidence at the Court of Session in Edinburgh on Friday on day two of his contempt of court hearing.
The South Africa-based businessman was in court on Thursday to watch evidence from members of the Takeover Panel.
The Panel is trying to force Mr King to abide by its code and make an £11m offer to buy out the rest of the club's shareholding.
He is required to do so after being found guilty of working in concert with other shareholders to take control of the club in 2015.
Before Lady Wolfe, Mr King's QC, Jonathan Mitchell, argued that few shareholders would be likely to take up the share offer of 20p per share as the recent share price has been higher.
The Takeover Panel said shareholders have already expressed an interest to buy at 20p but refused to give more details, when asked.
Senior judges rejected an appeal by Mr King in February against a court order requiring him to make an £11m offer for the remaining club shares.
He missed a legal deadline for making an offer in April, before the Takeover Panel launched contempt proceedings against the 63-year-old in July.