Wally Downes: AFC Wimbledon appoint former Brentford boss as manager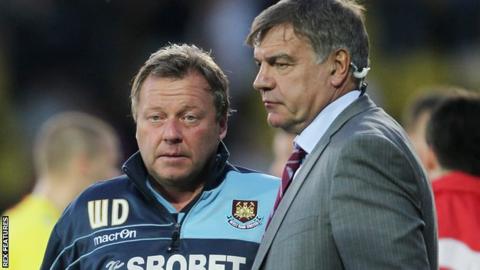 League One side AFC Wimbledon have appointed former Brentford boss Wally Downes as their manager.
The 57-year-old, who played for the old Wimbledon FC, replaces Neal Ardley following his departure on 12 November after more than six years in charge.
Downes was in charge of Brentford between June 2002 and March 2004, and has since held coaching posts at Reading, Southampton, West Ham and QPR.
Wimbledon are 23rd in the third tier, seven points from safety.
Ex-Wales, Fulham and Stoke coach Glyn Hodges has been named assistant, with interim boss Simon Bassey returning to his role as first-team coach and Steven Reid leaving the club.
"I am very proud to be appointed as manager of a club I love dearly," said Downes.
Downes played more than 200 league games for Wimbledon between 1977 and 1988 as the now-defunct club rose from the fourth to the first tier but, after a spell at Sheffield United, was forced to retire because of injury.
Since leaving QPR, where he worked alongside Harry Redknapp, he has been coaching at Indian Super League clubs Kerala Blasters, Jamshedpur and ATK and has returned from South Asia to take the Wimbledon job.
Social media comments 'a mistake'
In a statement, AFC Wimbledon said that during the recruitment process they became aware of some social media use by Downes, which they described as "not consistent with our values".
"We have talked at length with Wally about this, who has accepted that these messages were ill-judged and he has assured us that they do not represent his views," said the club.
"In the light of these discussions, we are satisfied that these do not represent Wally's views. We have agreed a series of actions with Wally that we believe will demonstrate his commitment to the club's values."
Downes added: "I apologise for my previous use of social media. My comments were meant to be humorous but on reflection they were a mistake."