Neil Warnock at 70: Cardiff City boss on his colourful career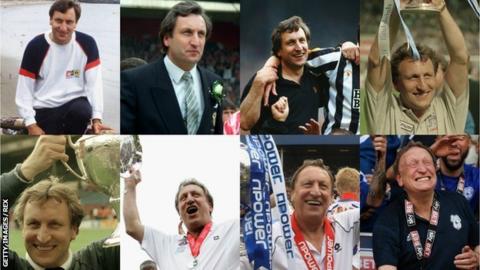 You can say what you like about Neil Warnock - and people often do - but he usually has an answer.
And despite his many detractors, Warnock's numbers speak volumes.
Like many long-serving managers, a review of his career can soon descend into a list of figures.
How about 50 years in football, more than 300 games as a player and 1,500 as a manager of 15 clubs, with whom he has earned eight promotions and countless censures for his outbursts on the touchline.
Warnock will reach another milestone on Saturday when he turns 70.
Although his peers of a similar age may be looking to wind down in their twilight years, the Cardiff City manager remains as divisive a figure as ever.
He is adored by Cardiff fans and loathed by opposition supporters, riled by his animated shows of pantomime villainy from the dugout.
And as his daughter Amy found to her cost recently, Warnock is also the unwitting star of motivational videos thanks to his expletive-filled rants featured in fly-on-the-wall documentaries.
"Amy's at university in Bristol," says Warnock.
"She said to me a few weeks ago 'Dad, you've been on our screen as motivation for us'.
"I asked what she did and she said 'cringe!"
Warnock revels in his status as a man who fans of rival clubs love to hate.
He has joked on more than one occasion that, when he dies, he hopes supporters will mark his passing with a minute's booing rather than a minute's silence or applause.
It is a quip typical of the mischievous sense of humour Warnock has developed during his 50 years in football.
A journeyman winger who played for eight different clubs, Sheffield-born Warnock instantly recalls the moment when, as a 24-year-old, he first considered management.
"It was Hartlepool, 1972," he says.
"We got beat at Boston in the FA Cup and [manager] Len Ashurst called us all in the next day and started on every player and what he thought of them.
"He got to me and I'll never forget what he said - what we should have done and why we let him down and the club down.
"I knew I could never get to the top. I wasn't good enough. I was a quick, brainless winger.
"I realised the only way I could get to the top was as a manager. I loved talking when I was playing and telling people what to do."
A certain symmetry
There is a certain symmetry to the fact that it was Ashurst - twice Cardiff's boss - who helped inspire Warnock to embark on a managerial career which, 46 years later, has taken him to the Welsh capital.
And it was during his time with Ashurt's Hartlepool when Warnock got his first taste of coaching.
"There were these young wretches who used to kickabout on the green about two minutes away from where I was," he says.
"One of the lads knocked on my door one night, asked 'are you so-and-so from Hartlepool?' and would I take them training.
"They must have caught me on a good day, and I looked at the state of them and told them to get everyone there for six o'clock the next night.
"I got a few balls from the club and took it like a professional, set a team up and I remember when we got our first point; we scored from a corner we had worked on.
"It was like a scene from Kes, running down the touchline, I felt brilliant."
For those with even only a passing familiarity with the Yorkshireman's fondness for storytelling, a reference to Kes - Ken Loach's classic 1969 film - is quintessentially Warnock.
He has an anecdote for any occasion, and a penchant to reminisce whenever he is interviewed.
It is no wonder, considering the deep well of material Warnock has garnered during a career in management which stretches back to 1980.
From a Yorkshire Sunday league at Todwick to Gainsborough Trinity - "I organised darts and dominoes nights after training to get the local supporters involved" - and Burton and Scarborough, who he took into the Football League in 1987, Warnock's CV bulges with clubs.
He set a new record for promotions when he won his eighth with Cardiff last season, a remarkable feat considering the Bluebirds were second-from-bottom of the Championship when he took over in the previous campaign.
"I've looked back more this week than ever with my 70th birthday coming up," says Warnock, who won successive promotions at Notts County in the early 1990s, as well as those at Scarborough, Huddersfield, Plymouth, Sheffield United, QPR and Cardiff.
"It's nice to think about the dressing rooms I've built up to get the successes we've had, but it would not have been possible without my family."
Family inspiration
Warnock and his family divide their time around the UK, between their house in Ogmore-by-Sea on the south Wales coast, their country homes in Cornwall and Scotland.
Warnock says one of his few regrets "is not managing in Scotland", but he admits he would not still be working had his wife Sharon not fallen ill in 2016.
"I would be retired now if Sharon had not got breast cancer," says Warnock, who will celebrate his birthday with a family meal the night after Cardiff's home game against Wolves.
"She was wired up having chemo and telling the nurse that I never wash a pot or frump a cushion.
"Tony Stewart [Rotherham chairman] had rung me about three hours before. I said 'Tony, not Rotherham, that's five hours away. Look where you are in the league and the fixtures coming up.' I didn't need that.
"But she goes off like that and I said 'listen, Tony's rang this morning from Rotherham, do you want me to go up there?'
"She said 'aye, bugger off' and that's how I got back into it at Rotherham, and now Cardiff'.
"I could go and manage Gainsborough Trinity next week, or even back in a Sunday league again, and it wouldn't worry me.
"A lot of managers feel like they couldn't drop down, but it isn't beneath me.
"Managers like me might be going out of fashion, but I just enjoy management and making people better."