Few shocks at start of African Confederation Cup preliminary round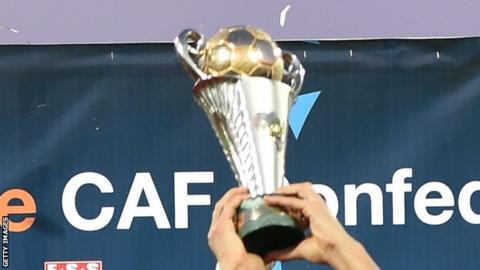 Kariobangi Sharks of Kenya were the most convincing African Confederation Cup preliminary round first leg winners on Tuesday, beating Arta Solar of Djibouti 6-1 in Nairobi.
Other clubs to win by wide margins included Mtibwa Sugar of Tanzania, Bel Abbes of Algeria, Petro Atletico of Angola and Hassania Agadir of Morocco, who all triumphed 4-0 at home.
The 10 first legs produced only one away win as Stade Abidjan of Ivory Coast left Mauritania with a 2-1 lead over Nouakchott Kings.
Kariobangi wasted little time establishing their dominance over Arta with a Duke Abuya goal and a Sidney Lokale brace giving the Nairobi club a three-goal advantage within 17 minutes.
Partillah Omotto got a fourth goal for the Sharks before Komenan Dar Konan converted a penalty just before half-time in a match between Confederation Cup debutants.
Ugandan George Abege and Fidel Origa scored in the final quarter to give Kariobangi a five-goal advantage ahead of the return match in Djibouti City next week.
Jaffray Kibaya scored a hat-trick and Riphat Khamis a last-minute goal as Mtibwa swept aside Northern Dynamo of the Seychelles near Dar es Salaam.
Bel Abbes finished strongly, scoring three times in the final 14 minutes, to overwhelm Liberian visitors LISCR with Mohamed Seguer bagging a brace.
Brazilian Tony made a late impact for Petro, netting twice in the last five minutes, to complete a convincing victory over Orapa United of Botswana in Luanda with Job and Va also scoring.
Jalal Daoudi and Ayoub Mallouki wrought havoc for Hassania against AS GNN of Niger in southern Moroccan coastal city Agadir, scoring twice each.
Stade Abidjan's Mory Gbane gave the Ivorians a flying start with a third-minute goal in Mauritania against Nouakchott Kings.
Ahmed Samb levelled early in the second half with Kouame Tanoh snatching a 75th-minute winner.
Another 12 first legs are scheduled for Wednesday and the return matches will be played next Tuesday and Wednesday with the aggregate winners securing last-32 places.
Tuesday's African Confederation Cup preliminary round first leg results:
Green Eagles (ZAM) 2-0 Young Buffaloes (ESW)
Kariobangi Sharks (KEN) 6-1 Arta Solar (DJI)
Mtibwa Sugar (TAN) 4-0 Northern Dynamo (SEY)
USM Bel Abbes (ALG) 4-0 LISCR (LBR)
Petro Luanda (ANG) 4-0 Orapa Utd (BOT)
San Pedro (CIV) 1-1 Armed Forces (GAM)
Nouakchott Kings (MTN) 1-2 Stade Abidjan (CIV)
Hussein Dey (ALG) 2-0 Diables Noirs (CGO)
Hassania Agadir (MAR) 4-0 AS GNN (NIG)
Salitas (BUR) 2-0 Wakriya (GUI)
Second legs: Dec 4/5