Stockport County: Blossoms on dreams of FA Cup glory and EFL return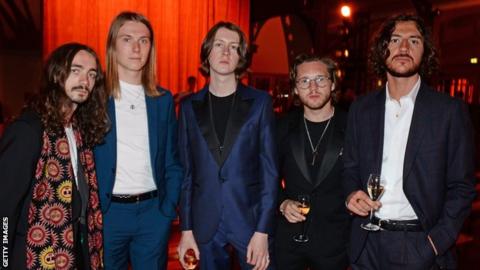 For some, ties to where they come from can be quite strong. For indie band Blossoms, their link to Stockport takes some beating.
Such is the band's pride in their home town, they will be playing a headline show at Stockport County's Edgeley Park stadium in June 2019.
The event sold out less than an hour after tickets went on sale, but it has been a long time since the ground has been packed out for a home game.
It is just over 20 years since Stockport County finished eighth in their first season in the second tier for 59 years, with Manchester City relegated from that division during the same campaign.
How times have changed. While City have enjoyed a well-documented rise to become one of the most formidable teams in the world, County are currently in their sixth season in English football's sixth tier.
BBC Sport spoke to Blossoms bassist Charlie Salt, Stockport legend Mike Flynn and former County midfielder and current Wigan Athletic boss Paul Cook to find out whether Sunday's FA Cup second-round tie against Barnet could be the catalyst for the return of the good times to Edgeley Park.
'Back where we should be'
"Whenever we're back from tour, I'll always try to get to a game if we're at home, but I struggle to get to away games these days."
Talk about commitment. Salt has supported County through thick and thin for his whole life and still manages to juggle watching the club with a hectic touring schedule.
Promotion from League Two through the play-offs in 2007-08 was followed by administration in 2009 and then subsequent relegations from the third to the sixth tier by 2013.
Despite the down times, Salt believes better days might be around the corner.
"It was really sad because Stockport have got a rich history and they're an old club. Just to see them spiral into non-league football was really upsetting," he told BBC Sport.
"There was a general gloomy mood in the town during those couple of years so it was sad.
"It's nice to see the club on the up at the minute, especially with the FA Cup game on Sunday against Barnet, so things are looking up."
County are 11th in National League North but, with a tight league table, a play-off place might not be far off come the end of the season.
But can the club ever regain their place in league football?
Salt added: "I'd love to see them do it, personally, and I think it would be fantastic for the town. I think they have got a very good team around them at the minute.
"I'd really like to see them get back into the English Football League and be where they should be."
'We only got re-elected because our pies were so good'
The 1996-97 season provided some memorable days for Stockport. As well as reaching the League Cup semi-final, they achieved automatic promotion from Division Two under Dave Jones.
"I played 66 out of 67 games and the memories of that season will never go away," former County defender Mike Flynn told BBC Radio Manchester.
"Part and parcel of being a Stockport fan is that it's a rollercoaster. If every week was win one, lose one, it would be boring."
Prior to their stint in the second tier in the late 1990s and early 2000s, things were not quite as rosy at Edgeley Park, much like the past few years.
"As a fan, when you think about those days in the 1970s and 1980s, if we scored a goal away from home you were pleased. That was the highlight," club director Steve Bellis said.
"We were applying for re-election in the Football League every year and on a couple of occasions we reckon we only got re-elected because our pies were so good.
"To be promoted and get to the semi-finals of the League Cup in 1996-97 with a great set of lads, it was just fantastic. Let's just hope we can get back to those days again. We have to live in hope that we can do that again."
But, should they progress in the competition, who would they want to meet in round three? One nearby club may not be top of the list.
Commercial and media officer Simon Dawson said: "We could get a Premier League team and who knows from there? We're all hoping we're in the hat and we get Liverpool or Manchester United.
"Personally, I don't want Manchester City because we've got such a good record against them and I don't want to ruin that!"
'The club was full of good players right through the team'
Former County midfielder and current Wigan manager Cook still looks back on those glory days of Championship football two decades ago.
Cook was part of a side managed by Gary Megson which included players such as Aaron Wilbraham, Kevin Cooper and Chris Marsden who all went on to play top-flight football.
"The famous game was the Man City game where we managed to beat them 3-1 in a big derby match," Cook recalled to BBC Radio Manchester.
"But the club was full of good players right through the team.
"It was a great club, good support and an example of a team where genuinely all the players knew their role in the team and very much functioned as a team.
"Gary was an excellent manager, he had so much passion for the game and the club was in a good place.
"Unfortunately now it's fallen a long way, but I'm a great believer that if fans stay with clubs they can one day return to where they believe they should be, and Stockport's fans have certainly stayed with the club, that's for sure."