League Cup: The inside story of Aberdeen's 2014 final win over Inverness
By Tyrone Smith & Stephen Couse
BBC Scotland Sport
Last updated on .From the section Aberdeen57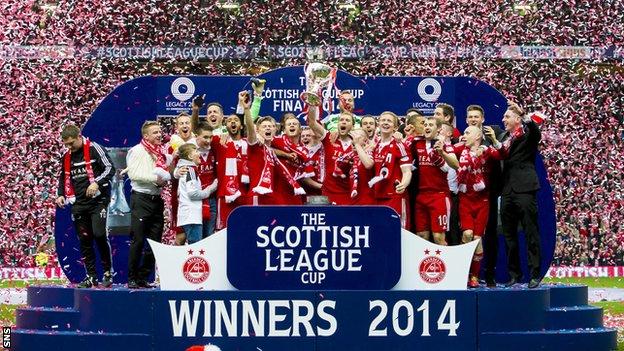 Scottish League Cup final: Celtic v Aberdeen
Venue:
Hampden Park, Glasgow
Date:
Sunday, 2 December
Kick-off:
15:00 GMT
Coverage:
Listen on BBC Radio Scotland; live text commentary on the BBC Sport website
A £400 carry out for the bus paid for by midfielder Barry Robson's credit card. A pep talk in the Celtic Park toilets. Table tennis in St Andrews. And the return of a 1980s hit to the iTunes charts.
Aberdeen's 2014 Scottish League Cup triumph over Inverness Caledonian Thistle might not have been a particularly enduring match, with two nervous side lurching through 120 goalless minutes, but the rich memories that it made have warmed many of those of a Pittodrie persuasion and deserve retelling.
Adam Rooney's winning penalty clinched a first trophy in 19 years for one of Scotland's most storied clubs and, as Aberdeen prepare to face Celtic in Sunday's League Cup final, BBC Scotland has been speaking to some of the main protagonists from that day four and a half years ago.
'We didn't want to think about not winning' - the pressure
The expectation on Aberdeen to deliver the trophy was high. This would not be a final against Celtic or Rangers. Or even similarly-sized rivals Hearts, Hibernian or Dundee United. Instead, it was Inverness CT. A club punching well above its weight in league position, but with far fewer resources and without a major trophy to their name.
Add in the fact that the Pittodrie club sold 40,000 tickets and had won two of the three league meetings that season, and the expectation on them was cranked up even more.
Aberdeen captain Russell Anderson: "Every day we were coming back from training and we were seeing queues of supporters buying tickets and it was surreal. Incredible. I think because neither half of the Old Firm were involved, a lot more families thought it would be an opportunity to bring their children down and really enjoy the game.
"It had been such a long time since we'd won a cup and there was an expectation level from ourselves because we realised it was a great opportunity. So we didn't want to think of the alternative really, coming back without the cup."
Goalkeeper Jamie Langfield: "The club took us to a hotel in St Andrews and we were based there for the week leading up to the final. It was relaxed. There was a games room so we'd go down there, have a bit of a laugh and a joke, playing pool and table tennis. And we got to train in beautiful surroundings.
"Taking you away from your family the week before, it was probably a blessing in disguise, because sometimes your wife, girlfriend or kids can be more nervous than you and it can rub off on you. But we enjoyed that week and the manager put us at ease."
Midfielder Barry Robson: "When you came out and saw the 40,000 fans you thought, 'this is a big deal'. And maybe more so for me, as an Aberdeen boy, knowing what it's like and knowing the expectation. It was a huge build-up and I was very nervous, but when I got over that line, on to the pitch, I felt free, I felt like a different person."
'Sheer relief' - the penalty shootout
Speaking in the immediate, jubilant aftermath, the usually taciturn Aberdeen chairman Stewart Milne told BBC Radio Scotland's listeners how he felt as the shootout began... "19 years, 120 minutes and now *#!*##! penalties," he exclaimed, his words since making their way on to assorted T-shirts and other merchandise.
The spot-kicks came after what defender Mark Reynolds described as "the worst game in the world", a drab, tense 120 minutes of turgid football in which there was barely a chance, let alone a goal. And so, penalties would decide it... not that McInnes wanted Reynolds playing a key role.
Centre-back Mark Reynolds: "I was the 11th choice to take one. At the end of extra time, the gaffer asked who wanted it, and I said I'd happily take one, and I think he blanked me.
"The manager has always said he's a big believer that penalties aren't luck - a shootout should be a skill and I was confident knowing the players were coming up to take them.
"Barry Robson was one of the best penalty takers we've ever had and loves a big occasion. Nicky Low was second, again a wee guy who thrives in that kind of environment - loves being the centre of attention. A lot of people would think, '60,000 people? Take a penalty? Not for me' but Nicky was buzzing off it. Scott Vernon, another very good one, and then Rooney, whose record was unbelievable."
Anderson: "When it comes to that point when you're waiting for that one kick, that one goal to go in, then the emotion at that point is probably a stronger emotion than lifting the cup, I felt it that way anyway, just the sheer relief as much as anything. It was an incredible feeling, I'd waited a long time for it."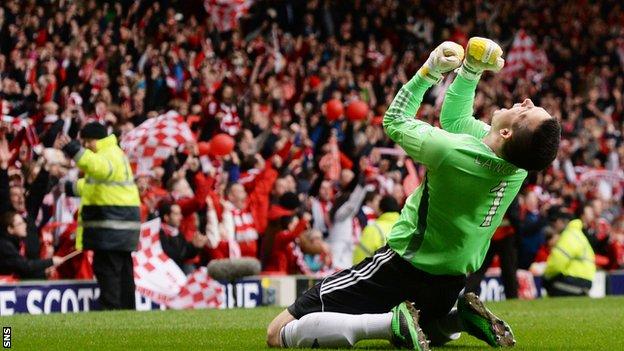 For Aberdeen fans like Anderson it was the end of 19 years of waiting, but for Langfield the victory felt even more significant. The goalkeeper had recovered from a brain seizure a few years previously, and described what it meant to him when Rooney netted the winner after he saved the first Inverness penalty from Billy Mckay.
Langfield: "When the final whistle went, the first thing I did was run down the tunnel and go to the toilet to get myself calm and composed. The kit manager, Jim Warrender, was there and he said to me, 'go on, big man, go out there and win it for us'.
"So for the first penalty, walking towards the goal with Billy Mckay, I actually had a smile on my face. I wasn't nervous, I was so confident I was going to save it.
"When Adam scored the winner, I sank to my knees and felt myself go a little bit. All I thought about was my wife and two daughters, who were at the game. I knew how much it would mean to them, and coming back from my illness. It felt like I could have been anywhere at that time.
"I remember looking at the faces of the fans and seeing some of the kids with tears in their eyes and grown men crying, and that for me was a special moment - that you can have this effect on people."
'I must have spent £400 on booze' - the celebrations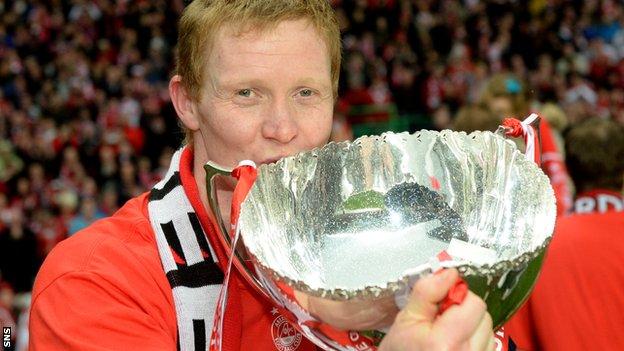 Around 100,000 fans lined Union Street in Aberdeen city centre the following weekend to celebrate the success as the team went on an open-top bus tour. But it was the four-and-a-half hour bus journey back to the north east on the evening of the final - one that was extended because of traffic delays north - that provides the more entertaining stories...
Robson: "I was never late in my career, but one day a couple of weeks earlier I'd read the time wrong and was late for a team meeting. So as a punishment, I said I'd buy all the booze if we won the cup. Sure enough, we did and on the way back we stopped at a supermarket and all the young boys were gathering bottles of things I'd never even heard of. It must have been a £400 bill I got for all this booze for the bus.
"It was a ridiculous journey - it's probably up there with the best few hours of my life. I was walking about the bus with a microphone, and I would get the next person to sing a song, and the bus was actually rocking from side to side. The feeling you get is ridiculous - that's what makes you want to go back and be a winner and keep being a winner."
Langfield: "It's probably the greatest four-and-a-half hours I've ever had. Everybody had to sing and some of the things that happened on that bus I'll take with me and I'll cherish. We stopped at a supermarket and filled the trolleys with the most amount of alcohol you've ever seen in your life - all on Barry's tab."
Reynolds: "We absolutely battered Robbo's bank card. I think at that point he wasn't even caring because he was that happy we'd won the trophy. It was just wild, just all the boys. I don't know if the manager planned it that way or if it was just a wee bit of good luck, but it just gave us a chance to be all together. With 40,000 Aberdonians trying to get back up the road it took forever, but it was incredible."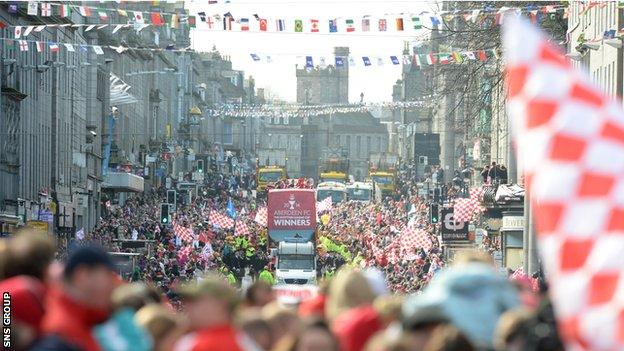 That was not the only astonishing thing happening, though. The supporters buses travelling north and the pubs in Aberdeen rung out that night with repeated renditions of The Human League's 1981 number one Don't You Want Me - only they changed their lyrics to "Peter Pawlett Baby" in tribute to one of the players.
A social media campaign in the build-up to the final had earned the song a place in the iTunes chart, and the victory not only helped propel it into the top five, but also caught the attention of the band themselves. The song rang out again the following weekend as around 100,000 fans lined Union Street in Aberdeen city centre to celebrate the success as the team went on an open-top bus tour.
Reynolds: "I think people had not seen scenes like that for ages. The amount of people who turned out there was unbelievable."
Anderson: "There was talk of how many people were going to turn up but you didn't actually know until we were on the bus at the top of Union Street, just seeing the amount of supporters there it was incredible.
"It's the same kind of feeling you had at Parkhead when you walked out to that display - it was just an incredible sight."