EFL: Better day for Bradford among five things you may have missed outside the Premier League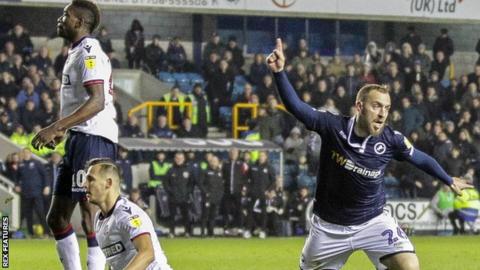 "We just thought we could stroll in here for an easy day. It's not been a good day for us."
Sheffield United manager Chris Wilder was not in the mood to sit on the fence after his side's 2-2 draw with Rotherham in the Championship in Saturday's early kick off.
The exciting finale at the New York Stadium proved to be the perfect starter for a great day of action outside the Premier League.
Here's five things you may have missed, including an irate Twitter admin and a player who had to answer nature's call...
Strange things happening at the Den
It was an unusual day at the Den.
First of all assigned referee Tony Harrington had to pull out because of illness prior to the game, meaning assistant Lee Swabey stepped into the breach.
Then, Bolton scored their first league goal in 378 minutes, thanks to a header from former Lions defender Mark Beevers.
Swabey succumbed to a calf injury soon after meaning that he had to go back to the job he had initially been given for the day and one of the other assistants took over in the middle.
"It was quite strange. A Millwall supporter was the fourth official and we were having a laugh with him because when their keeper made a great save, he couldn't help himself jumping up and applauding," Bolton boss Phil Parkinson said after the 1-1 draw.
"So we said "hold on a minute, you've got to be impartial" and the next minute he ends up running the line. This is a tough place for officials anyway - but he kept his integrity and did a good job."
Swabey wasn't the only official to have a rough day. One of the team on duty at the Hull v Nottingham Forest game picked up a pre-match ailment, meaning kick off at KCOM was briefly delayed.
Who'd be a ref?
Bargain Bantams end home wait
It's been a rough 2018 for Bradford City and their fans.
The League One side have had half as many managers (four) as they've won league games (eight) and their total of 32 points means they've won fewer than any other EFL side in this calendar year.
Realising that fans were, unsurprisingly, voting with their feet they decided to price tickets for today's home match against Oxford United at just £1.
The result? A crowd of 19,084 turning up to see a 2-0 win that gave the Bantams their first league win since 2 October and first at Valley Parade on a Saturday in eight months.
That's the good news, the bad news was that AFC Wimbledon's win over Southend meant they remained bottom of the third tier.
"I think it was thoroughly deserved," boss David Hopkin told BBC Radio Leeds.
"I explained to the players before the game that Bradford City fans turn up here in their numbers to support us not to try and make it difficult. I thought the fans were fantastic and the atmosphere was electric."
Rangel to the rescue for Rangers
Angel Rangel has achieved a lot in his 11 years in English football.
The Spanish defender joined Swansea City from Terrassa in June 2007 and helped the Welsh club win promotion from League One and the Championship and lift the EFL Cup in 2013.
However, one thing he had never managed, before today, was to score twice in a game. Indeed, going into Saturday's match at Stoke he had not scored since January 2017 and had just nine goals in 341 league appearances.
So you can forgive both Rangel and team-mate Jake Bidwell for appearing to find it genuinely amusing when the the former popped up to open the scoring against the Potters inside the opening 10 minutes...
The 35-year-old wasn't done there though, as he doubled his tally for the season with a late equaliser to send R's fans back to west London with a point.
Can Rangel make it three in a week when Steve McClaren's men visit Rotherham on Tuesday? Stranger things have happened...
Award for brutal honesty goes to...
It might have been a bad year for Bradford but it's been going south for non-league Worcester City for longer than 12 months.
Four years ago they were in the National League North and claimed a famous FA Cup first round win over League One Coventry City.
But that was then and this is now and the West Midlands side find themselves in the ninth tier, where they fell to a thumping 6-1 defeat at Westfields today.
Still, it could have been worse I suppose, they were 5-0 down and had goalkeeper Ben Jezeph sent off before half-time.
The Twitter admin did ask if the comeback was on when Kyonn Evans made it 6-1 in the 87th minute but was certainly in no mood for jokes at half-time.
Odubajo gets caught short
When you've gotta go, you've gotta go.
Brentford full-back Moses Odubajo had to briefly leave his post to go the toilet in the first half of their defeat by Middlesbrough.
It might not have been ideal but it was certainly preferable to the alternatives...