Real Madrid captain Sergio Ramos 'did not breach anti-doping rules' after Champions League final
Last updated on .From the section European Football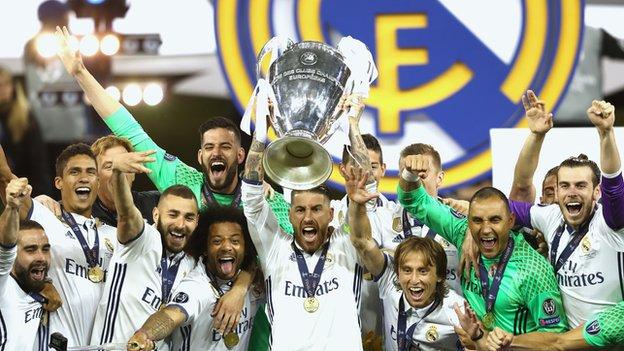 Real Madrid have denied captain Sergio Ramos broke anti-doping rules after the 2017 Champions League final in Cardiff.
Der Spiegel reports doping control officers were told Ramos, 32, had taken a different anti-inflammatory ahead of the final.
Uefa accepted an apology from Ramos.
The player blamed the club's doctor for the mix-up.
Real Madrid said in a statement: "Ramos has never breached the anti-doping control regulations.
"Uefa requested timely information and closed the matter immediately, as is usual in these cases, after verification by the experts themselves."
The doctor, in a letter to Uefa seen by Der Spiegel, said he had accidentally written the name of a different drug on the doping report after the match as Ramos was being tested.
Testers were told Ramos had injections of betamethasone in his left knee and left shoulder, which is also banned by Wada, rather than dexamethasone.
Both drugs, which are similar anti-inflammatories, are permitted under World Anti-Doping Authority (Wada) rules if they are declared at the testing stage.
Der Spiegel said the unnamed doctor from Real Madrid had noted down the wrong drug in the doping report following the game because of the "euphoria" felt from winning the title, and the fact Juan Carlos, the former King of Spain, and the country's prime minister had visited the doping control station to see Ramos.
Real Madrid beat Juventus 4-1 in the final and Ramos played the full 90 minutes.
A letter from Uefa, seen by Der Spiegel, said it was "very likely" the player and the doctor had committed "an administrative mistake".
"In the future, we ask you and your team doctor to be utmost cautious when completing the doping control form and more precisely the declaration of medication," the letter said, according to Der Spiegel.
In a statement, Uefa said: "Uefa strongly and categorically refutes unfounded allegations it has covered up positive doping results.
"All Uefa doping control cases are conducted in full compliance with the Wada Code."