Referee attack: Three players given 40-year bans for assault on Daniel Sweeney
Last updated on .From the section Irish
Three players have each been given 40-year bans following an assault on a referee at an amateur game in the Republic of Ireland.
Daniel Sweeney suffered a broken jaw and other injuries when he was attacked after Mullingar Town played at Horseleap in County Offaly.
Three Mullingar players have been banned by the Combined Counties League.
Another ex-Mullingar player had his lifetime playing ban extended to include all football activities.
"The vicious, unprecedented level of violence directed at Daniel was unprovoked, unwarranted and unjustifiable," the league said in a statement.
Police inquiries into the incident are continuing and no arrests have been made.
The former player - who was a spectator at the match - had already been banned from playing and he will no longer be able to take part in any football-related activity under the jurisdiction of the Football Association of Ireland.
In addition to the lengthy suspensions, the executive committee of the CCFL has also fined Mullingar Town €500 (£442) for failure to control its players, with the fine to be given to the Daniel Sweeney Recovery Fund, which was set up by the club and has so far raised €200 (£170).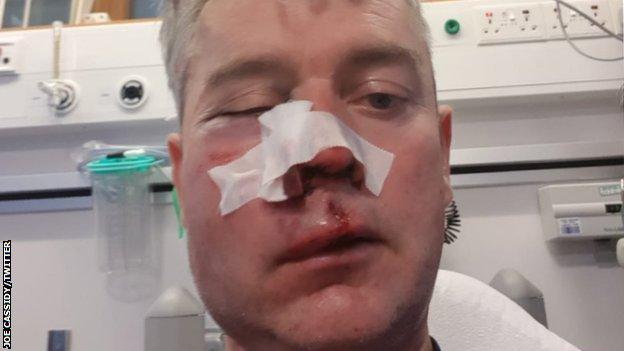 Sweeney underwent surgery lasting five hours after being attacked in a car park near the pitch.
The Combined Counties League also ruled that three match officials must be in attendance at all of Mullingar Town's matches for the remainder of the season and the club must also appoint an independent liaison officer to assist referees.
"The incidents that occurred at the end and in the aftermath of this football game are not representative of the magnificent work undertaken by the volunteers in the administration, playing and refereeing of association football in our league or across any of the great leagues under the jurisdiction of the FAI," it said.
"The committee is committed to working with the FAI and relevant referee's bodies to encompass any proposals that may be introduced to enhance current policy," the statement added.
The executive will meet with Mullingar within the next three months to review plans for an improved club structure.