Harvey Gilmour: Tranmere midfielder named EFL Young Player of the Month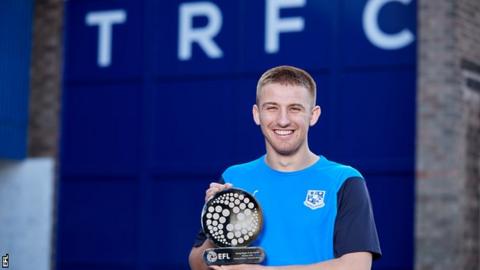 "I've moved away from the family, but I come back on weekends. I live with one of the Tranmere boys so it's not too bad, I'm never alone."
It is fair to say that Harvey Gilmour's brief senior professional football career is going pretty well so far.
The 19-year-old, on loan from Championship side Sheffield United, has had an eventful few months since joining League Two Tranmere Rovers.
After the onerous step of leaving the family home, the young midfielder has taken to life in a first-team environment with ease.
Having never previously made a senior appearance, he is featuring regularly for Rovers, and his breakthrough season has been marked by October's English Football League Young Player of the Month award.
BBC Sport charts Gilmour's emergence on the first-team stage and how a remarkable game against Morecambe summed it all up.
A 'surprise' brace
Put yourself in Gilmour's shoes for a minute. You've featured in four League Two games since joining Tranmere, but you've yet to start one or even find the net in a senior game.
It's October, three months into a six-month loan spell, you're eager to make your mark and you're handed a place in the starting line-up for the first time in an away trip to Morecambe.
Then it happens. You score your first-ever first-team goal, but the fun and games aren't over just yet. As Morecambe claw their way back to 3-3, you also net a dramatic 89th-minute winner.
"That's when I realised all this was real, especially after scoring the winning goal in front of all the fans," he told BBC Sport.
"I got back onto the coach home and sat on my phone and I got notification after notification.
"It's hard to put into words just how good that feeling is but I've been dreaming about it since I was a little kid and scoring two goals was massive for me.
"The first goal was my first in senior football and to score twice was a surprise to me as much as it was to everyone else."
'Getting to play was everything'
After coming through the Sheffield United academy, which has recently produced England international Harry Maguire and Wales international David Brooks, Gilmour knows it can be a tough road to developing into a senior pro.
"For myself it was hard to step up to senior football because of the expectations they have of you compared to the 23s. It's a massive step up," he continued.
"You've got to mature quite a lot being a senior player. I've got a lot of role models at this club who I look up to for advice to help me."
The youngster's time at Prenton Park will end as we enter the new year, but Gilmour has already got what he wished for out of the loan spell.
He added: "The next two months will be massive for me. Obviously I can't decide whether I stay or not but hopefully everyone can come to an agreement if I do or not.
"Getting to play a lot of football was everything I wanted. When I first came here I didn't think I'd get as much football as I am doing."