Ifab: New rule for substitutes leaving the pitch proposed by football's lawmakers
Last updated on .From the section Football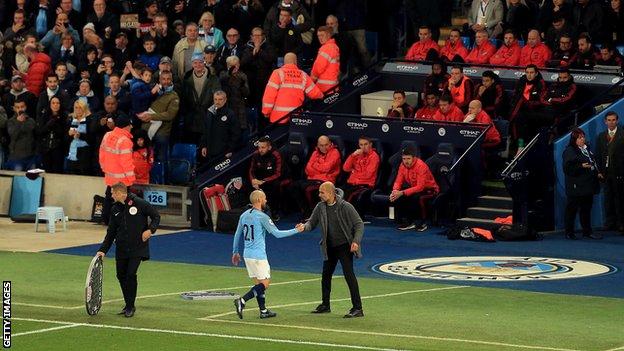 Substitutes will have to leave the pitch at the nearest goalline or sideline instead of walking to their technical area, under new proposals recommended by football's lawmakers.
The move is designed to stop time wasting by substitutes.
Other proposals include abolishing the "ABBA" format for shootouts and introducing yellow and red cards for team officials.
The wording around handball situations will also be revised.
The International Football Association Board (Ifab) said the handball topic was "debated at length" with a "more precise and detailed wording for the different types of handball offences" needed, with an emphasis on "non-deliberate" handballs.
Ifab will vote on the proposals at its annual general meeting on 2 March.
Other law changes recommended at Ifab's annual business meeting in Glasgow on Thursday were:
Changes to the dropped ball procedure;

Goalkeepers only being required to have one foot on the goalline when a penalty is taken;

The ball not having to leave the penalty area at goal-kicks;

Defending team free-kicks taken inside the penalty area.