Jose Izquierdo: Brighton forward on love for lost brother and 'the pet pig'

By Phil McNulty
Chief football writer
Last updated on .From the section Brighton
Premier League: Brighton v Leicester
Venue:
Amex Stadium
Date:
Saturday, 24 November
Kick-off:
15:00 GMT
Coverage:
Live text commentary on the BBC Sport website; updates on BBC Radio 5 live
Jose Izquierdo is a Premier League footballer with a difference - Brighton's Colombian forward has a pet micro-pig with 34,000 Instagram followers for a start.
The 26-year-old, signed from Club Brugge for a then club record of £13.5m in August 2017, is a livewire, joyous personality who exudes warmth on a freezing day near the coast at Brighton's Lancing training headquarters.
He is also, behind the smiles, dedicated and professional with a poignant story to tell about a rise from humble beginnings in Pereira at the foot of the Andes to Brighton, inspired by the death of his beloved older brother.
When Diego Julian was killed in a car accident at the age of 29, for Jose, 14 at the time, football was no longer his priority.
"We had a very close relationship and we loved each other a lot," Izquierdo told BBC Sport.
"I believe in God and I have religion. I think he's the angel I have in heaven that takes care of me and is very proud of me and the things I'm doing until now.
"When he passed away I was thinking I will stop football. In four years nothing was changing. In those years there was difficulties and pressure on my mother because the football was not working as you expect so I tried to do another thing."
When his brother died, Izquierdo's more serious football aspirations were put on hold and for a time he mixed sport and study to support his family, studying business management for 18 months as a safety net if he did not fulfil his ambitions.
"In the beginning I didn't realise I would like to be a football player because my dream when my brother was alive was to be an engineer like him," he said.
"When my dad got in a crash or anything my brother was always the person who came to help him.
"Maybe some people leave this world earlier than other ones. My brother was an inspiration."
How being terrible at tennis sparked a football career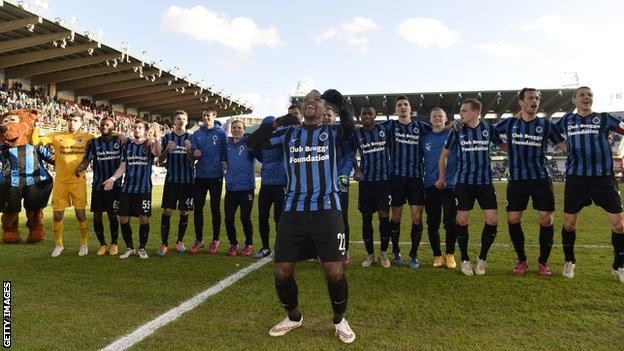 Izquierdo's journey to Brighton via Belgium started in Colombia with a letter from his school announcing the start of extra-curricular activities for pupils in Pereira.
"It was funny. There was basketball, tennis, football and I think the other was volleyball," he said.
"I didn't choose any activity but the next day my mum came into the house with the racquet and everything for tennis.
"I went to the tennis lessons but I couldn't hit the ball with the racquet. When the ball was coming I would shoot with my feet. I would shoot it hard and the tennis coach came over and said I had to go over to the other pitch to the football coach, who was called Wilson Sepulveda.
"I spoke to him and started to do the football lessons. That is how it started. I played football because I couldn't play tennis."
Izquierdo started out at his local club in Pereira and was still pondering his future until another offer came in Colombia from Once Caldas in 2013.
He progressed at such a rapid rate he moved to Brugge a year later, winning the Belgian Golden Shoe award before eventually attracting the attention of Brighton.
And back in Colombia, for whom he featured at this year's World Cup, he shares his fame with an unlikely family pet.
Peter the micro-pig shares the spotlight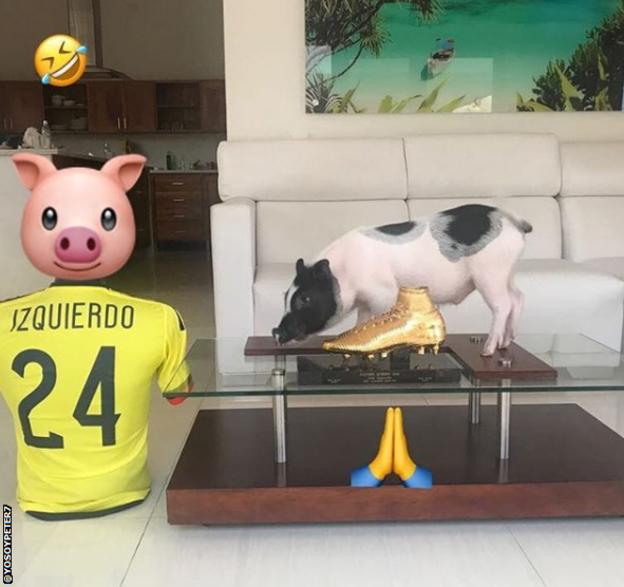 "The pig. This is the question - the history of the pig," says Izquierdo.
Not the normal subject addressed by a Premier League footballer but one Izquierdo is able to answer as the adventures of Peter, his pet micro-pig, have become an Instagram hit.
It all started two years ago back in Pereira.
"A good friend of mine was selling micro-pigs and she offered me a pig to buy," says Izquierdo. "I told her that I live here in Brighton so how can I buy a pig? I cannot bring it here with me.
"She said 'you can give it to someone else' but I was thinking what sort of people would take care of a micro-pig?
"I was talking with my manager in Colombia, William Londono, and it was like a surprise so I bought the pig and told her to give it to him. I told him my friend has a gift for you. When he arrived to meet her she gave him the pig and he was like 'what?'.
"He didn't realise that in the end he would love him like he loves him. He takes care of the pig. He has now had him for two years and the pig has Instagram with more than 30,000 followers. I don't know how that is possible.
"It is nice. He is part of the family but it is not a micro-pig any more. It is big."
DJ-ing, life in Brighton and 'gentleman' Hughton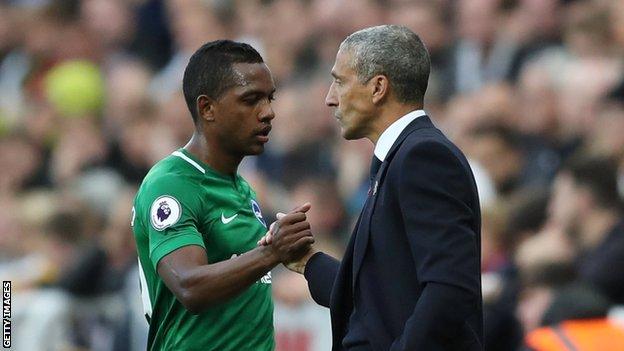 Izquierdo missed the first six games of this top-flight season with a knee injury, but is now fully fit and typically positive.
The room at Brighton's training centre echoes regularly with Izquierdo's laughter - even about the cold weather he admits is one downside of life in the Premier League.
"Training. Four degrees. Five shirts. Two long pants. Five pairs of socks," he says smiling as he sits down to be interviewed.
Izquierdo has adapted to life in Brighton but still enjoys the summer return to his home country and the chance to indulge in his love of music and a talent as a DJ.
He has met up with Radio 1 and 1Extra DJ Monki to discuss musical tastes, although he does not appear entirely won over by Neil Diamond's Sweet Caroline, the victory anthem in Brighton's dressing room.
Izquierdo says: "Sometimes in Colombia when I have a small party with my friends I play. My best friend Sebastian Rios is a DJ also and I have other friends in Colombia who are DJs like Ivan Miranda, Santiago Chacon and David Lopez.
"There are many DJs who are close friends with me and I learn a lot of things from them about their love of music and how to use the mixer and get bass in the songs. In Brighton I can't play too much because I don't want a lot of complaints from my neighbours about too much noise.
"I really like Brighton, much more when it is warmer. When it is cold it is difficult because all the people stay inside at home because it is really freezing but Brighton is a really nice city - the sea, a lot of restaurants, good coffee and the people are really nice."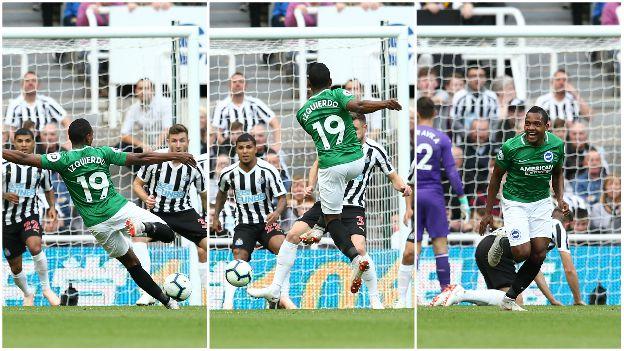 And central to everything is his career at a Brighton side now established in the Premier League under the management of Chris Hughton - a perfect contrast of characters.
"He's the opposite to me. He's a gentleman and I'm a crazy person. He's a good coach and I learn a lot from him. He helps me a lot to improve myself every day," says the Colombian.
"He knows how to improve you. It is not just about the good things that you have but also the bad things you don't have."
When he signed for Brighton, Izquierdo tweeted: "Another dreamer player from Colombia."
Izquierdo at Brighton

All competitions

2018-19

Games played

42

6

Games started

29

4

Minutes

2,572

340

Goals

5

0

Mins/goal

514

-

Shot conversion rate

7.58%

-

Assists

4

1

Chances created

23

1
So was this always a dream and has it lived up to expectations?
"For us in Colombia, the Premier League was the top league at that time so to transfer to the Premier League for me was 'wow, unbelievable'.
"Normally in the Premier League you watch Manchester City, Manchester United and Arsenal but before I came here everyone was following Leicester City in the year they won the Premier League.
"It showed to the world that in the Premier League anything can happen and anyone could be champions. Now that was a big dream.
"When we played Manchester United earlier this season my friends were saying 'you don't have a chance with Manchester United' and then they say at the weekend 'wow, you won against Manchester United'."
Inspiration written on the wall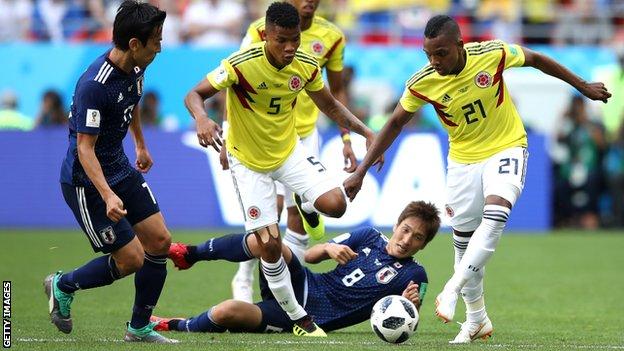 Izquierdo still follows a habit from his younger days of posting key phrases on his walls to remind himself of rules and goals, not just for football but for life.
"It was one of my managers who gave me that", he says. "It was like a gift. They are things I try to take into my life, myself and my teams.
"It is on paper and I put it on the door or a place where I can see them every day. So every day when I wake up I see those things on the paper because we forget many things every day."
Back in Pereira the words he studied were "Hope", "Dreams", "Sacrifice", "Dedication."
In Brighton the walls are decorated with "Don't Stop Running", "Patience", "Positive Thinking", "People Who Give Up Never Win" and more besides.
He explains: "This is a bubble. This is not real life - so these things also mean real life.
"They are for life and football."