Qatar World Cup 2022: Four years out, what do we know so far?
Last updated on .From the section Football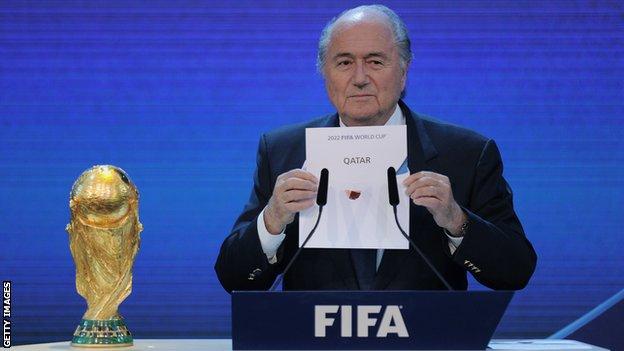 In four years' time, the Qatar World Cup will be under way.
The Gulf state's hosting has been mired in controversy since Fifa's shock decision to award it the tournament in 2010.
From being the first World Cup staged in the winter, to whether fans can drink alcohol, here is what we know so far about Qatar 2022.
When is it taking place?
The tournament will start on 21 November, with the final on 18 December - the national day of Qatar.
That will mean a change in schedule for the Premier League and Europe's other major leagues, as they are normally in full swing by November.
One solution for Europe's leagues could be to bring forward their winter break.
Uefa said a decision on the scheduling of that season's Champions League and Europa League will not be made until 2021.
Qatar's World Cup will be across 28 days, four fewer than the 32 of Russia 2018.
There could be 16 more teams in 2022 - with proposals to expand the tournament from 32 to 48. However, Uefa president Aleksander Ceferin says such a plan could create "many problems".
What time will the games kick off?
Fifa is yet to decide.
Qatar is three hours ahead of the UK, and kick-off times should be favourable for those watching on television.
"More than three billion fans across Asia and Europe will benefit from prime-time viewing during the tournament thanks to convenient kick-off times," Qatar's supreme committee for delivery and legacy (SC) said.
How hot will it be?
Hopefully a lot cooler than had it been held in the summer, when temperatures can reach 40C.
The SC says the average temperature will be 18-24C, and will be "perfect" for players and fans.
Can fans drink?
"Alcohol is not part of Qatari culture," the SC told BBC Sport, and it is illegal to drink alcohol in public and be drunk in public there.
Alcohol is available in hotels, and that will be the case at the World Cup. It will also be on sale in other "designated areas". What those areas are is yet to be decided, though organisers are planning fan parks.
It will be up to Fifa to decide if alcohol will be available in stadiums.
How easy will it be to attend?
Organisers are considering a similar scheme to the Fan ID that was used in Russia, which provided visa-free entry to the country.
Nationals from a total of 80 countries can already take advantage of visa-free entry.
Can LGBT fans attend?
Though homosexuality is illegal in Qatar, the SC said "everyone will become welcome in 2022" - but it is not clear how the current law will be applied.
An SC spokesperson said: "Qatar has hosted numerous major international sporting events where every fan has felt welcome and safe. The World Cup will be no different."
Where are the stadiums?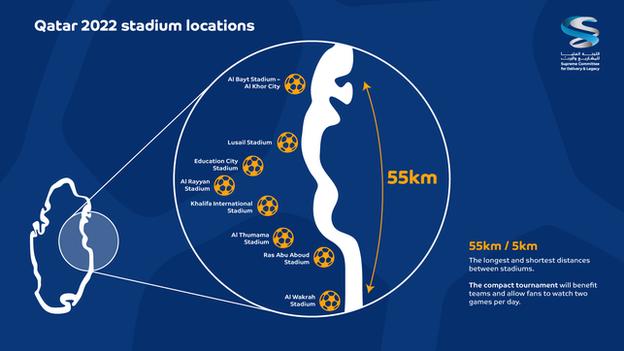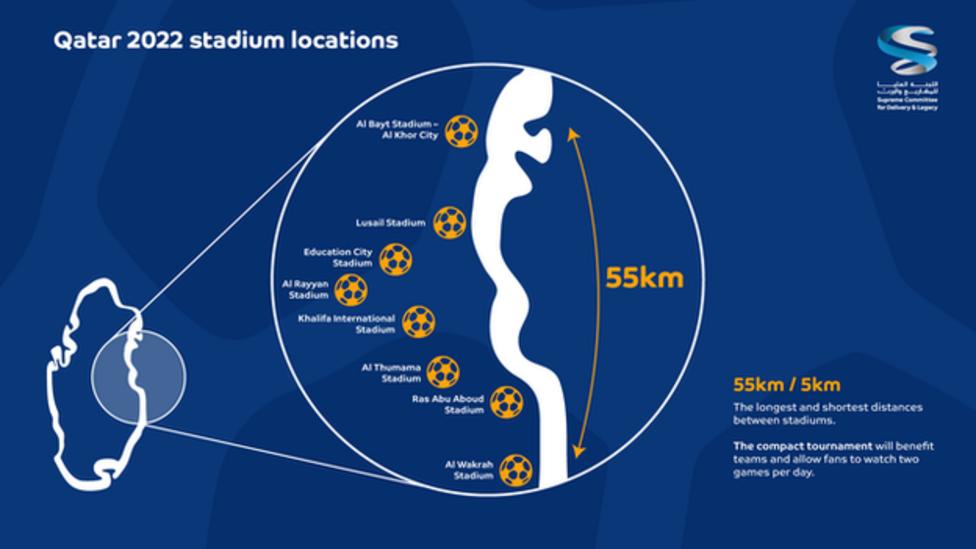 With the longest distance between stadiums the 34 miles (55km) between Al Bayt Stadium-Al Khor City and Al Wakrah Stadium, organisers are considering offering packages enabling fans to attend two group-stage matches on the same day.
The shortest distance between stadiums is just three miles - from Al Rayyan Stadium to Education City Stadium.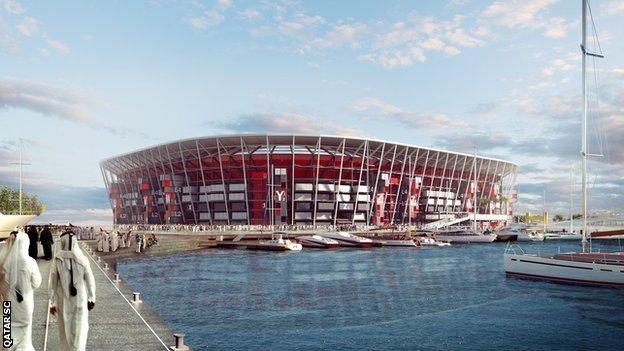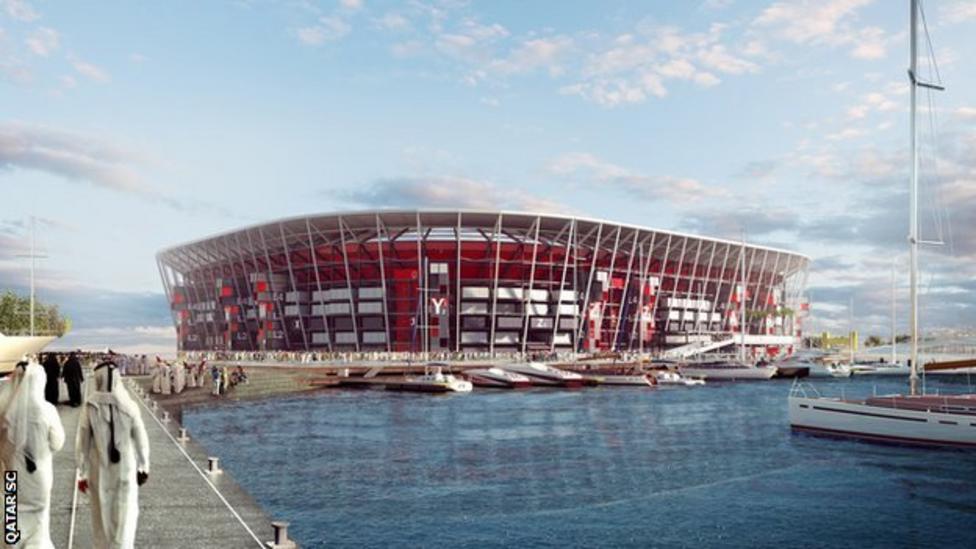 Are they finished?
The 40,000-seater Khalifa International Stadium, situated eight miles from Doha, has been redeveloped and is the only one open - it will host the World Athletics Championships next year.
The other seven are at various stages of construction, with the SC saying work will be completed by 2020.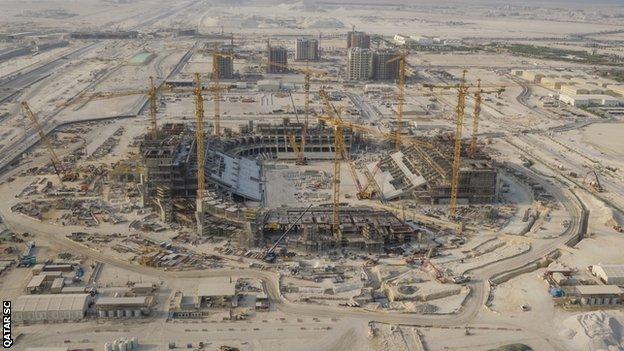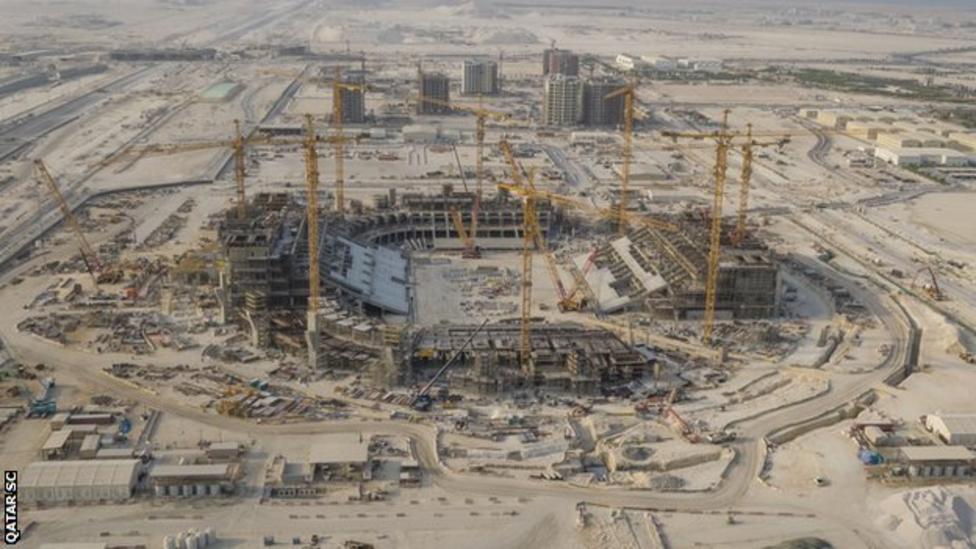 What has been the cost?
Organisers say the total budget for the stadiums and training sites is $6.5bn (£5bn).
Concerns have been raised about the treatment of migrant workers building the new infrastructure, with human rights organisations condemning labour practices.
"Ever since Qatar was awarded hosting rights we've been pressing the authorities to clean up their act over the exploitation of migrant workers," said Allan Hogarth, Amnesty International's head of policy and government affairs.
"Promised reforms have been slow in coming and we remain concerned that 2022 will arrive and Qatar's hundreds of thousands of foreign workers will still be facing exploitation and poor working and living conditions."
Amnesty International said in September that dozens of migrants working on the city that will host the final had gone unpaid for months.
A spokesman for the Qatari government said the contractors involved, Mercury MENA, were not directly involved in the building of the stadium but in the building of the city.
Fifa president Gianni Infantino said the World Cup will "leave a great legacy".
"On the social side, it has had a very important social impact in the whole region," he added.
"When you think about all the debates on human rights and workers' welfare... without the World Cup, these debates would not have happened and the improvements which happened would not have happened either."
The tournament organisers said: "The health and wellbeing of our workers is our top priority. There are currently more than 30,000 workers on our sites.
"The SC's worker welfare standards cover ethical recruitment, accommodation and working conditions. Regular audits support compliance, while contractors in breach of the standards are subject to enforcement measures, including contract termination and blacklisting."
How good are the hosts at football?
This will be a first World Cup appearance for the team currently ranked 96th in the world.
They recently beat Switzerland - the world's eighth best side - 1-0 and drew 2-2 with Iceland, as well as beating Ecuador 4-3.
Spanish World Cup winner Xavi and Dutch legend Wesley Sneijder are playing in Qatar's top division.
"There were many fears about Russia, but it turned out to be a very safe World Cup, a very welcoming World Cup, in a country that made fans feel good," said Infantino.
"The whole population contributed to that and I'm sure the same will happen here in Qatar. The Russian World Cup was the best ever, and the World Cup in 2022 has to be even better."
Can England win it?
Speaking in 2013, then Football Association chairman Greg Dyke said they should aim to.
And, after their semi-final appearance in Russia this year, the vibe around the national-team set-up is certainly positive.
They have qualified for next year's Nations League finals, beating Spain and World Cup finalists Croatia along the way.
But only time will tell whether they can end 56 years of hurt in Qatar.