Ryan Giggs: Wales manager's first year - a work in progress?
By Dafydd Pritchard and Chris Wathan
BBC Sport Wales
Last updated on .From the section Wales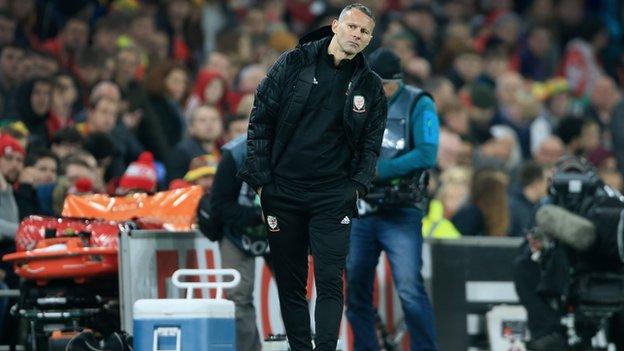 Ryan Giggs' appointment as Wales manager in January divided opinion and, as he comes to the end of his first year in charge, the jury remains out.
Revered as a player at Manchester United, Giggs seldom enjoyed the same adulation from Wales fans; his perceived lack of commitment contributing to a lukewarm reaction to his appointment.
Once his reign began in earnest, supporters got behind the former Wales captain as he ushered in a new era with an emphasis on youth and attacking football.
But a growing sense of optimism was punctured by back-to-back defeats this month, the second a humbling loss in Albania on Tuesday - Giggs' fifth from nine matches in charge.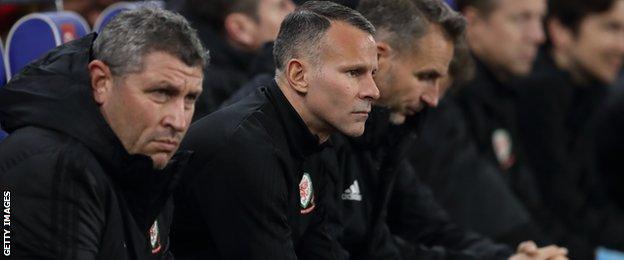 Giggs was scathing in his assessment of the players, while some pundits and supporters pointed to the manager's tactics and team selections as a reason for recent failures.
Others, meanwhile, offered a more sympathetic view: that this is a young team in transition, and one we will not be able to judge properly until the end of their first qualifying campaign, for Euro 2020.
So while Wales wait until March before they return to action, how can Giggs reflect on his first year in charge?
The story so far
Giggs could hardly have wished for a better start, thrashing China 6-0 in March with Gareth Bale scoring a hat-trick to become Wales' all-time leading scorer.
The second match, the final of the China Cup friendly tournament, saw Wales beaten 1-0 by an accomplished, experienced Uruguay side. A bump in the road perhaps, but a useful lesson from seasoned opposition.
A goalless draw against Mexico in May offered encouragement that Wales could cope without some of their leading players, as Giggs gave debuts to Matt Smith and George Thomas as well as a first start for Chris Mepham.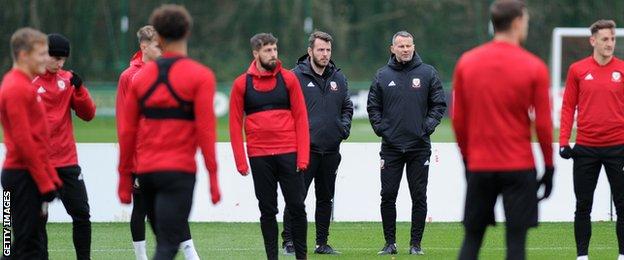 Then came Giggs' first competitive match, a spectacular 4-1 thrashing of the Republic of Ireland in their Nations League opener in September which showcased burgeoning young talents such as Ethan Ampadu and David Brooks.
If that caused some to get a little too excited, they were served a dose of reality four days later as Wales were beaten 2-0 in Denmark, paying the price for lapses in concentration which allowed the Danes' star player Christian Eriksen to control the game and score both goals.
There was a creeping sense that Giggs may have been neglecting Wales' defensive solidity in his pursuit of attractive, attacking football, and those concerns worsened the following month.
A friendly fixture with Spain was moved to the Principality Stadium and, although the former world champions were expected to win, they benefitted from feeble Welsh defending to hammer Giggs' side 4-1.
Giggs was happy enough to brush that defeat aside - albeit with concerns about some of Wales' defending - as he insisted the important match in October was the Nations League encounter with the Republic of Ireland in Dublin.
It was nothing like the exhibition football of the reverse fixture but Wales' young players - led superbly by their experienced captain Ashley Williams - showed resolve to grind out a 1-0 win.
Seven games in: some signs of promise, some worrying trends. A mixed bag.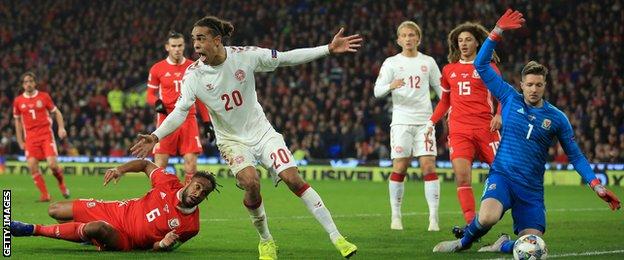 Wales' Nations Leagues hopes came down to their group decider against Denmark on Friday and, despite creating several chances, Giggs' side seemed naïve at times as they were clinically dispatched by a more organised and well-rounded Danish side.
It appeared Giggs and his players had not learned the lessons of September's defeat in Aarhus as, once again, Eriksen and his midfield colleagues were given too much time and space, while Wales' congested attack lacked balance and purpose.
Tuesday's friendly in Albania was an opportunity for Giggs to experiment, making eight changes from the Denmark game and handing debuts to four players from the start and from the bench.
But despite some more promising build-up play, Wales failed to turn their early dominance into goals and became increasingly disjointed as they lost to an Albanian side ranked 60th in the world and thrashed 4-0 at home by Scotland just three days earlier.
Giggs was furious, describing his players as "complacent" as he said they "let themselves down".
But was the manager culpable too? Did he not learn from his previous eight matches? And could he have done more to guard against his players' alleged complacency?
Giggs recognises that he himself is a work in progress, a 44-year-old manager in his first permanent role learning on the job.
He also admits the defeat in Albania cast a shadow over his own assessment of his first year in charge.
"Without a shadow of a doubt," he said.
"You look at the teams we've been beaten by before - Uruguay, Spain, Denmark twice - that can happen. But [against Albania] we should have won that game.
"We were in total control and it's nothing to do with hard work or the ability of the players. Quite simply, it was concentration and complacency.
"We just turned up thinking we would win, someone would score the goal, someone would get us out of trouble."
Giggs in numbers
26.7 - Average age of side at the end of the 2018 World Cup qualifiers
25.7 - Average age of side that played Denmark in the Nations League
16 - Number of debuts since 2018 World Cup qualifiers
0 - Number of players who have started all of Giggs' games
36 - Number of players used
4.7 - Shots on target per game under Giggs
4.5 - Shots conceded per game under Giggs
1.44 - Goals per game scored under Giggs
1.06 - Goals per game scored under Coleman
1.22 - Goals per game conceded under Giggs
1.1 - Goals per game conceded under Coleman
4 - Failed to score
What the experts say
BBC Wales Football Correspondent Rob Phillips
It's been a mixed experience watching Wales under Ryan Giggs.
His intentions have been crystal clear - to overhaul the squad by fast tracking young talent, something at times exhilarating, but also frustratingly inconsistent. Such is the privilege of youth.
Yet the high point of the 4-1 Nations League victory over the Republic of Ireland has been equalled by the demoralising 1-0 friendly defeat at the hands of Albania.
Wales are creating more chances these days. Giggs' approach is unashamedly adventurous, but has also veered into the naïve, too. Certainly Wales' players need to be more streetwise than they have been.
It's a fast learning curve for the players and manager. He is an inexperienced manager with beliefs firmly engrained. The Wales team is a work in progress.
Some doubting fans have used his mixed fortunes to berate him - though sometimes one wonders whether this is also for his perceived lack of commitment to Wales as a player.
The Nations League went according to the seedings. The acid test will be the Euro 2020 qualifiers where a top two spot will be expected.
Be sure, Giggs' preparations will not relent during his winter break.
Former Wales striker Iwan Roberts
We scored ten goals in the two games against China and the Republic of Ireland - in the other seven we've scored three. That's not good enough.
We've got to work a lot harder on the attacking side of things. A few more combinations. At the minute we give the ball to David Brooks or Gareth Bale and expect them to beat five players, Harry Wilson the same. It's not always going to work.
But we do have a talented group of young players coming through and it will come.
Ryan won't be judged on an away defeat in Albania, he'll be judged on qualification.
Former Wales captain Kevin Ratcliffe
There's a lot of anti-feeling against him, but I think it's very unfair. You've got to give him time. He's learning his trade along with the youngsters. You'll have ups and downs.
I think we're going to have to be pay patient and find a formula to suit. It's all about getting the balance. He's finding out about that and hopefully he finds it quickly.
Former Wales midfielder David Edwards
They've played some good sides over the year but if Wales want to be getting to major tournaments, and then going competing, these are type of sides they need to beat, especially the likes of Denmark.
Because he has been experimental with the players he's brought in, trying to blood young lads, perhaps Ryan has sacrificed results a little bit. You just hope that they have enough experience now to make the next campaign a success.
Wales' record goal scorer Helen Ward
It's been a tough year. Yes, they've played the likes of Spain, Denmark, teams doing well in world football, but if Wales are going to take themselves to the next level - as they did in the Euros - they have to start competing in those games and I don't feel they have this season.
It's been a learning curve for Ryan Giggs, he's tried new things out, but it's going to be important to start next year on much more positive note.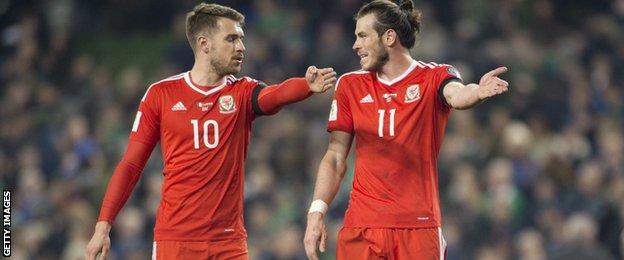 On to the Euros
Euro 2020 qualifying draw - how does it work?
Giggs' real test will come with the start of the Euro 2020 qualifying campaign in March.
The levels of hope and expectation will depend much upon the outcome of the draw on December 2 in Dublin where Wales find themselves among the second seeds.
Given that third seeds Serbia topped Wales' World Cup qualifiers and Wales made it to Euro 2016 as fourth seeds, perhaps not too much can be read into it all.
Nevertheless, the campaign is a congested one - a potential ten games squeezed into eight months between March and November 2019 - which means little room for error if Wales are to return to a major finals.
The top two from the ten groups (five groups of five teams, and five of six) are guaranteed a place in the cross-continent tournament in 2020.
After a gentle introduction for Ryan Giggs , the real rough and tumble of management is fast approaching.