Gambling firms to review number of sports betting adverts after 'public concerns'
By Alistair Magowan
BBC Sport
Last updated on .From the section Football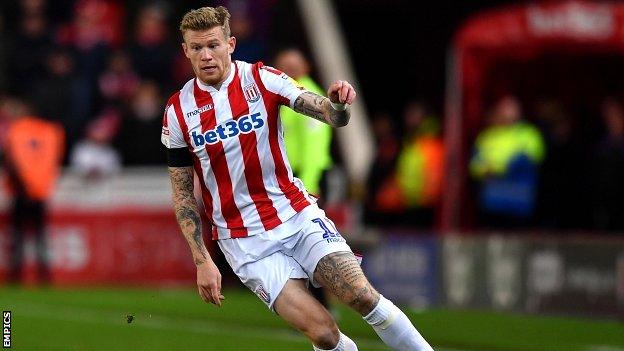 Gambling companies are reviewing the frequency of sports betting adverts on television following "public concerns".
Labour has called for a ban on gambling advertising during live sporting events after research showed more than 90 minutes were shown in the World Cup.
The Gambling Commission says there are 430,000 problem gamblers in the UK.
The Remote Gambling Association, whose members include Bet365, Ladbrokes, Paddy Power and William Hill, said it was "very mindful of public concerns".
At a RGA board meeting this week, proposals under discussion included:
A complete ban on pre-watershed advertising by gambling companies

Restricting the number of gaming adverts to one per commercial break

Banning the 'in-play' ads during live broadcast of football and other matches.
Anti-gambling campaigners say that football's use of adverts "normalises" betting.
Nearly 60 per cent of clubs in England's top two divisions have gambling companies on their shirts.
And a further report on Wednesday stated that the number of children classed as having a gambling problem had quadrupled to more than 50,000 in just two years.
The RGA said its industry code for responsible gambling was "reviewed on an annual basis".
It added: "The process for deciding what enhancements and additions might be introduced in 2019 is currently underway. At this stage it would be wrong to speculate on the outcome of the review.
"But we are all very mindful of the public concerns that have been expressed about the amount of sports betting advertising that takes place on television.
"In relation to the Young People and Gambling report, we note that the principal forms of gambling do not relate to online gambling.
"The issue of children and gambling is a complex area and we would never suggest that improvements cannot be made."
Deputy Labour leader Tom Watson has also called for a 1% levy on gambling companies "to treat more gambling addicts when they require help with their condition".
Watson believes the levy could yield about £140m a year based on industry figures showing that betting on football generated revenues of £1.4bn in 2017.
At present, there is a voluntary levy which Watson said brought in about £10m a year.
Spokesperson for Fairer Gambling Matt Zarb-Cousin said: "Gambling operators are waking up to the overwhelming public opposition to advertising, particularly during live sporting events.
"It's a rare occasion where spend on marketing to improve the image of companies is actually having the total opposite effect."