Alex McLeish's Scotland: Fine lines and signs of progress after Nations League

By Tom English
BBC Scotland
Last updated on .From the section Scotland
When Tomer Hemed looked like making it 3-3 in the dying minutes of a rainy Tuesday night at Hampden that went from crisis to celebration and then back to crisis, the moment couldn't have been any more dramatic had the action been played out in slow motion and given a haunting, end of days, soundtrack.
From point-blank range, big Tomer was going to trash everything. Just when hope had been allowed to soar on the back of James Forrest's wonderful hat-trick and the elan of some of Scotland's attacking play, the whole shooting match was going to be obliterated by a bloke on loan at Queens Park Rangers.
Thirty-one different nations have qualified for the Euros since Scotland last made a major championship. Along the way, Latvia made it, Bulgaria made it, Albania made it. Uefa has not only expanded the tournament, but it's also sorted it so that some of the games are played in Glasgow.
The Nations League was Scotland's golden ticket to all of that and all they had to do to put themselves just two more victories away from qualification was beat Israel.
At 3-1, even though Hampden was cold and wet and half empty, it was still a pleasing place to be.
Forrest was on fire. His Celtic team-mates, Callum McGregor and Ryan Christie, were playing intelligently. His former team-mate, Stuart Armstrong, had been the one who galvanised the team when they trailed 1-0 and he was being real leader out there. Ryan Fraser was a threat. Steven Fletcher was tying it all together with another substantial performance leading the line.
Injuries and other withdrawals meant that McLeish had fallen into this formation and this personnel, but he wouldn't be the first manager in history to stumble on something that worked and he certainly won't be the last.
The weather was lousy at Hampden and the crowd was sparse, but the excitement of the game made up for that. A few more like this and the hard-bitten, disaffected, Scottish FA-loathing, McLeish-doubting fans might return, with the emphasis on the 'might'.
A lot of work needs to done to rebuild the bridges that have been burned in previous doomed campaigns. And this might have been another one.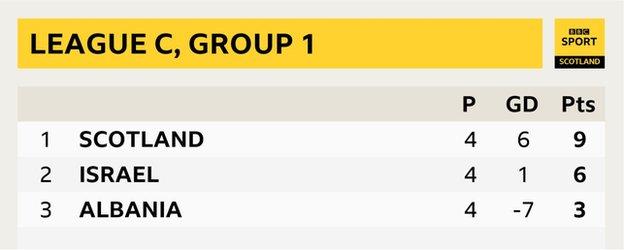 As soon you relaxed into the thought that, at 3-1, this was both enjoyable and stress-free, it flipped on its head, as if the footballing gods had suddenly realised that everyone at Hampden was having a nice time and then went about restoring the natural way of things.
Eran Zahavi makes it 3-2 and then big Tomer pops up and scares the hell out of everyone. He forces a magnificent reflex save from Allan McGregor, but even then, the ball is in the air and McGregor is on the floor and, from the back of the stand at Hampden, it looks for a second like it's falling in behind the goalkeeper and into his net. It looks like 3-3 and a post-mortem to beat all post-mortems to follow, the kind where you don't turn up with a scalpel, you turn up with an axe.
McGregor didn't just save a close-range attempt on goal - he saved everyone another round of weary introspection, he saved his manager yet more weeks of (valid) criticism as well as the usual invalid and hateful bile from those charmers on social media.
The Rangers goalkeeper also saved Forrest a lifetime of being reminded that, despite scoring a brilliant hat-trick, it still didn't stop Scotland plunging back down another black hole. Elite sports people talk all the time about the fine margins at the top level and, in the 88th minute at Hampden, we were reminded of the truth of it.
Forrest can enjoy the glory of becoming the first Celtic player since Jimmy Quinn 110 years ago to score a hat-trick for the national team and the first Scotland player since Denis Law to score two, or more, goals in consecutive internationals.
That's some serious company he's got, but Forrest has found some serious form. That's 12 goals in his last 11 appearances for club and country, including five in two for Scotland. Each of those five finishes were sumptuous.
Instead of picking over the bones of a failure, there is a sense of liberation. McLeish is never going to change the minds of all of his critics, but what has to be acknowledged is that the first big job he had to do has now been done. Scotland topped their Nations League group.
They've given themselves a shot at qualifying for the Euros via the back door. There might have been hardship along the way, but McLeish has got them there with three wins out of four.
His team that played against Albania on Saturday, and Israel on Tuesday, had energy and self-belief and wit in attack. This was a high-pressure, must-win game that demanded they come back from a set-back early on and then come back from another set-back late-on.
There was a hunger in them to protect their lead in the dying minutes that was, at times, chaotic and desperate, but it was impressive for all that. Having shown that they can play, Scotland then showed that they can scrap.
Defensively, there were troubled at times at Hampden, but there is a veritable army of defenders who, with a bit of good fortune, should be available come the next competitive game - Kieran Tierney and Stephen O'Donnell, Christophe Berra and John Souttar, Mikey Devlin and Charlie Mulgrew.
Back at the time of his appointment, McLeish said that what he wanted to do was build something. He's had to do his work while being pelted with flak, but you can see a foundation forming now, an early sign, from a bright young team, that progress is being made.