EFL TV deal row like Brexit, says Exeter City chairman Julian Tagg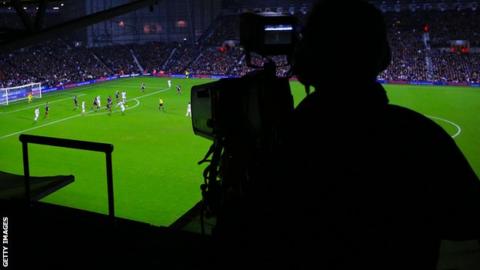 The row over English Football League broadcasting rights has been likened to Brexit, after one club owner claimed the EFL is "not being run right".
Andy Holt, chairman of League One side Accrington, said he was never briefed about the £595m five-year deal and feels it has caused a "long-term rift".
"I don't know what's going on and I own a club," he told BBC Radio Lancashire.
Exeter chairman Julian Tagg said he is "confident" in the deal, although "no-one is probably completely happy".
He told BBC Sport: "It is like a mini-Brexit all round. You have to negotiate a deal. There are certain things that have two sides to it.
"I think the English Football League has approached it from the view of the whole, not any one particular group.
"The fact that it is a £595m deal and not a £600m deal - nobody is happy with that. But, at the same time, there was a need to negotiate different parts of the deal and I understand that too."
The deal, which was voted for unanimously by the EFL board and runs from the start of next season until May 2024, is a 35% increase on the previous contract.
But, in a statement issued on Tuesday, "several Championship clubs" said they were "gravely concerned" about the new agreement.
'Fears' of Premier League 2
Championship clubs are now deciding their next move, with murmurs of a breakaway 'Premier League 2' being the desired result.
While dismissed as unlikely because of timescales involved, the threat of such an outcome has not gone unnoticed by those in the lower leagues.
"Of course you fear it, absolutely," said Tagg. "I would like to think there wasn't reason to, but we have seen football change an awful lot. No-one knows where it will end up.
"It is not a frenzied fear, but a fear of where the game is going to go because we live in it. People don't like change."
Holt, who says he has been in contact with Championship clubs against the broadcast deal, says he is "sure something will happen".
"They will quietly not let this drop and get on top of it," he said.
"I honestly don't know what the EFL are playing at. You don't bite that hand that feeds you and the EFL without a Championship is not an EFL, so we need to get that straight.
"It is disappointing that it has come to this and there is talk of a war between the EFL and the Championship. That is just madness."
Tagg went on to say that he does not "blame" the Championship clubs for rebelling as they have.
While the Exeter director says he is "no expert" in TV negotiations, with his strength being in academy development, he points out that "others" are.
Italian Andrea Radrizzani is both owner of Leeds United and sports broadcaster Eleven Sports and has led calls for the creation of 'Premier League 2'.
"They have a level and depth of knowledge I don't have in certain areas," said Tagg. "What you have among the 72 EFL clubs are 72 deal makers of some sort. Among them are real specialists."
'Sharing in the future'
It is how those "specialists", the Championship clubs who attract broadcaster interests, were listened to during the negotiations which is the biggest issue.
"The EFL frustrates the life out of me," said Holt. "We need to be consulted and we need to share the future and get involved in the deals.
"It is not about Championship clubs pulling rank or playing the almighty - they want to protect the 72 and do what is best for the 72. What this is about is the EFL agreeing a deal that wasn't, according to Championship clubs, in the best interests of the EFL and they wanted to discuss it.
"But The EFL didn't give them the opportunity and went to sign it in any case. That is no good because you have owners of football clubs throwing millions in and they need to be able to have a say in what the EFL are doing.
"They can't go on representing our club without informing us which way it is going. I can't run a club like that. If they have plans that affect our income, I need to know."
BBC Sport understands that the nine-member EFL Board unanimously agreed to the deal, including representatives of three Championship clubs, Reading, Brentford and Bristol City, as well as League One and League Two.
Initial details of the new Sky agreement were announced in September 2017, with the sum and details of what was a £600m five-year deal being the focus of negotiations since then.
Interim EFL chair Debbie Jevans, when announcing the deal, said the board was "satisfied that the right deal" was reached and added that challenges in "managing a diverse group of stakeholders" would see them commit to reviewing how it "engages with clubs to ensure that we move forward in a collaborative way in future".
Tagg said in the absence of "other concrete" alternatives he felt it was right that the EFL committed.
"Of course there is always that thirst for more information in how it affects you particularly," he said.
"But people are employed and people are elected and you put trust in them to do the best they possibly can for the whole.
"If you are in a collective it is a very difficult place to be unless there is an understanding that is where you sit. If you are going to look at it from you own position, that's hard.
"You will get people who say they could have done better. But you have a time limit, a time frame in which it needs to be done.
"Everyone wants certainty, everyone has to do budgets. You can't just wait forever, I need to know if I can sign a player or can't sign a player."