Cornwall join Conifa to play 'international football'
By Brent Pilnick
BBC Sport
Last updated on .From the section Football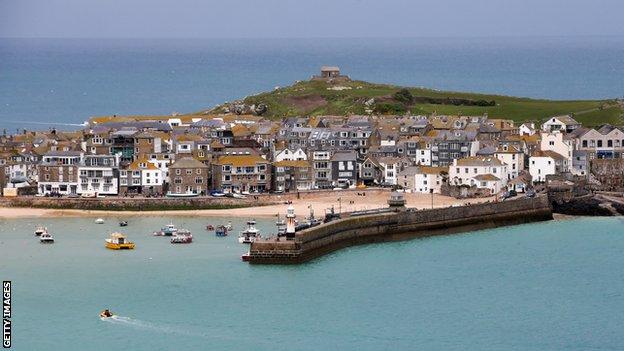 Separated from much of the rest of England by the Tamar river, Cornwall has always had an independent streak.
The Cornish language, the abundance of St Piran's flags compared to Union ones and the way they take cream teas are all a sign of how this county on the south west toe of England sees itself.
But now Cornwall may well be playing international football - of a sort.
A group of football enthusiasts and coaches in the county have set up the Kernow Football Alliance and joined Conifa - the Confederation of Independent Football Associations.
And they hope a Cornish team could soon be playing games against the likes of Zanzibar, Northern Cyprus, Abkhazia and even Yorkshire.
"The support that Cornwall generates, whether that be rugby or football, is amazing," says Andrew Bragg, the man behind the Kernow Football Alliance.
"It started back in December 2016, I was sat around the Christmas dinner table with my son Josh who was playing football in Sweden, and he told me about one of his co-players, who played for Sapmi, who had been playing in the 2014 World Cup and had actually won.
"I'd never heard of Conifa and enquired what it was, and found it was a competition for races, not nations. As a Cornishman my interest was raised, so I started to enquire as to whether or not we qualified."
'It's not really about nationhood'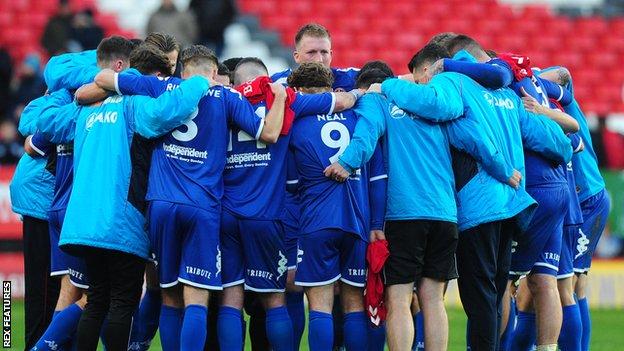 Conifa was set up in 2013 to allow places which do not meet the rules to become a fully-fledged international nations to represent themselves on the football pitch.
Members include the Isle of Man and Jersey, as well as Yorkshire - and there are also teams representing the Romani people, Tibet and the Rohingya, who have suffered persecution in Myanmar.
"We say 'tell us what your identity is, and let's help you represent that through football'," Conifa's head of member development, Paul Watson, told BBC Sport.
"It's not really about nationhood in the more conventional sense, it's about saying 'What do you feel represents you?', and playing for that through football.
"For some of our teams it's very much more a humanitarian thing and it's got a slightly more deeper purpose linked to helping people represent an identity that's forbidden.
"With other teams it's just as simple as saying 'you should be allowed to play for Yorkshire because some people in Yorkshire feel they are from Yorkshire first and foremost and probably English second."
More British expansion?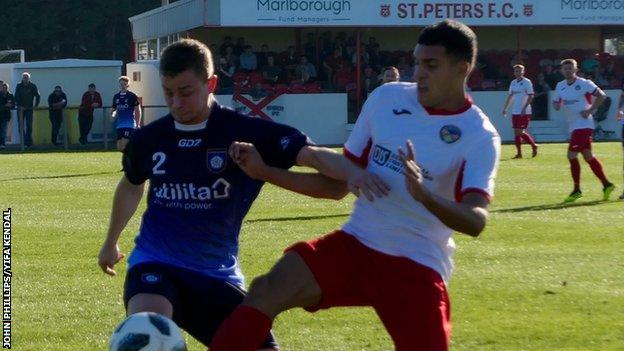 When Jersey's bid to join Uefa was rejected earlier this year, the Channel Island decided they needed to play some sort of 'international' football.
They formed the 'Parishes of Jersey' team and beat Yorkshire in their first match in September.
With a Cornish side now joining Conifa's ranks, there are four sides representing places in the British Isles, while the Panjab is made up mainly of UK-based players from the Punjabi diaspora, and after a successful World Cup event in London this summer, won by Karpatalya - who represent ethnic Hungarians living in the Ukraine - more could follow.
"It's quite possible that other places in the UK will now see Cornwall and Yorkshire especially coming in and say 'why aren't we doing this?' and I really hope that happens," says Watson.
"The Channel Islands is an area with a lot of potential, as are the Scottish islands.
"The football version of the Island Games is in Anglesey next year and a fair few of those teams would be potential Conifa members."
Cornwall 'aiming to win'
Cornwall's county FA currently has women and youth representative teams, and they also had a side in a South West Counties Championship when they played the likes of Jersey and Devon.
But Bragg believes his side will attract a lot of teams to come and play them as they aim to play in Conifa's European and World championships.
"We've already been asked for a friendly by the Panjab team, the Isle of Man have their own team and they would like a game, Yorkshire are very keen and they would like a age, so we have lots of offers of games," he said.
"Our aim is to go and win these tournaments, not just to qualify.
"With the quality of players there are in Cornwall we always stand a very good chance, but all Cornish players have to be born in Cornwall, that is a stipulation.
"I've been involved in local football for over 30 years as a manager and I've spent a great deal of time in the youth setups, and it's always frustrated me how Cornish football seems to get overlooked, so if you can show off your best players I think it's always a benefit."