Racism in football: Study finds half of UK fans have witnessed racism while watching matches
Last updated on .From the section Football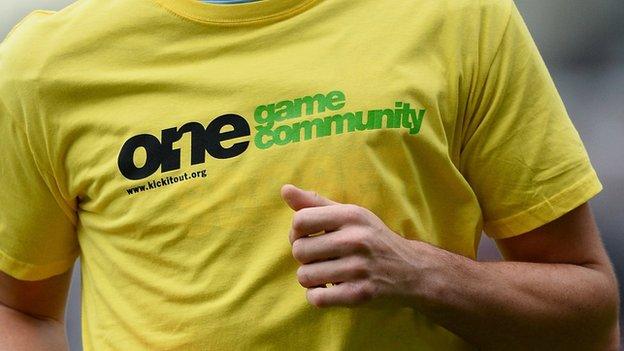 Half of the football supporters in the UK have witnessed racism while watching matches, according to a new survey.
But less than half (40%) say they would know how to report such incidents.
Globally, 60% of fans would support points deductions for either national or club teams whose fans are found guilty of racism.
The research, from anti-racism body Kick It Out and football platform Forza Football, included 27,000 respondents from 38 different countries.
Other key findings were:
54% of fans globally have witnessed racist abuse.

74% of fans want Fifa to consider previous racist abuse when awarding countries international tournaments.

84% of fans would feel comfortable with a player of a different ethnic/racial background than them representing their nation or club.

Fans in Norway (95%), Sweden (94%), and Brazil (93%) feel most comfortable.

Fans in Saudi Arabia (11%), Lebanon (15%), and the UAE (19%) feel least comfortable.

93% of French fans, 92% of Britons, 77% of Germans and Spaniards, and 71% of Italians feel comfortable.

In the UK, 54% said they would support regulations to improve opportunities for ethnic/racial minority candidates applying for jobs at football clubs.

Russian (34%), Ukrainian (42%), and Dutch (45%) fans are least in favour of deducting points for racial abuse.
"The research is a timely reminder of both the progress that has been made in tackling racism in football, and the challenges that remain," said Kick It Out chair Lord Ouseley.
"There is clear global trend towards an acceptance of the BAME [black, Asian and minority ethnic] community's central role in football, but further progress is unlikely to be made until governing bodies are bolder in their efforts to eradicate racism from every level.
"The governing bodies, including the FA, Uefa and Fifa, must do more to promote methods of reporting racism and they must listen to supporters' demands - clubs or countries whose supporters are racially abusive should face harsher sanctions, including points deductions."