EFL TV deal: Several Championship clubs 'gravely concerned' after announcement
Last updated on .From the section Championship251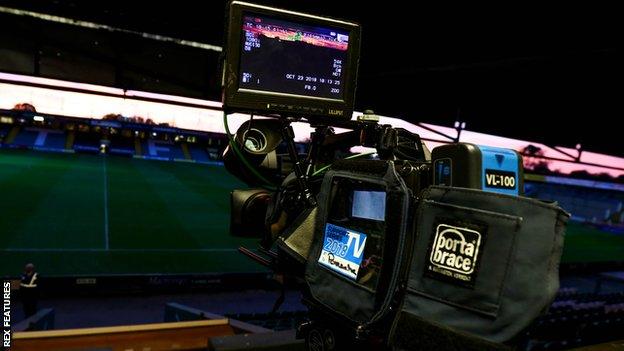 Several Championship clubs are "gravely concerned" by the EFL board's announcement it has approved a new domestic broadcasting rights deal.
They say the deal has been done without them being fully consulted.
"Nineteen clubs from the league wrote to the EFL asking them not to sign the deal and to engage in meaningful discussions," said a statement.
The statement, from "several unnamed clubs", said they felt they had been "ignored".
"Championship clubs are gravely concerned that the EFL board has announced it has approved a new long-term domestic broadcasting rights deal," it said.
"Our issues are not with Sky, who we respect and value, but with the way in which the proposed agreement has been negotiated and explained to clubs.
"We remain convinced that any solution to the broadcasting of EFL competitions can only be on the basis of protecting attendances and securing the financial position of all our 72 clubs.
"There is a calm determination within Championship clubs to ensure the matter is not left here."
The deal, which runs from the start of next season until May 2024, represents a 35% increase on the previous contract.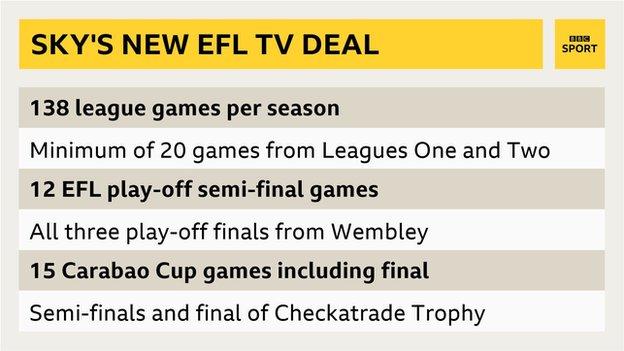 'The deal allows our clubs the benefit of financial security' - the EFL view
Before the clubs' statement, EFL interim chair Debbie Jevans had said she would review how the league discusses future deals.
"Concluding these negotiations has indeed been challenging, as is the case when managing a diverse group of stakeholders, and the board took on board the comments and frustrations voiced by a number of clubs and has committed to reviewing the way the league engages with its clubs to ensure that we move forward in a collaborative way in the future," she said.
It is understood Derby County, Leeds United and Aston Villa are among the clubs opposed to the new contract.
"The deal we have entered into with Sky, after fully testing the current market through our external advisors, allows our clubs the benefit of financial security which was an absolute priority for us throughout this process," said EFL chief executive Shaun Harvey.
"It is a partnership that, as well as having the necessary financial benefits, provides the EFL with the platform to maximise reach and exposure for its competitions, alongside providing further opportunities for clubs to monetise some of those games not broadcast on television."