Referee attacks: Keith Hackett wants life bans for players who assault officials
Last updated on .From the section Football242
Assaults on referees should result in clubs being expelled from competitions and players being banned for life, says former top official Keith Hackett.
He was speaking after three players in the Republic of Ireland were each suspended for 40 years for attacking referee Daniel Sweeney.
The official suffered a broken jaw and needed five hours of surgery after the incident, which occurred in a car park.
"We've got to put a halt to it," Hackett told BBC Sport.
"Too many referees are either operating in fear and giving up the game, or finishing up in hospital. One is enough. But this particular case in Ireland just shows how bad it can get."
Hackett, 74, described the 500 euro (£442) fine for the club involved - Mullingar Town - as "a joke".
Sweeney was attacked after Mullingar played at Horseleap in County Offaly. The three players involved have been banned by the Combined Counties Football League.
Police inquiries are continuing, and no arrests have been made.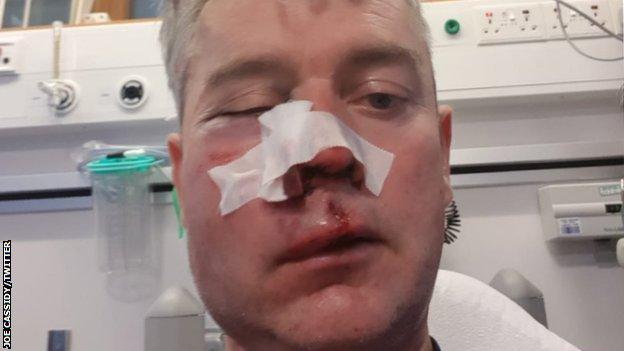 In addition to the lengthy suspensions, the executive committee of the CCFL has also ordered the fine to be given to the Daniel Sweeney Recovery Fund, which was set up by the club and has so far raised 510 euros.
"It is and forever will be a black day for our club and for sport in general," said club chairman Martin Moore.
Since the BBC first reported on Sweeney's attack, which took place on 11 November, numerous referees have told of abuse, assaults and intimidation.
"A player who had injured himself, while trying to make a violent tackle on another player, threatened to come to my house, rape my wife, kill my children then kill me," said one former referee.
Hackett, a match official for four decades who was in charge of Premier League referees for six years, believes the behaviour is part of a growing trend, which is also reflected in abuse from coaches and parents.
"Those that can't play in a fair manner and be responsible about the referees should not have a place in this game of ours," he said.
"The clubs should be kicked out of the competition. A points deduction at the very least, additional fines."
League chairman Sean Montgomery had called for life bans, but said it was only the second time during his three years in charge - after a minor previous incident - that a referee in the league had been targeted.
The Irish Soccer Referees' Society (ISRS) said the safety of officials across the country was a growing area of concern.
In England, the Football Association says about 0.01% of the 850,000 matches held each season has an incident of assault recorded, with each case treated on its merits.
But referees believe many incidents go unreported or do not result in guilty verdicts.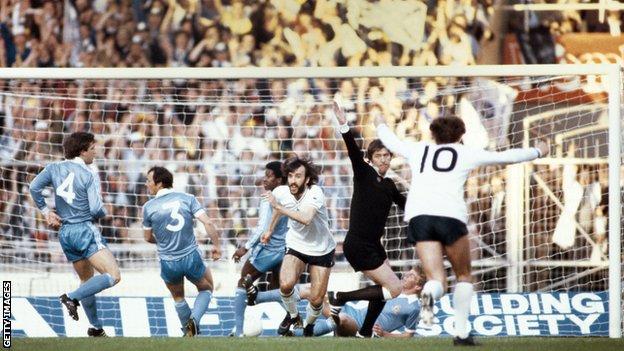 Rock, paper, scissors ban 'draconian'
Hackett said referees were angry at the treatment of colleague David McNamara, who has been suspended for three weeks after he used the rock, paper, scissors game at kick-off instead of the traditional coin toss.
McNamara did not have a coin for the televised Women's Super League match between Reading and Manchester City last month.
He accepted a charge of "not acting in the best interests of the game" but later decided to appeal against his 21-day suspension, which was scheduled to start on Monday, 26 November.
His suspension led to hundreds of other referees using the method at matches in a show of support.
"Referees recognise, sensibly, that he was wrong not to take a coin out to the middle for the toss-up," said Hackett, who led the Professional Game Match Officials Limited (PGMOL) from 2004 to 2010.
"A three-week suspension could be up to nine games that he's lost," said Hackett, who officiated at FA Cup finals and at European Championships, as well as in the Premier League.
"You can have a player who commits a violent act on the field of play who gets a three-match suspension. It doesn't make sense.
"Most referees that I know will have come across this on the odd occasion, and found a way round. I'm not condoning the fact that he used rock, paper, scissors, but the punishment is draconian."
Hackett said he had an issue himself at kick-off when in charge of a FA Cup tie in 1979 involving Liverpool, who were then managed by Bob Paisley.
The rescheduled match at Southend, which had been postponed once already, went ahead in heavy snow.
"I tossed it up in the air and the home team captain shouted 'heads,'" recalled Hackett.
"Emlyn Hughes, who was England and Liverpool captain at the time, forgot to catch the 50p coin and it finished up in the snow. I just shouted 'heads' - it was a quick way of getting out of a problem. Emlyn just laughed and we started the match."