Referee attack: Club sorry over 'disgraceful' assault in Irish amateur league
Last updated on .From the section Football
'Disgraceful.' A 'black day'. That is the reaction from the club whose players are accused of leaving a referee with a broken jaw and serious facial injuries.
Daniel Sweeney has undergone surgery lasting five hours following an assault after an amateur league match in the Republic of Ireland.
Three players from Mullingar Town FC, and a spectator, are alleged to have been involved in the incident.
"It is and forever will be a black day for our club and for sport in general," said club chairman Martin Moore.
He was speaking a week after the incident in a car park following Mullingar's match at Horseleap in County Offaly.
Irish police are investigating the attack on Sweeney.
"We wish to send our most sincere apologies to Daniel Sweeney and his family following the devastating and disgraceful attack," added Moore.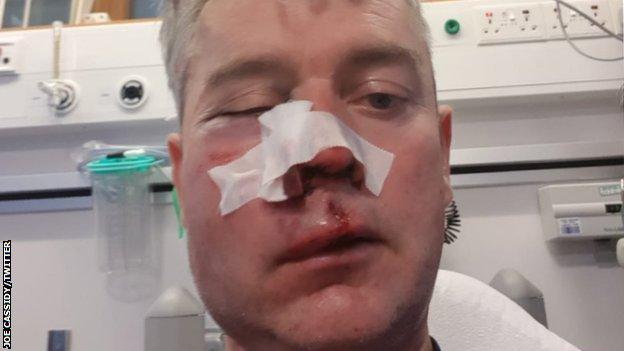 He said Mullingar had delayed making a statement out of respect to the referee's family and the police inquiry.
The club, based in County Westmeath, have set up a fund to help pay for the recovery of Sweeney, who suffered severe injuries as a result of the attack. It had raised €170 by Monday evening.
Sweeney was left requiring surgery on his jaw following the match in the Combined Counties League. It is expected he will need between six and eight weeks to recover.
The teams are one tier down from the Leinster Senior League in which a match on Friday between St Mochta's and Crumlin United raised hundreds of pounds in gate receipts for Sweeney.
But the referee asked for the money to be donated instead to the Crumlin Children's Hospital in Dublin.
He has been inundated with messages of support and children at one junior football match at the weekend formed a guard of honour for their match referee as a show of support for officials.