Why England's triumph is so impressive and how Moeen Ali is England's matchwinner

By Andy Zaltzman
Comedian & BBC Cricket Social statistician
Last updated on .From the section Cricket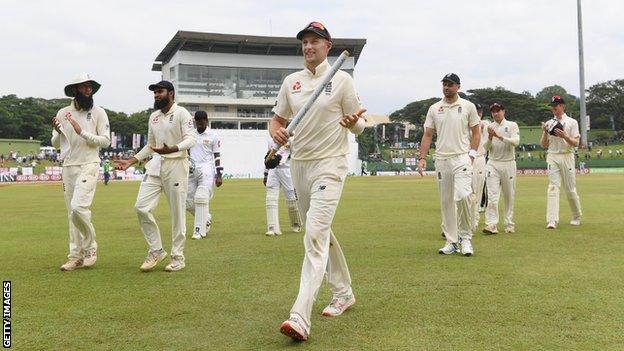 England Test match victories overseas are like London buses: you wait two years for one and then, just as you are contemplating abandoning the bus stop and returning home to see if your family is still there, two arrive in the space of 10 days.
Ball challenged bat, bat challenged ball, the pitch challenged everyone (commentators, pundits, captains, wicketkeepers, and umpires included), and the fielding positions often challenged logic.
Fast bowlers were seen wandering forlornly around the outfield, desperately trying to remember what they do for a living. Spinners took more wickets than in any other Test match ever played (38), yet could probably have bowled significantly better.
The sweep shot, and its continually sprouting extended family of variants (reverse, lap, slog etc), gave batsmen a continual source of runs, and bowlers a continual source of wickets.
It could be argued that England played brilliant but relatively low-risk attacking cricket with the bat, and high-risk defensive cricket in the field.
All in all, it was the kind of Test that makes lovers of the five-day game want to go from house to house, ringing doorbells, asking non-believers whether they have contemplated letting Test cricket into their lives, before shouting: "It's the best thing ever invented, you nincompoop, nothing else creates such sinuously evolving, soul-enveloping narratives over five tension-ratcheting days."
When the door slams in your face, you pop a copy of Wisden through the letterbox and promise to come back next week.
Notable individual triumphs supported by useful contributions
We will let history - that confused, confusing, opinionated old crackpot - have the final say on where this series stands in the limited pantheon of Great England Series Wins In Asia.
I, though, think it will stand the test of retrospective scrutiny, especially given that, in recent years, Sri Lanka have a decent home record against everyone other than India.
England, with the glittering exception of their Indian triumph late in 2012, have generally tried to crack the code of subcontinental Test cricket with the confidence and dexterity of a hippopotamus on a trampoline attempting to solve a Rubik's cube.
As in the first Test in Galle, England gave an excellent team performance in Pallekele, some notable individual triumphs supported by useful contributions by everyone else in the team.
Even James Anderson - wicketless for only the second time in his 66 Test victories (the Ashes-clinching win at the Oval in 2009 was the other occasion) - hung around with the bat in both innings while 101 vital runs were added.
The margin of victory was 57 runs; England's 10th wicket outscored Sri Lanka's by 70 runs. This was only the 11th time a team has added 40 or more for the 10th wicket in both innings of a Test, and the fifth of those to contribute to a victory.
There is now the prospect of England's first ever 3-0 series victory in Asia (they won the first three Tests of a five-match series in India in 1976-77, the final score being 3-1).
Joe Root has now led England to seven victories in eight Tests, after losing six and drawing two of his previous eight, and a new, exciting, interesting team is emerging, with balance, depth and players capable of match-turning brilliance in all three disciplines.
Here are four talking points ahead of the third Test: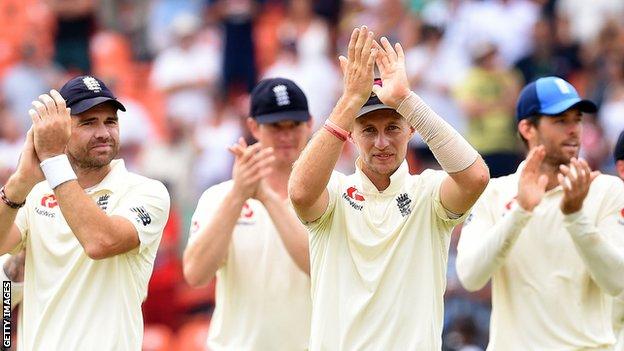 Has England's cricket been bold, cautious or both?
Root said after the latest victory: "We said we'd come out here and play bold cricket, and be courageous."
With the bat, the boldness was clear, in the purposeful sweeping, the relentless accumulation, and the high number of sixes.
In the field, it has been considerably less obvious and, as a result, this is turning into one of the all-time classic Test series for fans of The Single.
No series since records for such matters begin (in 2001) has seen singles scored more often - one every 4.16 balls by both teams combined.
What a time to be alive!
At the same time, they have hit sixes with more regularity than in any other series - 24 in just two Tests, at an average of one every 87 balls (their previous best was one every 130 deliveries). By contrast, they have hit a four only once per 20 balls - their 10th lowest figure since 2001.
The Pallekele Test was notable not only for the high number of wickets taken by spinners, but also for the low number of maiden overs and dot balls they bowled.
Both captains set, for the most part, deep fields, preferring to allow the batsmen to accumulate a steady flow of singles, rather than risk occasional boundaries, and wait for the pronounced turn offered by the pitch to provoke a wicket.
Batsmen did not have to push the field back - it was often set back as soon as they arrived at the crease.
The relative ease with which batsmen played themselves in, and the constant difficulty of surviving on a turning pitch, is illustrated by the fact that there were no century partnerships in the match, but 18 stands of 30 runs or more.
The 1,215 match runs was the second highest aggregate in a Test without a hundred partnership (1,225 were scored in the Ashes Test at the Oval in 1993).
Root himself, in his 124, scored off more than half the balls he faced, and reached the second quickest of his 15 hundreds (in 120 balls) with his fourth fewest boundary count (10: two sixes and eight fours).
England's much-trumpeted positive approach, therefore, has not been an all-guns-blazing, boundary-blitzing, leather-larruping onslaught (their first-day troubles in Galle highlighted the risks of such an approach).
Rather, it has been a process of positive strike-rotation, regular accumulation, blended with intermittent, well-selected thwacks over the rope.
And it has been facilitated, even encouraged, by the curiously sedate, acquiescent, minimal-intensity tactics of a Sri Lankan team which has been content to wait and hope.
In the field, England have adopted a similar approach themselves, and have smashed their records for singles conceded (one per 4.2 balls, previous mark was 5.2), percentage of runs conceded in singles (47%, previously 35%), lowest percentage of runs conceded in boundaries (35%, previously 44%), highest percentage of balls scored off (33%, previously 31%), and runs per scoring shot (1.56, previously 1.83).
Essentially, the teams have adopted the same, defensive strategy of compliantly accepted accumulation, on pitches turning enough to all-but-guarantee that wickets will occur with sufficient regularity.
Have England got it right, and Sri Lanka got it wrong? Have England got it wrong, but won anyway? Or have both teams backed the right tactical horse, and watched it beat itself down the home straight?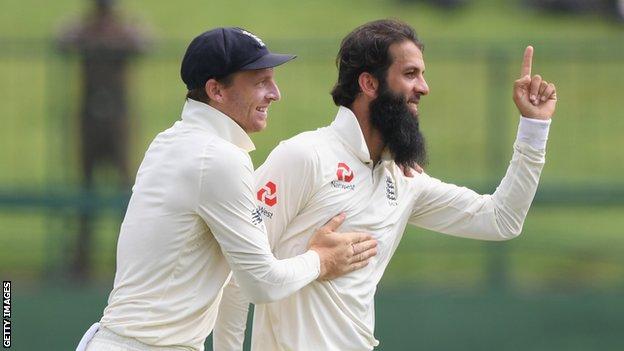 How can England get fourth-innings Moeen to bowl in all innings?
Moeen Ali has an extraordinary fourth-innings record - 52 wickets in 22 innings at an average of 21.8, a better fourth-innings average than, amongst others, Shane Warne, Graeme Swann, Derek Underwood and Anil Kumble.
His 4-72 was his seventh haul of four or more wickets in a fourth innings, six of which have come in his past nine fourth innings, since July 2017, including some massive contributions to nerve-jangling victories.
No other England bowler has more than five fourth-innings four-fors in his entire career. Anderson and Broad have six in 94 innings between them.
Moeen's average improves pronouncedly through the course of a Test - 56 in the first innings, 46 in the second, 35 in the third, and 21 in the fourth.
Another task on the To-Do list for England's back-room alchemists, then, is to concoct a magic psychotropic elixir that convinces Moeen that it is always the fourth innings.
Apart from when he is batting, mind - his innings averages are 46 in the first, then 20, 27 and 20. If Moeen could bowl at himself in the fourth innings of a Test, he would have himself in knots on toast. And if he could bat against himself in the opening innings of a Test, he would dislocate both shoulders smiting himself for six.
To get the best out of Joe Root, should England's other batsmen deliberately avoid scoring centuries?
This Joe Root's 15th Test hundred, and the sixth time he has been the only centurion in a Test match.
Only six players have been the sole century-maker more often in Tests - Australia's Greatest-Batsman-Of-All-Time™ Don Bradman, Sri Lankan Kumar Sangakkara, and Indians Mohammad Azharuddin and Sunil Gavaskar (they did so seven times each). TMS' own Geoffrey Boycott made the only hundred in eight Tests, but in none of which he batted with a stick of rhubarb; and the all-time leader is England's Colin Cowdrey, who was the only hundredista 9 times in his long career. Eight other players have also made a Test's solitary three-figure score on six occasions, including Sachin Tendulkar and Jacques Kallis.
Why Jack Leach is doomed
In his first Test, in New Zealand in April, Jack Leach took two wickets. In his second, in Galle, he took five, and then eight in Pallekele.
Assuming he continues to improve at his now-established rate of three wickets per match, in the third Test of next year's series in the West Indies, he will take all 20 wickets, whereupon he will be forcibly retired from international cricket on mathematical grounds.
A further Leachy curiosity - by opening the batting as nightwatchman in England's second innings, Leach, in his third Test, alongside Rory Burns, in his second, became half of England's least experienced opening partnership in Test cricket since the Mumbai Test of February 1973, when Graham Roope and Jack Birkenshaw, both in their second Tests, strode to the crease.
Got a question for Andy?
Got a burning statistical question you'd like to have answered. Submit your questions to Andy via email on tms@bbc.co.uk using the subject line 'Ask Andy Zaltzman'.