Gareth Southgate: England manager praises side's 'youth club' vibe
Last updated on .From the section England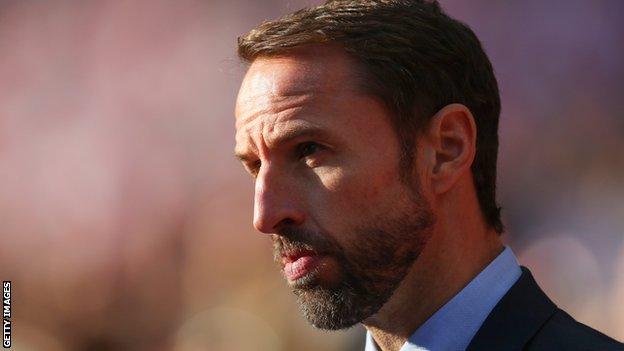 Gareth Southgate says his young England side are benefiting from their "youth club" environment after qualifying for the Nations League finals.
Southgate's focus on young talent meant England had the youngest average starting XI (24 years, 203 days) in the Nations League matches in November.
"We track them all," he said of the youngsters coming through the system.
"One of the most important things we can do is be right on the button with every player who is playing, how they are progressing and where they might fit in with what we are doing.
"Whenever I see teams that win the league, the only way they can really start that challenge again is to add a couple of new players.
"So, whenever we bring a new player in, that player is excited by it, but the other players also want to prove themselves to that player."
Callum Wilson and teenager Jadon Sancho are England's two latest additions and the manager has paid testament to "everybody in the camp" for making the "settling-in period a comfortable one".
"I am sure if you speak to Callum Wilson or Jadon or the others that have just come into this camp or the last one, they feel comfortable," said the manager.
"Any time you go in the dressing room or walking around the hotel - last night it was like a youth club - you can hear them laughing and joking and having fun.
"They're relaxed and they're enjoying being together and enjoying playing - when you see such young players play with that expression and freedom that's what we want to create.
"We want them to enjoy wearing the shirt and that camaraderie and that atmosphere is very important to what we are doing."