Does Nations League prove that England are contenders to win Euro 2020?
Last updated on .From the section England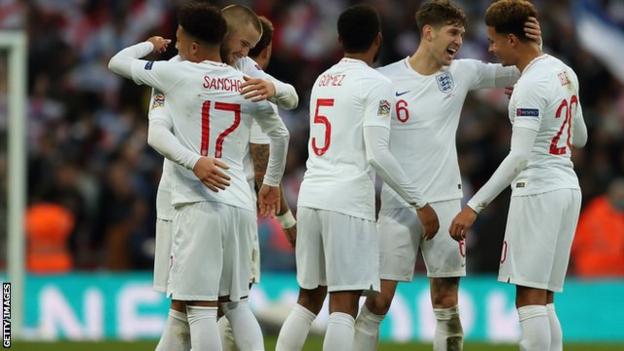 Recent success has got England fans excited - so are Gareth Southgate's side realistically capable of winning a major tournament?
Southgate says England are "breaking new barriers" as they near the end of a year that brought a first World Cup semi-final appearance since 1990, and qualification for the Nations League finals.
In 2013, former FA chairman Greg Dyke said England should aim to reach the semi-finals of Euro 2020 and win the World Cup in 2022.
Not many people took him seriously - but could the next European Championship prove to be the next broken barrier for England? Here are a few reasons why the answer may be yes.
It will be like a home tournament
Euro 2020 will be played across 12 countries and the good news for England is that Wembley will host the semi-finals and the final.
The last time that happened was in 1996, when England hosted the whole tournament and reached the last four, losing on penalties to Germany. And before that? The 1966 World Cup, when England won the trophy.
In two years' time, Wembley will host seven games, including at least two of England's group matches if they qualify.
The Three Lions have won 15 of their past 16 competitive matches at Wembley - a record stretching back to 2007 - with their only defeat coming against Spain in September.
In addition, teams can set up their headquarters wherever they want during the tournament, meaning England can be based at St George's Park and will not have to do as much travelling.
And there seems to be no better time for England to play in front of their own fans, with Wembley rocking during Sunday's dramatic 2-1 Nations League win over Croatia.
"The biggest thing is the connection with the fans - I haven't seen the new Wembley like that," said Southgate after beating the 2018 World Cup runners-up.
"The way it feels with the fans is special. It's giving us the energy to try to go on and break new barriers all the time."
So will England's new "connection" with the fans play a big part in 2020?
England are winning while top teams stutter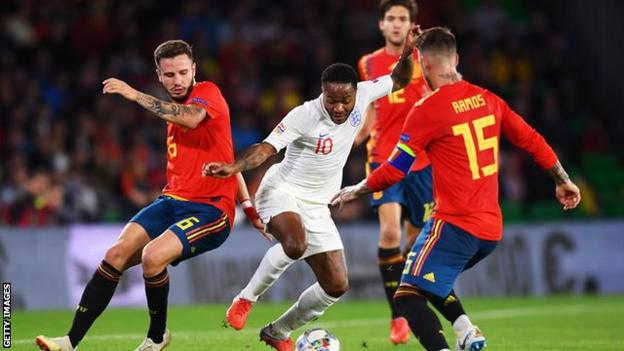 England are enjoying their best form in two decades after winning back-to-back competitive fixtures in the Nations League against two of Europe's major teams - Spain and Croatia.
You have to go back to June 1997 for the last time England won consecutive games against Europe's elite - beating Italy and France at Le Tournoi, a four-team summer tournament that also involved Brazil.
At their next major tournament, the 1998 World Cup, England made it to the last 16 before going out to Argentina on penalties.
Sport analysts Gracenote, who create their own rankings system based on team's performances, rate England's chances highly.
"After the win against Croatia, England have risen to sixth in the world on the Gracenote Football Ranking, with only France, Belgium and Spain ahead of them in Europe," said Simon Gleave, head of sports analysis at Gracenote.
"England can be regarded as one of the favourites for Euro 2020 at this stage, not least because France, Belgium and Spain have all stuttered during the latter stages of the Nations League.
"England should perhaps beware a fast-improving young Dutch side, who Gracenote currently rates as the ninth best team in the world, and fellow Nations League finals participants Portugal, who are seventh.
"England's 3-2 win in Spain was the team's best result since winning 4-1 in Croatia in 2008 and the fourth-most impressive result in England's history according to Gracenote's model of international football. Only the 3-0 friendly win in West Germany in 1985 and the 5-1 victory in Munich in 2001 [in addition to that 2008 victory in Croatia] were better. "
Warming up with competitive football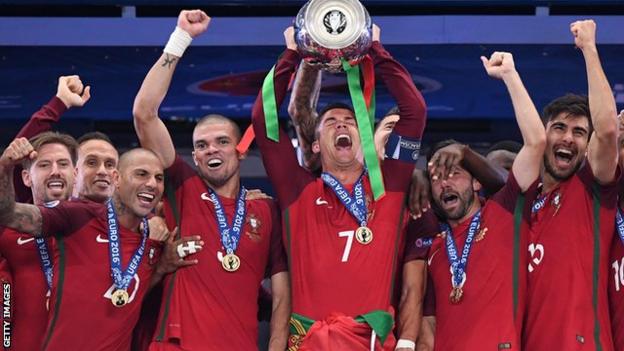 One of the biggest advantages of qualifying for the Nations League finals - where England will join Portugal, the Netherlands and Switzerland - is that England will be playing competitive tournament football next summer as a warm-up for the Euros.
It will beat the preparations in recent years, which have included friendlies against Costa Rica, Nigeria, Australia, Honduras and Ecuador.
England's Nations League performance also guarantees they will be a top seed for Euro qualifying - with the draw to be made in Dublin on 2 December.
None of the favourites for Euro 2020 will be in the Nations League finals after France, Spain and Belgium were eliminated and Germany were relegated.
Spain finished runners-up in England's group, while world champions France were pipped to top spot in their section by the Netherlands, who did not qualify for Russia 2018.
Belgium fell short as Switzerland came from two goals down to thrash them 5-2. The Belgians, who finished third at the World Cup in July, are yet to win a major tournament - their biggest achievement is winning gold at the 1920 Olympics - and their 'golden generation' are starting to age.
Germany, meanwhile, finished bottom of their Nations League group, after falling at the group stage in the World Cup - their first exit at the opening round of the finals since 1938.
Italy, who also failed to qualify for the World Cup, saw their Nations League hopes ended by European champions Portugal, who earned their finals place with a 0-0 draw.
A young squad with potential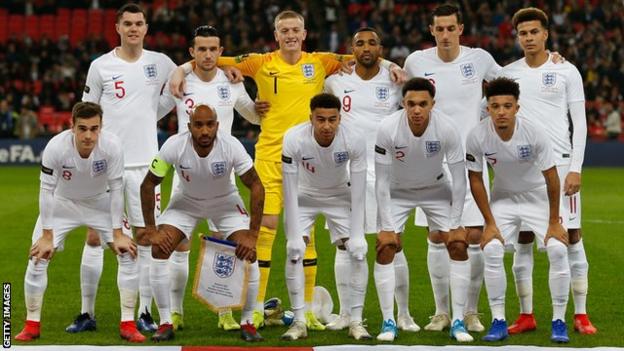 While the downfall of England's rivals helps prospects, there's plenty to be positive about closer to home too.
Southgate has formed a young, exciting squad. Of the Nations League games played in November, England had the youngest average starting XI (24 years, 203 days) heading into their match with Croatia.
There was a debut for 18-year-old winger Jadon Sancho in the 3-0 friendly victory over the USA, in which 20-year-old right-back Trent Alexander-Arnold scored his first senior goal.
Sancho has contributed to 12 goals in 15 Champions League and Bundesliga appearances for Borussia Dortmund this season and is not the only English youngster ripping it up in Germany.
Reiss Nelson, the 18-year-old on loan at Hoffenheim from Arsenal, has scored six goals and assisted one in seven league appearances, to push his claims for an England call-up.
Leicester defender Ben Chilwell, 21, made his debut in September and has now made five England appearances while Marcus Rashford, 21, Dele Alli, 22, and Raheem Sterling, 23, are seasoned internationals.
Add a couple of years of experience - and a hatful of more caps - and England could go into Euro 2020 as genuine contenders. First, though, they have to qualify.