Scottish Premiership: Matches to be shown live on Sky only as new £160m TV deal struck

By Chris McLaughlin
BBC Scotland sports news correspondent
Last updated on .From the section Scottish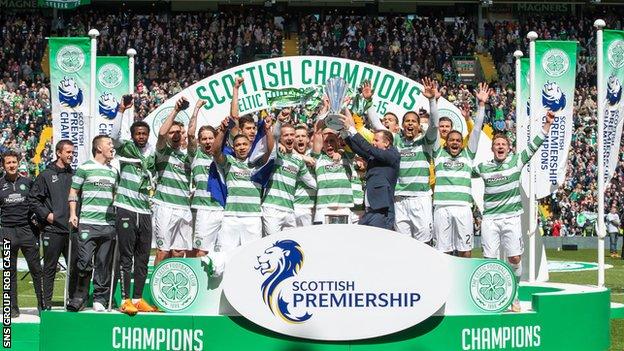 The Premiership will be shown live only on Sky Sports from 2020 after the SPFL agreed a new broadcast deal worth around £160m to Scottish clubs.
It represents an increase of around 20% from the last combined contract.
The five-year agreement will include 48 games per season, as well as the six Premiership play-off ties.
BT Sport will no longer show any Scottish football - Premier Sports has won rights to show between 12 and 16 League Cup games live, plus highlights.
Live Championship games will be shown on BBC Scotland from early next year, with the corporation continuing to show Premiership highlights until 2025.
Sky's deal, which will kick in from the season after next, for exclusive Premiership lives games is thought to be worth around £26m a season.
It means BT Sports' involvement in Scottish football will come to an end, with one source describing its offer of a new deal as "woeful and derisory".
BBC Scotland's existing radio coverage has also been extended and its digital offering and TV highlights will be enhanced.
Meanwhile, BBC ALBA will continue to show one deferred Premiership match each Saturday evening, as well as live games from the Irn Bru Cup and lower league play-offs for three seasons from 2020.
Under the new arrangement for live Championship broadcasts, 20 games per season will be shown this campaign and next.
The winning bids were revealed to clubs at Hampden Parkon Monday, with Premiership clubs giving their approval.
'Largest injection since SPL was founded'
In a statement released by the SPFL, chief executive Neil Doncaster said that each of the deals were a "major increase" on the existing agreements.
The current Premiership deal allows Sky and BT to show 30 games each and was reportedly worth around £17.5m per season.
"Taken together, these deals represent the largest-ever injection of broadcast investment since the SPL was founded over 20 years ago," he said.
"Whilst we are not in a position to reveal exact figures, it's indicative of the sums involved that the clubs quickly voted to accept the deals put before them.
"It has been a remarkably complex and time-consuming process, but we have definitely got the right result."
Doncaster said the league was "particularly pleased" that the deal for live Premiership matches was with one broadcaster after Sky and BT Sport previously shared the rights.
He added that Sky's "determination and commitment" was "extremely encouraging".
"The significant, additional money which will come into Scottish football will be extremely welcome," he said.
"The game can only benefit from the strong investment and widespread exposure these deals have secured."
'Far from worst deal in uncertain market' - analysis
There was hope that the value of the new deal would reflect the new feel-good factor that's attached itself to Scottish football in recent years, but the reality was always going to be very different.
Where once these offers were delivered on a hunch and a hope by people who knew the game, these days, young hotshot analysts with no knowledge of the game will crunch the numbers. If the computer says no then forget it.
Just ask those at BT Sport who pushed hard to carry on what they'd started in Scottish football only for their corporate machine to say no. In fact, I'm told its offer for an exclusive deal fell "many tens of millions" short of what Sky bid.
One club boss told me they were underwhelmed by what's been signed, but others see it differently. The desire was to get more cash, fewer games and a greater say on kick-off times. The new deal mostly delivers on that.
The comparisons to deals signed by other leagues around Europe is also not as cut and dry as it seems. In Sweden, where almost all games are broadcast, they get much more in the pot but an average of around £100,000 per game. The Scottish deal delivers around £540,000 for each match covered.
Yes, chief executives and chairmen want money in the bank, but they also want bums on seats at 3pm on a Saturday. The deal is far from perfect, but in an uncertain market, it's far from the worst.