Qatar 2022 World Cup: 48-team expansion plan 'may need new vote'

By Richard Conway
BBC sports news correspondent
Last updated on .From the section European Football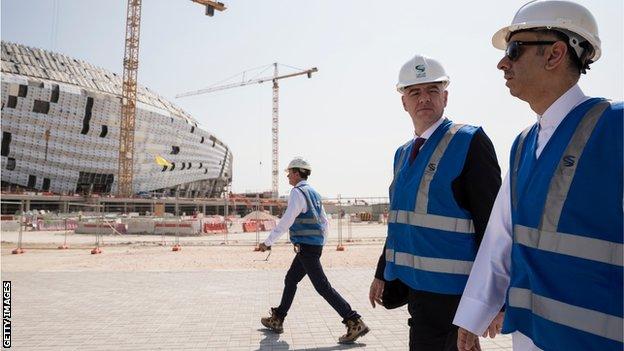 Proposals to expand the Qatar 2022 World Cup from 32 to 48 teams could require a new vote if additional host countries are needed to stage games.
Uefa president Aleksander Ceferin says any plan by the sport's global governing body Fifa to add 16 extra teams to the competition could create "many problems".
Fifa president Gianni Infantino has floated the prospect of an expanded tournament in recent weeks.
The decision has already been taken to expand the tournament in 2026, when it will be held in the USA, Canada and Mexico, and Infantino is now considering doing the same for 2022.
But Ceferin says he is "unsure" if Qatar could manage a World Cup of that size and that there are potential legal issues around any decision.
"The bidding process was made for one country," he said.
"Do you have to go to the bidding process again? Do we have to vote if some other countries want to host? Because only the Fifa congress can decide where the competition can be if it is also out of Qatar."
Ceferin is not advocating removing the hosting rights from Qatar - merely questioning the validity of Fifa deciding unilaterally to add additional countries.
However, despite Infantino's comments, he believes any expansion is unlikely.
"I think the idea is quite unrealistic," he said. "I don't think Fifa even thinks seriously about changing the format. There are many problems. Also the political situation to share it in the Gulf seems a bit strange."
Ceferin also remains opposed to a revamped Club World Cup, calling any plan to stage an annual 24-team contest "out of the question".
"Ambitions are fine but ambitions have to be realistic," he said. "Ambitions have to have a positive impact on football.
"I have said many times I am not the owner of Uefa, I'm just elected president. I can't sell football to any fund or anyone else.
"We can agree that it should be revamped or something should be done differently but we can't support something without having any information because our associations want to know how it is structured, what are we selling and clubs, of course. They want to know who is behind it. Until we get more information we can't even discuss about this so-called project."
A taskforce to look into the implications of a revised Club World Cup will report back to Fifa in March next year with Ceferin confirming that outgoing Premier League chief Richard Scudamore will be part of Uefa's delegation.