West Ham settle London Stadium dispute with landlords at last minute
Last updated on .From the section West Ham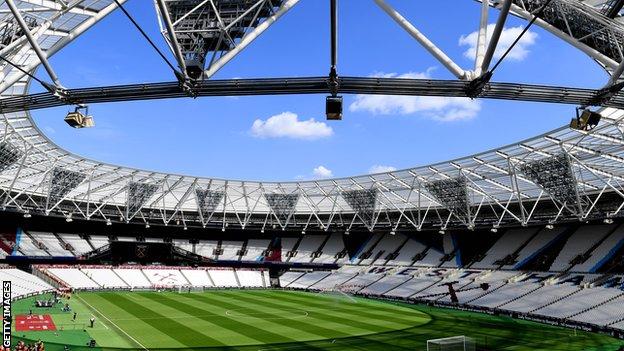 West Ham have reached an out-of-court settlement in a bitter dispute with landlords E20 on the day a costly High Court case was set to get under way.
The two parties confirmed an agreement has been reached towards the London Stadium's capacity going up to 66,000.
"Subject to regulatory permissions, the club will be able to sell up to 60,000 tickets for their games as soon as possible," said a joint statement.
It is believed the Premier League club will pay some additional costs.
However, it is thought both they and E20 - the organisation responsible for the stadium on matchdays - will receive financial benefits. The legal costs for the case were set to run into millions of pounds.
"Both parties are delighted to have taken the first step towards the stadium reaching its potential of up to 66,000 capacity, to their mutual benefit, and would see it become the largest in London and the second largest in the Premier League," added the joint statement.
"The increase in capacity will also make the London Stadium a more attractive proposition for a potential naming rights partner.
"The agreement brings with it more funding for E20 and significant additional revenue for West Ham United on matchdays - a deal that works for everyone."
When West Ham agreed to move into the old Olympic Stadium, they thought the capacity would eventually reach 66,000 but, in recent times, it has been restricted to 57,000.
Hammers vice-chairman Karren Brady has led the club's efforts to find a solution and it is felt her positive relationship with E20 chief executive Lyn Garner has been a major factor in the latest development.
The joint statement said: "West Ham United and E20 will now work together to maximise this magnificent stadium for the benefit of fans, our community and the public purse. Both parties are fully committed to making the London Stadium the jewel in London's crown that we all know it can be."
Analysis
The relationship between West Ham and their landlords has been extremely fractious.
West Ham have felt agreements have not been honoured and have been hugely critical about the stewarding and, from a financial perspective, the catering agreements.
E20 have felt the club were asking them to provide services they weren't paying for.
However, the appointment of Lyn Garner as E20 chief executive has brought about a thaw in relations.
Garner has a positive working relationship with Karren Brady and, whilst it would be wishful thinking to believe such a complicated chain of command as the one that exists around the London Stadium operational structure will not have its issues in the future, at least both sides are now moving in the same direction again.