European Super League is a 'fiction', say Uefa boss & clubs chief

By Richard Conway
BBC sports news correspondent
Last updated on .From the section European Football
Proposed plans for a breakaway European Super League are "fiction" - according to the two most powerful officials in European football.
Uefa president Aleksander Ceferin and Andrea Agnelli, the chairman of the influential European Club Association (ECA) which represents over 200 leading teams, say they are "united" - despite recently leaked documents claiming secret talks had been held over the creation of a new elite league.
"The Super League will not happen. It is in a way a fiction now or a dream," said Ceferin.
Agnelli, who is also chairman of Juventus - one of the teams reported to be a potential founding member of the Super League - added: "I can confirm we have never seen, never discussed, never been involved in the creation of this document.
"We are fully engaged with Uefa in shaping the game going forward."
Speaking exclusively to BBC Sport, Ceferin and Agnelli also outlined:
Their plans to reform European football from 2024 onwards.

How a revised football calendar could see less domestic football and more European ties played.

Why qualification for Europe must not just be for the elite.
Will there be a breakaway?
German publication Der Speigel claims to have documents which show a new Super League could be up and running by 2021 - featuring the biggest clubs from Spain, Italy, Germany, England and France.
However, Ceferin and Agnelli are adamant that the top clubs will stay within Uefa and that detailed talks are under way to find "solutions" - including changes to the format of the Champions League to secure a more lucrative broadcasting deal.
"We have some ideas. All I can say is that any Super League is out of the question. Participation stays. And everybody will have an opportunity to compete in every European competition," said Ceferin.
So what does it mean for European competitions?
A new third European competition with 32 teams will be rubber-stamped at a Uefa meeting in Dublin early next month.
So with the Champions League, Europa League and the new third contest, a total of 96 teams will compete once pre-qualifying is completed.
Cerefin says it will be the "beginning of wider European competition", and that clubs and national associations "appreciate it".
Referencing the likes of Celtic, Porto, Benfica, Ajax and Anderlecht, Agnelli added: "It will be our duty to safeguard the great heritages of European football but on the other side I think we are very well aware that we have to safeguard markets, we have to think about upcoming markets.
"We have to think about Poland. We have to think about [countries like] Turkey, we have to think about Russia. Fans can rest assured that if we put our hands to making a new product it's because we want to make sure that fans across Europe engage."
Will the rich just get richer?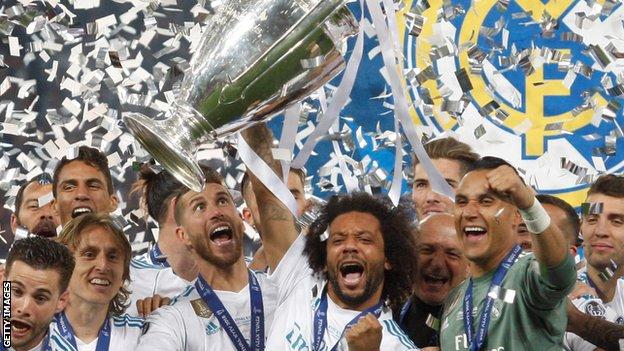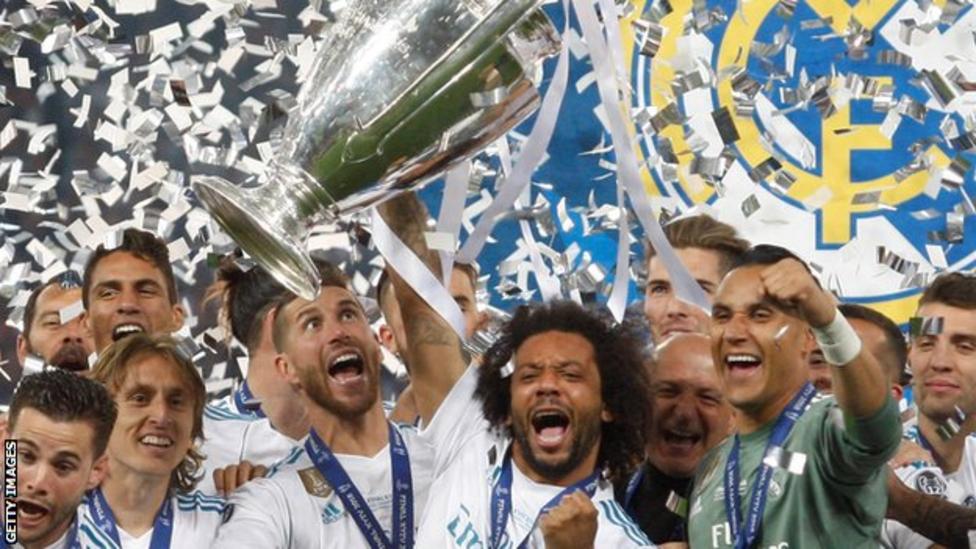 Both men reject the suggestion that the dominance of Europe's top teams is being reinforced by these new competition structures.
"The dogma of the dream has to stay alive, because it is the foundation of European sports," says Agnelli.
Ceferin says: "Unfortunately in the world many times it happens that the rich become richer. I think we are one of the rare organisations in the world that tackles this problem.
"We know that we have to slow the gap [between rich clubs and the rest] because probably it will be hard to stop completely.
"And I'm not sure if we want to have everyone equal without intervention. I think that wouldn't be the right approach because if you are doing a good job, you're working a lot, trying to do something, you have to be rewarded for that.
"But 'know your place' is not fair to say. You have to compete, you have to have results to qualify for the top competition. If you don't have results it would be a strange competition. You decide it by sport results, it's the only way."
Why do they think change is needed?
Nothing will actually change before 2024 when the existing competition arrangements expire.
Agnelli says the aim is for every club to increase their international exposure through more European ties - while Cerefin says they are "trying to find a solution together".
"The best platforms can only come through international competitions and that is why increasing participation increasing inclusion it is key to all of us," he added.
"Now the most relevant games are the top of the ladder games. If you look at the Champions League final in comparison to the Super Bowl it beats it by a factor of 1.5 to 1.
"So the spectators of that game are on a global scale. We have to build on that to make sure we have the resources to allocate throughout Europe to allow every single club, in every single European country, to have a proper international platform."
Does that mean less domestic football then?
Both men declined to give specific detail on the potential changes to European football, given the ongoing negotiations with clubs, leagues and associations.
But if European fixtures increase then an already packed football calendar will need comprehensive revision.
The ECA wants to see the international confederation tournaments, such as the European Championships and Afcon, all played in the summer of the same year. Guaranteed rest periods for players is also high on the agenda.
And Agnelli's idea for a "rebalancing" of European games over domestic games is likely to cause some controversy - although both officials were keen to point out that they are simply at an "idea stage".
"Evidently if you want to have an overall rebalancing of European football and more international [European] football, all that would have to go hand in hand with a reduction of domestic games," says Agnelli.
"But most importantly it is harmonising. Today you take England, for example, that has two national cups. A team potentially plays 53 domestic games.
"Then you take Germany where the maximum number of games is 43 because there are two fewer teams in the league and there is only one cup. So that is 10 games difference. Is it logical?
"There's a whole system of anomalies that have to be addressed. It might mean in certain leagues increasing the amount of games. It's not just about reducing, it's about making it a level playing field, which is very important."
What's next?
Ceferin and Agnelli will travel to Brussels on Tuesday to meet the European Commissioner for Sport, Tibor Navracsics.
Cerefin said: "We want to show that our vision of the future of football is, let's say, similar. It's not completely the same. We [Uefa and the ECA] have some disagreements from time to time but we firmly believe in the European sports model together.
"We think that the European football can go further only if we stay together, unified. If you want to develop football you have to stay together.
"Europe has problems with unity these days - and football, as one of the biggest powers, should lead this unity. That's our opinion."