'Thank you, Mr Southgate, for giving us hope' - what you loved about England in 2018
By Steve Sutcliffe
BBC Sport
Last updated on .From the section England135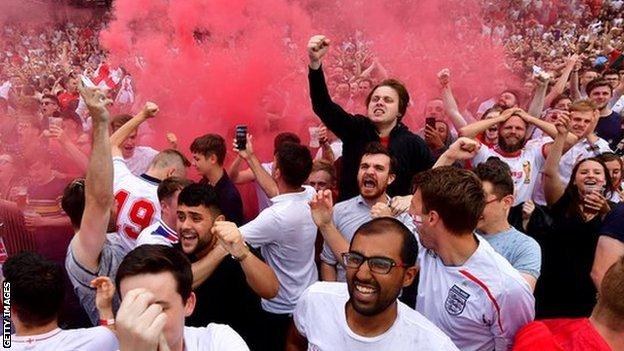 Remember the moans, groans and general ambivalence when watching England was not so much a labour of love, but more a thankless task?
Not any more. This year has been a little different.
With the World Cup evoking memories of Italia 90, supporters felt like they'd been reunited with an old flame.
And then there was victory in Spain - and Sunday's win over Croatia - leaving manager Gareth Southgate piling praise on the Wembley atmosphere, suggesting an exciting new connection between fans and players has been sparked.
"I've not heard Wembley like that for years," Southgate said.
"We've given our supporters some really memorable days and nights this year and we want to continue that, and build on it, because the energy that came back to the team in those difficult moments helped us to get over the line today."
So, what do fans really think and what did they love about England in 2018? We asked you to get in touch...
'England not scared any more'
Chris Ward: England don't look scared any more. Growing up, we crumbled in international competitions but this young team look like they aren't bothered by the pressure. They go out, play the sport they love and finally we can enjoy watching England. Thank you, Mr Southgate, for giving us hope.
Carl Walker: Watching England with no fear at the World Cup was like a breath of fresh air. We had no expectations and everyone just wanted to see a good performance. I'm from Reading but I watched the quarter-final in a bar in Newcastle and it was the best atmosphere I have seen.
Anthony Horn: After being written off as big-game bottlers, Gareth Southgate and his young team have reached the World Cup semi-final, beaten Spain in Spain, and now beaten Croatia in the hardest qualifying group, to reach the Nations League semi-final. We are the real deal and we are getting better.
The players that swept all before them to win the under-17, under-19 and under-21 competitions are coming through and Southgate has the courage to pick them even if they are not yet regulars in their domestic league sides. At last we have a realistic chance of winning major tournaments.
Mark Bevan: I followed England to Russia for my seventh World Cup and it was the one with least expectation. However, we repeated 1990, my first tournament. And, with the youth and freshness that Gareth Southgate is encouraging, we have no fear factor - it is great to see.
'Humble and hungry'
Andrew Moorcraft: Gareth Southgate has got the team to park their club egos at the doorstep and enter into a contract of camaraderie and self-belief. The team still has a long way to go but you can see they know that and, at the same time, they all want to go along for the ride and absorb every step of the journey.
You can learn a lot from other sports and perhaps this is a lesson learned from Tracey Neville and the English netball team.
Peter Noble: I made it all the way to Russia for the quarter-final and the semi-final. Going to places I never thought I would see, supporting my team and cheering on the lads.
It was great to see how people suddenly had belief in England again - that we can achieve something, that we can win a penalty shootout, that we can be proud of our football team and have a renewed sense of patriotism and optimism towards our nation.
Paul McDonnell: The camaraderie in this young, humble and hungry team! They appear to be unified in their pursuit of becoming a better, more adaptable and certainly a more technical football side. They are proving that the national team can benefit from the brilliance of international superstars playing week in, week out in the Premier League.
So much about the England set-up deserves respect, from giving Wayne Rooney the Wembley send-off he deserved, to drafting in players from less fashionable clubs to show what they can do, to being brave enough to use players who may not always be playing regularly for their club side because they fit into the system needed to challenge (and beat) some of the best teams in the world. Proud to be a fan again.
Andy Woods: I had completely lost interest in the England team over recent years. It was all about the€œ golden generation€ and the WAGs, and it felt like it was all about selling shirts, newspapers and television subscriptions.
At the beginning of the 2018 World Cup I could probably only name two players, [Harry] Kane and [Jesse] Lingard but, boy, how they changed my opinion of the England team! There are no prima donnas and they have shown humility as well as good football.
Darren Miller: It finally felt like they [the England team] belonged to us. We were able to identify ourselves in the team. Working-class lads who have worked hard to get where they are but still remember the fans, and how important we are. No egos or attitudes but happy to play for the fans.
'It's fun again'
Dean Bridges: Just a pleasure to watch. Heart and soul in every performance. They play football as if it is fun and it makes it fun watching them.
Martin Tracey: It is now exciting to watch England. The team is happy and playing so well. Well done lads.
'Southgate's waistcoat'
And the style wasn't just played out on the pitch...
Gareth Southgate enjoyed football fashionista status for his waistcoat wearing during the World Cup, bringing the item back into vogue on the high street and causing a #WaistcoatWednesday social media trend.
Andrea Hughes: The way England got to the World Cup semi-final... and Gareth Southgate's waistcoat.