Burnley fan running to every Premier League away game this season
Last updated on .From the section Burnley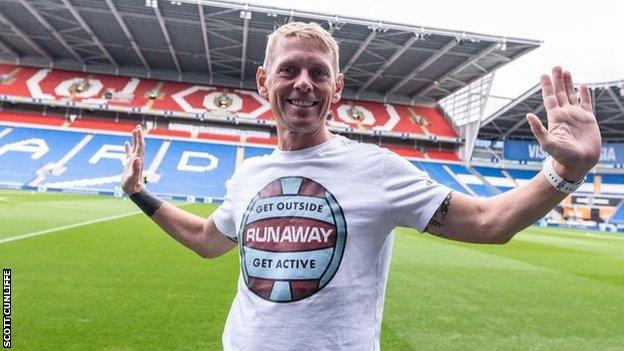 Southampton (away).
Just shy of a five-hour drive for Burnley fans who made their first away trip of the season - nine days, 269 miles and almost 60,000 calories if you fancied running it.
Clarets fan Scott Cunliffe did just that.
In fact he's run to each of Burnley's seven Premier League away games so far this term, clocking up the equivalent of 45 marathons in 38 days and sending his step-counter soaring beyond the two million mark.
And he's not finished yet - the 44-year-old plans to run to all 19 away fixtures as part of his RunAway Challenge.
But as the nights draw in and the temperatures drop, December is about to pose his biggest challenge yet.
Sean Dyche's Burnley side have three visits to London in 22 days as the Lancashire outfit face Crystal Palace (1 December) before back-to-back journeys to Tottenham and Arsenal.
For Cunliffe, who starts every run from Burnley's Turf Moor ground, that means 400 miles on foot and 14 successive days of running.
He will arrive home on Sunday morning after Burnley face Spurs at Wembley on Saturday, 15 December, and set off for Arsenal's Emirates Stadium that same afternoon.
"This is the big one," he tells BBC Sport. "It is 14 days in a row, pretty much, and I'm going to be running around 60k a day for each of those."
It begs the question: Why?
'My mad idea - recovering from PTSD'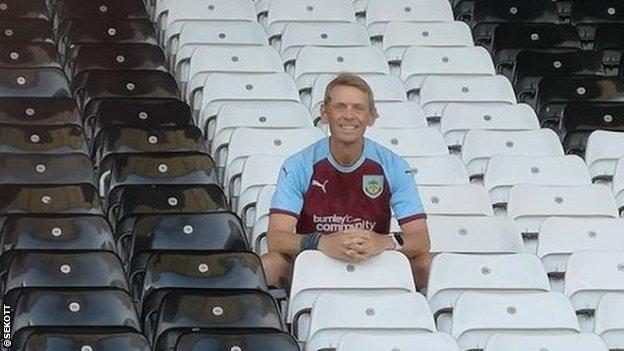 Cunliffe opted to combine his love of following Burnley with a passion for running ultra-marathons when he returned to England earlier this year after two decades working for charities in Southeast Asia.
While in Indonesia and East Timor, he witnessed violent conflicts and poverty-stricken environments that led to him developing post-traumatic stress disorder and depression.
RunAway Challenge is the "mad" idea he dreamt up upon his return which aims to raise money for Premier League clubs' charities, like Burnley FC in the Community, that offer innovative activities to improve the mental and physical health of disadvantaged people.
Ideally, Cunliffe arrives at each ground with enough time to experience clubs' community projects himself, and at the end of the season he plans to distribute the funds raised between all 20 of them.
"There's a lot more common ground in football than any adversity or bitterness that goes with it," adds Cunliffe, who says running was a major part of his therapy.
"There's rivalry, but more unity than it gets credit for - as an away fan you see that all the time, you chat to fans from opposition teams and it's just natural and normal."
Life on the road - a full-time job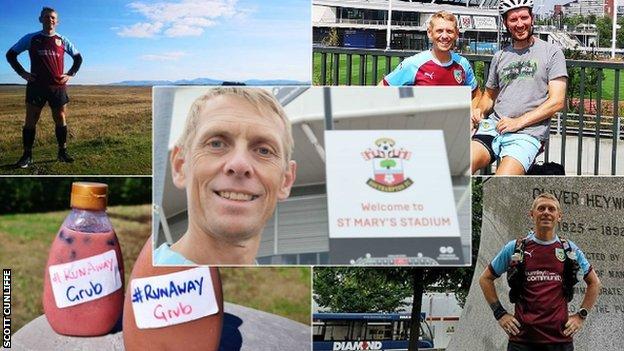 By the end of the season, Cunliffe expects to have covered 3,000 miles and hopes to have raised £10,000 for community causes - seven away days down, he's 1,193 miles in and almost halfway to that total.
But this challenge has become a full-time job.
The charity worker's life is currently spent either on the road running to football grounds or meeting potential sponsors, and Cunliffe is thankful to the generous "goodwill" of friends and supportive companies for keeping him going.
Then there is the planning. A lot of it. What to pack for a 210-mile jaunt to Selhurst Park next weekend, for example? How to get there? Where to stay?
"I cut my toothbrush in half to save on space," laughs Cunliffe, who says he is a "middle of the pack runner who might finish in the top 20 at ParkRun".
Some trips have seen him accompanied by a support car, which he says makes life easier, though admitting a good night's sleep in a hotel bed is far better for recovery than the back of a van.
Cunliffe likes to stay off road when he can, even if he has to watch his footing on routes such as the Grand Union Canal and Pennine Bridleway, and is surviving largely on sports gels and carbohydrate powders to replace the 216,191 calories burned so far.
Then there is the impact on his body. Even the shortest trip to Manchester City's Etihad Stadium was beyond marathon distance and upon reaching Palace he'll have chalked off 54 of the 26.2-mile landmarks.
Some days he admits it's a struggle to get going again, and Cunliffe did harbour fears of a fractured foot after it ballooned in size and left him struggling to get his shoe on, but the runner says the mental challenge far outweighs any physical battle.
And, of course, Cunliffe has the motivation of helping community charities across the country.
"My experiences left me with post-traumatic stress disorder and depression," he adds. "Running was a major part of my therapy in overcoming this.
"I want to use that experience to benefit others, and football is the perfect way to unite people in this cause."