Nations League: The 12 minutes that made England fall in love
Last updated on .From the section England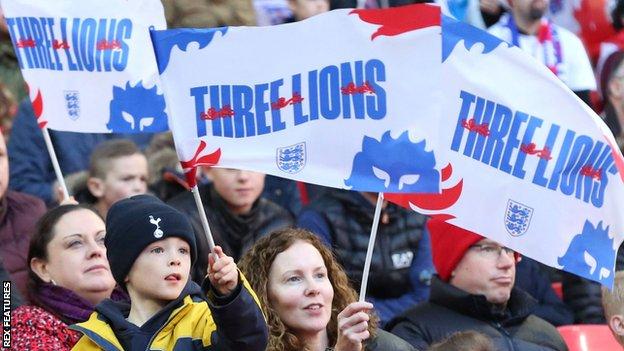 From "glorified friendlies" to "it's coming home!" in the space of 12 minutes.
Derided initially by some as confusing and complex, the Uefa Nations League proved a massive hit at Wembley on Sunday.
Despite the competition's complexities, the scenario facing England was quite straightforward. Beat Croatia and progress to next June's finals from a group also featuring Spain; lose and be relegated to the second tier.
Gareth Southgate's side had produced an exceptional performance in the first half but with 57 minutes gone the game was still goalless. Until...
Another Croatian dose of despair?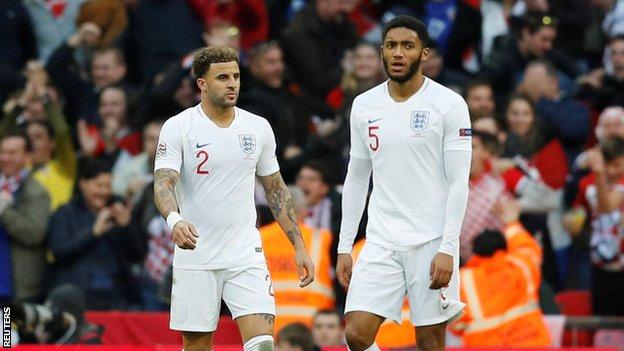 England fans were wondering how their side had failed to score in the first half, with both Harry Kane and Raheem Sterling guilty of wasting good opportunities.
Former England defender Matthew Upson feared the worst on BBC Radio 5 live: "Even though Croatia haven't played well in this game, it's still 0-0. You look back to the World Cup semi-final - we started well in that game too."
We all know what happened that night.
And it seemed a case of deja vu when, with Croatia's first effort on target, Andrej Kramaric scored.
Cue the not-so-positive reaction on #bbcfootball:
Philip Mulvaney: Not surprised World Cup was a fluke - if we lose we won't just be relegated but we would have lost to Croatia yet again. Embarrassing. Get rid of this pointless Nations League rubbish. Rather watch Premier League - more exciting.
Dax Fullbrook: So if England lose do we drop into the Europa League?
Lingard scores in the 78th minute... could they?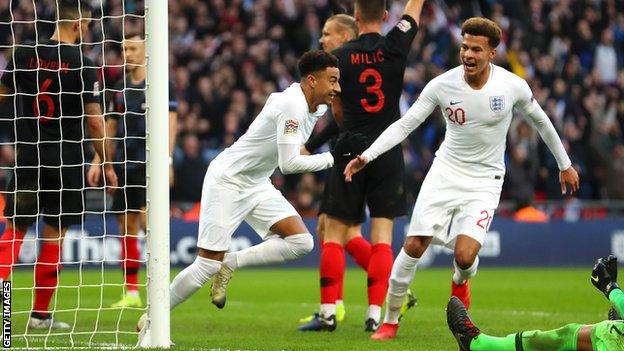 Hope for England!
Jesse Lingard taps in on the line as Kane's effort dribbles towards goal, bringing Southgate's side level.
But England are still heading for relegation to the second tier. Unless they can score again.
A roar goes around Wembley as the game resumes with 12 minutes of normal time remaining.
And then...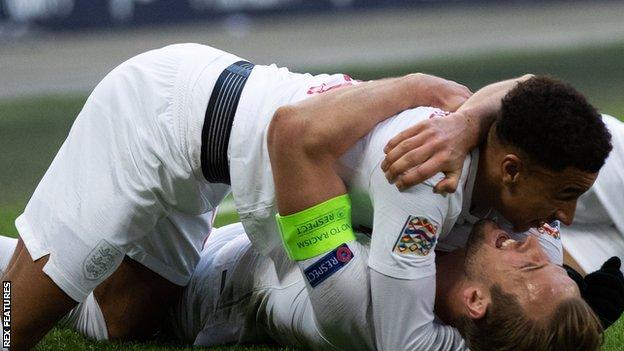 HARRRRRRRY KAAAAAAANE!!!!
You know that guy who was the top scorer at the World Cup, but is on a barren run of seven international games without a goal?
With five minutes of normal time remaining the Tottenham man slides in to convert Ben Chilwell's free-kick from the left.
Wembley shakes, fans sing "it's coming home" and England are gearing up for a tournament finals next summer in Portugal.
Cue euphoria on #bbcfootball - maybe this new Nations League is a good idea after all.
Jack Tanner: The Nations League is brilliant. Try saying it isn't an improvement on friendlies or qualifiers after that last 15 minutes.
Nathanael Leon: Mad idea but haven't Uefa made a better competition than the Euros? It's a Euros of better teams.
'The energy was electric' - what the players said
England midfielder Fabian Delph reflected the mood when he said: "It was an absolutely amazing day. In the dressing room the energy was electric. We're glad we can do ourselves proud and bring the nation together."
Goalkeeper Jordan Pickford told BBC Radio 5 live: "The atmosphere is probably the best we've had at Wembley.
"This Nations League makes you want to beat the best. We've beaten two of the top 10 sides in the world. Now we have another semi-final - it'll be a good summer."
Match-winner Kane said his decisive goal ranked among his career highlights.
"It's right up there," he told BBC Radio 5 live. "To see the fans like they were and the belief they showed...
"It's one of England's best years. We could win a trophy now! We've had a fantastic year, but not rested on our laurels."
And for Southgate, the excitement around the team and their Nations League performances is encouraging - both for next summer's finals and for Euro 2020, when the semi-finals and final will be staged at Wembley.
"That atmosphere today was fantastic," he said. "If Wembley can be like that over the next couple of years... We're going to have some significant games here that our fans are going to play as huge a part in winning as the quality of the team is."