David McNamara: Rock, paper, scissors referee backed by hundreds of colleagues
Last updated on .From the section Football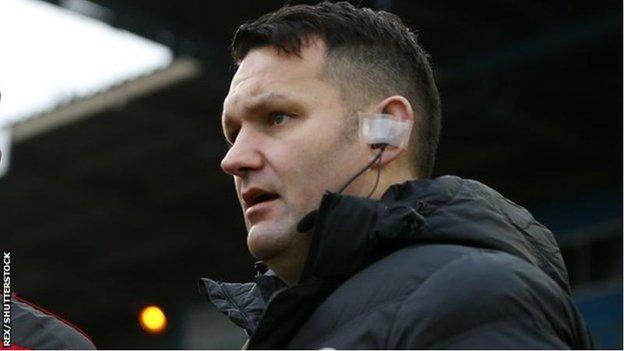 Hundreds of referees have risked being charged with breaching rules by using a rock, paper, scissors protest to support banned official David McNamara.
The referees used the game instead of a coin toss before grassroots matches over the weekend.
McNamara was suspended for three weeks by the Football Association for using rock, paper, scissors before a Women's Super League match last month.
"A lot of us were thinking of David," referee Ryan Hampson told BBC Sport.
"We wanted to show solidarity."
Hampson, 19, used rock, paper, scissors at a match in Lancashire, and said players had requested it.
"Without me saying a word, four players came up to me and said 'are we getting on the rock, paper, scissors today?' as they had seen coverage of the issue," he said.
A coin toss to decide kick-offs is a requirement under the laws of the game.
McNamara left his coin in the dressing room before last month's televised WSL match between Manchester City and Reading.
A charity which offers support to the estimated 28,000 referees in the country said the weekend had shown the widespread support for McNamara.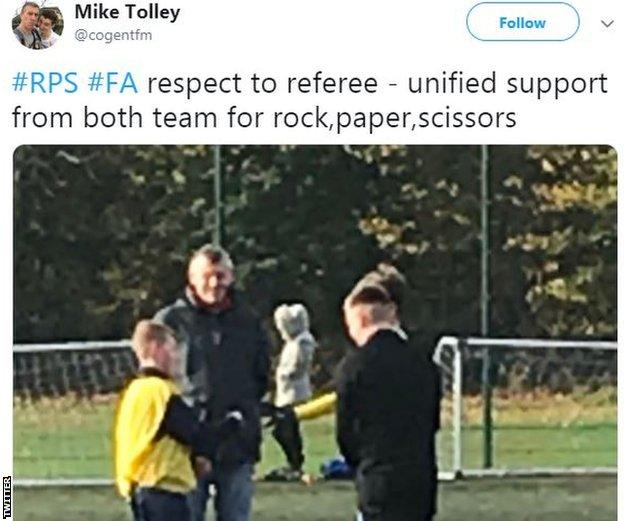 "We can't condone anyone deliberately breaking the laws of football," said Ref Support UK chief executive Martin Cassidy.
"However, we understand hundreds took part. The level of support should send out a message that the punishment was disproportionate.
"This suggests people are willing to face a possible charge from the FA or their county FA as they feel so strongly about it."
The BBC is aware of many officials who used 'RPS', as it is now being described among the referee community, although some opposed the protests.
"Two wrongs don't make a right. Referees are law-enforcers and not law-breakers," said a Southern Sunday League spokesperson.
"This action is unprofessional and it brings the game into disrepute. Doing this due to a forgotten coin is one thing but this is a step too far."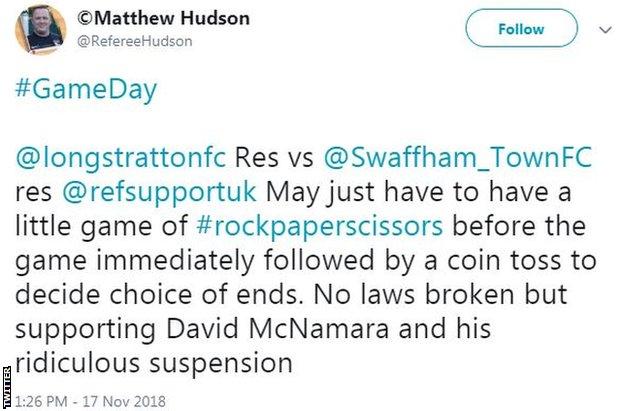 The controversy has unfolded at a time when some referees say they have experienced abuse and assaults at matches.
Last week Daniel Sweeney suffered a broken jaw and facial injuries when he was attacked following an amateur match in the Republic of Ireland.
What do the rules say?
The laws of the game state a coin toss must take place at kick-off to determine which side can choose the end they want to play from.
While it has always been considered the referee's duty to toss the coin, the rules do not specifically state who should flip it.
Unlike a whistle, watch and cards, a coin is not listed as a compulsory item of the match official's equipment.
McNamara accepted a charge of "not acting in the best interests of the game" but was left stunned by the subsequent sanction.


How the controversy came about
England and Manchester City skipper Steph Houghton and Reading counterpart Kirsty Pearce were the captains involved in the WSL match, which finished 1-1.
It is not clear who complained or who sanctioned McNamara's 21-day penalty.
FA women's refereeing manager Joanna Stimpson called it a "moment of madness" - a comment ex-referees' chief Keith Hackett described as unacceptable.
He said McNamara was under "time pressure" and rather than a suspension "should have received a phone call and been given some operational advice".
The FA declined to comment further than its statement issued earlier in the week, which said McNamara had been suspended from 26 November and is due to return on 17 December.
Privately it is thought the FA views the McNamara case as "unique" but that it has a duty to treat WSL matches and players in a similar way to the Premier League and he failed to carry out his duties.