Eddie Howe on Bournemouth, Pep Guardiola and Premier League ambitions
By Daniel Storey
BBC Sport
Last updated on .From the section Bournemouth218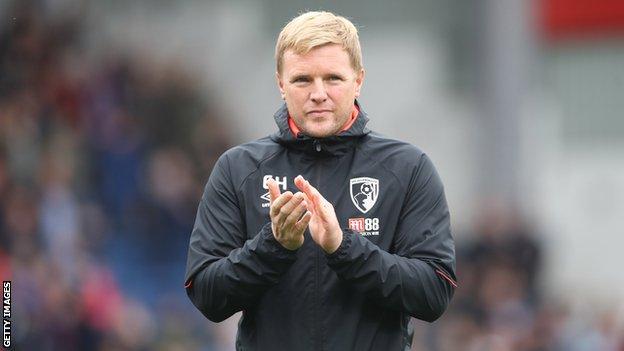 Ten years ago, AFC Bournemouth were dying.
Handed a 17-point penalty in League Two, they did not even reach zero points until early December. Players were not being paid on time and only received salaries at all thanks to loans from the Professional Footballers' Association.
Bailiffs regularly visited the club shop to take stock because payments hadn't been made, and use of training facilities had to be paid in cash because no sensible organisation would give them credit.
Nobody wanted to deal with the decaying club.
On New Year's Eve 2008, with the club 91st in the Football League and facing relegation and potential liquidation, Bournemouth named 31-year-old centre of excellence manager Eddie Howe as their caretaker boss.
Three weeks later, he was appointed on a permanent basis and became the youngest manager in all four divisions. He had no first-team managerial experience, Bournemouth were 10 points from safety and had been knocked out of the FA Cup by Blyth Spartans of the Conference North.
They had little hope and even less money.
So to swap 91st in the English football system for sixth and to go from sitting below Chester City to sitting above Manchester United is an extraordinary tale. No other manager has overseen such a dramatic ascent in the Premier League era.
Only one thing has stayed the same: the youngest manager in the Football League in 2009 is the youngest manager in the Premier League in 2018. Howe, at the age of 40, is also its longest serving.
A career prompted by a click in the knee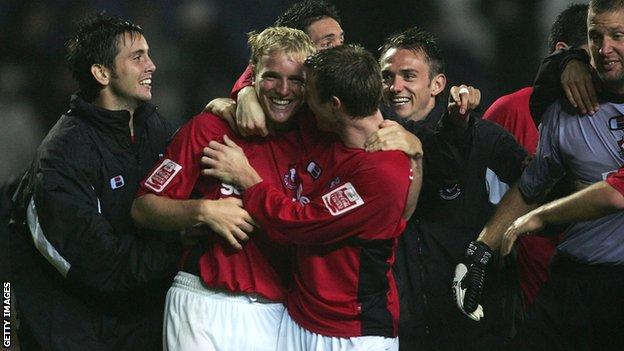 Howe's managerial story did not begin at Bournemouth, but 35 miles along the south coast at Portsmouth.
In August 2002, the central defender started the Fratton Park club's first game of the season against Nottingham Forest. Midway through the first half, he cleared the ball but felt a click in his knee.
Although he didn't know it at the time, it was the beginning of the end of his playing career at the age of 24. He would not retire for another five years, but Howe found he could no longer jump as high or turn as sharply following initial misdiagnosis.
Everything he had worked for as a teenager was waning.
"It is strange how setbacks in your life can spark reactions that you never thought could happen," Howe says.
"For me to sit here now and say I am a Premier League manager is something I would never have thought possible after that Nottingham Forest match. But it also contributed to where I am. If adversity can make you, that was my moment."
As one door closes, another opens. Howe had never considered a coaching career, but began to throw himself into a new life.
Having initially become Bournemouth player-coach in December 2006, he was handed the job as reserve-team manager, briefly left after the sacking of manager Kevin Bond but returned as centre of excellence manager. This club, its strengths, quirks and flaws, are in Howe's blood.
Making a statement to the players - and taking away excuses
It is hard to overstate the achievements in Howe's two reigns at Bournemouth.
The Premier League has witnessed extraordinary performance from smaller clubs before, but never over such an extended period and never before has it felt so sustainable.
Burnley's success is one natural comparison, especially as Howe spent close to two years in charge of the Clarets after his initial spell managing Bournemouth, but even their ascent does not match the pace of progress at the Cherries.
Burnley, after all, are in their 92nd season inside English football's top two divisions, Bournemouth are in their ninth.
Howe's own spell at Burnley was not a huge success. The shock passing of his mother Anne caused him huge emotional turmoil and, in a job 250 miles from the south coast, he struggled to cope. He needed to go home.
Amid the myriad statistics that describe the speed of Bournemouth's progression, one sticks out: the club have only spent five seasons of their 119-year history in the second tier, but next season would be their fifth consecutive campaign in the top flight.
The Cherries leapfrogged their way to the Promised Land, and then set up camp.
But after three promotions in six years, Premier League football could have come too soon for this town and this club. Dean Court required changes to even host top-flight football, and remains the smallest in Premier League history.
Howe, however, rejects the idea that life in the Premier League was ever likely to surprise Bournemouth. Being surprised, he suggests, means you have not prepared.
"We had some things we had to do with the stadium: seats, lighting and more. But the main thing for me was to get the players' pavilion at the training centre constructed.
"It meant the players came back after the summer with a different mindset. They needed to feel a difference, to walk in and realise that Bournemouth meant business.
"I wanted a centre to help the players recover better after training. I wanted a cryotherapy chamber. I wanted to improve the gym. We spent a lot of money on the training pitches. It meant there were no excuses not to perform at the top level. This was never a one-season thing, but a permanent fixture."
Shades of Guardiola - 'I'm obsessed with the details'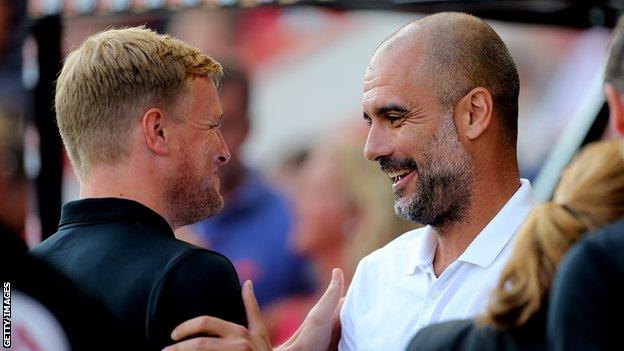 With sporting stories such as these, it is tempting to talk of magic and miracles. The reality, as Howe is keen to stress, is far less mysterious. Even the greatest tales rely upon masses of hard work and determination.
"I have a burning desire to achieve and that leads to a high amount of work," he says when asked if he is a workaholic.
"I am committed to the job and I will try and do anything I can to affect results, however much work that takes. I think I am addicted to the game. I think you have to be, with the volume of games you are watching and the amount of interest you have to have. You have to love the game."
After speaking to several Bournemouth players, the name that keeps cropping up is Pep Guardiola. Key members of Howe's squad believe their manager shares principles and an ethos with one of the greats of modern management. What does he think of the comparison?
"I would like to think it's about commitment and being obsessed with details, being obsessed about the small things that make the big things happen.
"I am passionate on the training ground about things being perfect. It's about taking a performance, breaking down every single aspect of it and then working on making each aspect a little better.
"Every moment, every game, every season. I don't know how Pep Guardiola works, but that's certainly how I am."
Howe's commitment to improvement through detail is astonishing. In the players' lounge at the training ground, a team of six video analysts have been asked to study a montage of recent missed chances in order to replicate the scenarios in specifically-designed training drills.
On the walls around the room are wipe-clean boards with data from the season so far.
At a glance, you can learn in which match Bournemouth recorded the highest number of regains in the attacking half and which player is responsible for the most entries into the final third.
"I think the most important thing is the mentality to improve," Howe says. "We find players with the right mental characteristics that fit the club.
"I know we demand a lot from our players. So if a player doesn't have a desire to improve or a thirst for knowledge and doesn't want to grow, it will be difficult for him here.
"But with an open mind, working with them, it's incredibly exciting to see what you can achieve."
Taking new players out to dinner - 'They have to know I care about them'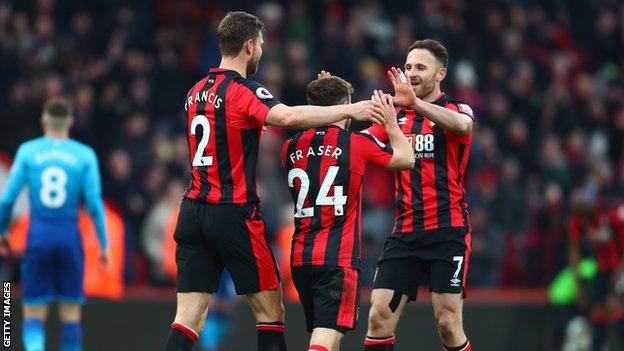 If Guardiola is one buzzword among Bournemouth's players, the other is "family".
The squad feels they are appreciated, respected and trusted by their manager - which is exactly the atmosphere Howe wants to create.
"I think this has always been a family club," Howe says. "When I was here as a player everyone knew everyone's personal lives and truly felt an attachment to each other.
"I don't think that has changed even although the club has got bigger. That is so important to me, the feeling at the training ground and club."
There are few Premier League managers who are so hands-on as Howe. When Ryan Fraser joined from Aberdeen, his new manager took him out to dinner to get to know him and help him settle a long way from home.
"I just wanted to make him feel comfortable where he is living and help him to make friends in the area that would be positive for him," Howe says.
"You have to spend time with your players because that shows them you care about them as individuals as well as footballers."
This season, Howe has used five different players - captain Simon Francis, Steve Cook, Ryan Fraser, Charlie Daniels and Marc Pugh - who appeared regularly for the club during their League One promotion campaign in 2012-13.
If the club's rise is highly unusual, a cluster of players keeping pace with each promotion is almost unprecedented. How has Howe improved third-tier regulars to the level of top-half Premier League performers?
"Those players have been absolutely incredible in representing this club, their families and themselves," he says.
"Every challenge they have faced, they have usually overcome. The improvement in those players is truly incredible, and I've been delighted to have been a part of that journey with them.
"The path for learning is there at Bournemouth if the player wants it. Not everyone chooses that path. But every one of those players you mention has had setbacks along the way.
"They have fought, they have gone again and they have challenged themselves. And that's why they more than anyone are a shining example of what you can achieve with hard work and discipline."
'My personal ambitions are matched by Bournemouth's ambitions'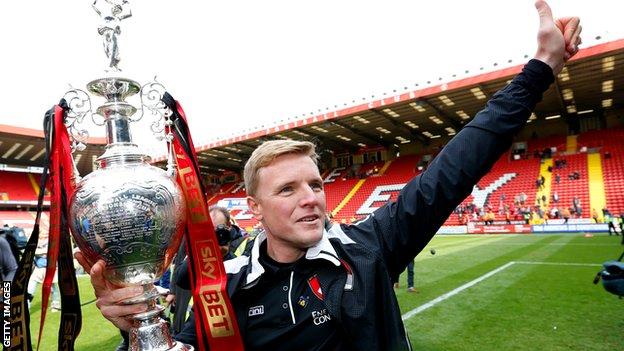 Bournemouth are 12 points above the bottom three, but Howe is determined not to let complacency creep in.
Howe's mantra is that rather than being better than Manchester United, Newcastle or Cardiff, just make sure Bournemouth are the best they can be. That removes the glass ceiling. Your only limitations are the ones you place upon yourself.
But being level-headed does not mean he lacks ambition. He has been described as England's "special one" by Gary Lineker and mentioned in passing for the top job at Arsenal, Tottenham, Manchester United and England.
Jurgen Klopp was approached by Borussia Dortmund and Maurizio Sarri by Napoli after overachieving at provincial clubs and Jamie Carragher believes if Howe was managing in Germany or Spain he would have been approached by a Champions League club by now. But that can - and must - all wait.
"I am massively driven, and hugely ambitious," Howe says. "I have never hidden that, and never wanted to. But in this job, and I'm not just saying it, I'm hugely ambitious for Bournemouth. My personal ambitions are matched by Bournemouth's ambitions."
So can a club from a provincial seaside town, one that came so close to tumbling out of the Football League a decade ago, really look higher still?
"Only the sky is the limit," Howe says. "The one thing this journey has taught me is that you should never put limitations on what you can achieve.
"If we had done that at the start, we would never have even thought about the Championship, let alone the Premier League. But we did it. So never say it is impossible to do anything."