David McNamara: Referee banned for rock, paper, scissors kick-off to appeal
Last updated on .From the section Women's Football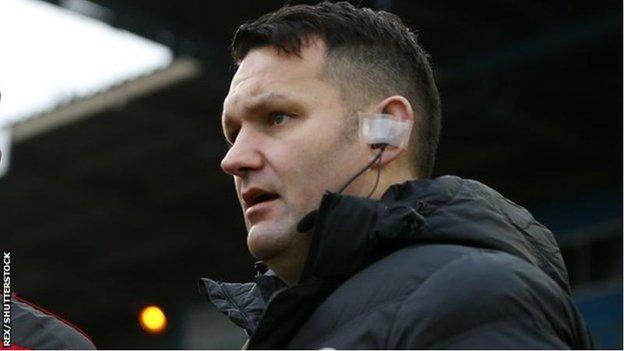 Referee David McNamara has decided to appeal against his three-week ban for using a game of rock, paper, scissors in place of a coin toss.
The suspension led to scores of referees across the country using the method on Saturday in support.
McNamara left his coin in the dressing room before October's WSL match between Manchester City and Reading.
The decision to appeal was revealed in a statement to BBC Sport from the Ref Support UK charity.
"David has told us that he has appealed against the ban," it said.
"We believe the punishment to be disproportionate and should be rescinded and reduced to a written warning.
"David would also like to take this opportunity to place on record his appreciation for the tremendous messages of support from his refereeing colleagues around the world."
McNamara accepted a charge of "not acting in the best interests of the game" and it was initially thought he would not submit an appeal.
But he has been encouraged by the support and anger of other referees.
A coin toss to decide kick-offs is a requirement under the laws of the game.
But former referees' chief Keith Hackett had called the suspension imposed by the Football Association "draconian".
McNamara has said he does not wish to comment on the case until the result of the appeal is known.
"We hope the FA's judicial services appoint a panel of credible people for the appeal," said Ref Support chief executive Martin Cassidy.
"They have the chance to deliver a verdict that is not only in the best interests of the game but also one that lessens the disenfranchisement of refs from the FA referees department."
The FA has declined to comment further than its statement issued earlier in the week, which said that McNamara had been suspended for 21 days and would return to duty on 17 December.
Privately it is thought the FA views the McNamara case as "unique" but that it has a duty to treat WSL matches in a similar way to the Premier League and he failed to carry out his duties.