European Super League: Arsenal 'never want' to leave Premier League
Last updated on .From the section Arsenal341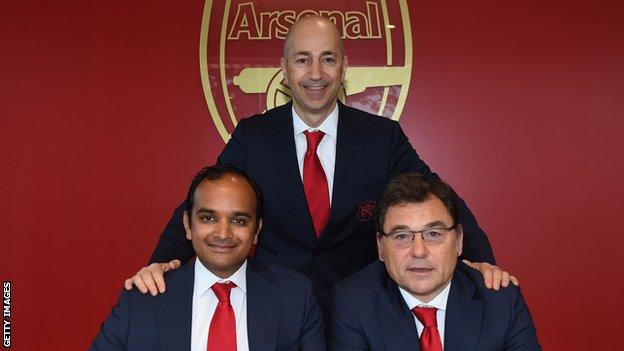 Arsenal want to be part of any future talks about a European Super League but do not want to "damage" the Premier League by walking away, says managing director Vinai Venkatesham.
"We have to be in the conversations. It doesn't necessarily mean we support them," said Venkatesham, who was appointed after former chief executive Ivan Gazidis left for AC Milan.
"Arsenal aren't, or never have been, interested in playing in any competition that weakens the Premier League. The Premier League is the world's leading league in the leading sport - we don't want to do anything to damage it.
"When people talk about the European Super League, that covers a really big spectrum. People jump to one end of the spectrum and think this is what we are talking about - but actually often it's just a slight evolution from where we are today.
"I see these articles that Arsenal want to break away. We never want to do any of that. But we also have to recognise we have to be in these conversations or we wouldn't be responsible."
Arsenal restructured their senior management after Gazidis' departure, with former head of football relations Raul Sanllehi becoming head of football as Venkatesham moved from chief commercial officer to managing director.
While at Barcelona, Sanllehi was part of a working group which looked into a European Super League, but the Spaniard says any such revamp will not happen in the short term after a renegotiation of the terms of the Champions League agreement with Uefa.
"As we are responsible for top European clubs, the ECA [European Club Association] had to look at all the options for the future," Sanllehi said.
"One of them, of course, could have been the possibility of a European Super League. It was a conversation we didn't hide from anybody, not even from the ECA smaller clubs.
"We looked into that in two ways: a way of exploring the real possibility and also how it would help us to negotiate with Uefa under the new terms because every cycle we will negotiate the memorandum of understanding.
"At the end of the day, the outcome was the best possible because we got into a new deal with Uefa within the system that protected the domestic leagues."