Coalville Town: Fan donates shirt to help new recruit make debut
Last updated on .From the section National League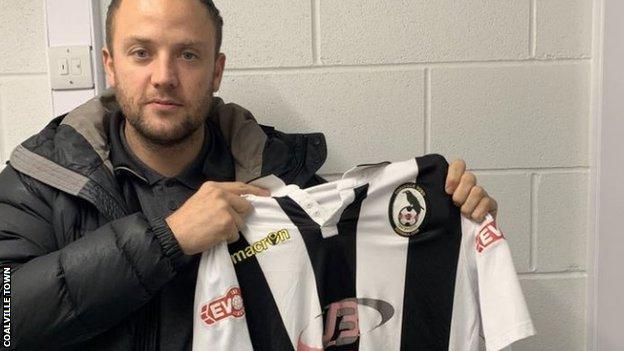 Pulled hamstrings, carried-over suspensions, lack of fitness - all common reasons your new signing might have to wait to make their debut. But what about a shirt that is too tight?
Non-league side Coalville Town were "delighted" to welcome big target man Kyle Perry to the Leicestershire-based club on Thursday.
However, it quickly dawned on those at the Ravens that getting the 6ft 4in striker to 'fit in' would be more than just a technical football question - it would potentially need a tailor.
Such is Perry's physical presence that the Southern League Central Premier Division club didn't have a shirt big enough for the 32-year-old to wear against Banbury United on Saturday.
Not even their kit suppliers could help out at such short notice, with a special order needed to have one sent from Italy.
Long-time supporter Damien Trown, however, came to the rescue with a special delivery, answering the club's social media call for a "well-built" supporter to donate their shirt.
Coalville Town chairman Glyn Rennocks said the joy of finally getting "big lad" Perry had quickly posed unforeseen issues.
"He's a good size for a good centre forward," Rennocks told BBC Radio Leicester.
"The kit that we have is not that big, even if you have a large shirt they tend to come quite small. We had a look at them and thought - this isn't going to work.
"We just put a little message out to our supporters as we knew there might be one or two of the larger ones out there somewhere. They came up with it, badged up and everything."
While Rennocks isn't sure if the shirt already has a name on the back, he is grateful that the generous fan came up with the right-sized solution.
"He follows us all over the place, home and away, as do the group he knocks about with," added Rennocks.
"It's just typical of their actions that they have done it, they are a great bunch.
"We have a great relationship with our fans - we are truly a community club - but this is really very good of him. It's great that in this case it was Damo, but if he didn't, I know someone else would have done it."