Ben Purkiss: PFA disappointed 'dispute' has become public knowledge
Last updated on .From the section Football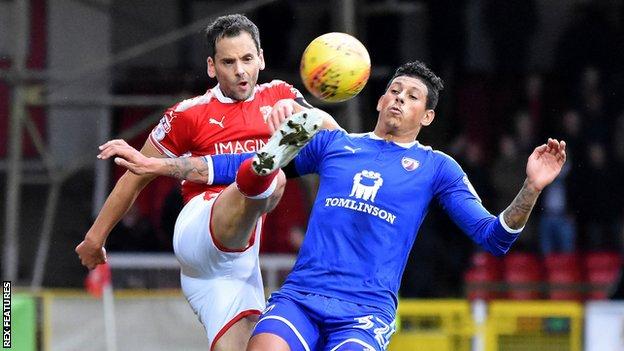 The Professional Footballers' Association says it is "disappointing" that a "dispute" about the eligibility of Ben Purkiss as chairman has become public knowledge.
It follows an interview with BBC Sport in which Purkiss responded to a report alleging PFA chief executive Gordon Taylor had sought to oust him because he is not a contracted player.
He also said the PFA had to "evolve".
The PFA said Purkiss had been "invited to engage in the agreed process".
Purkiss is currently with League One side Walsall as a non-contract player. He argues such players have always been PFA members and intends to remain in his position.
The players' union said in a statement: "It is disappointing to see a confidential matter has found its way to the media.
"We instructed two QCs who provided advice that his status meant he was ineligible to be a member of the PFA and therefore ineligible to remain as the chairman.
"Those opinions were provided to Mr Purkiss but he was not prepared to accept the advice. He was therefore fully aware of the 'explanation as to why' and should not be suggesting otherwise.
"Given that a dispute has arisen, this cannot be resolved by the chief executive, Gordon Taylor, or by the management committee.
"Mr Purkiss has been invited to engage in the agreed process in place to deal with disputes and it is hoped that we can now resolve this matter in accordance with that process."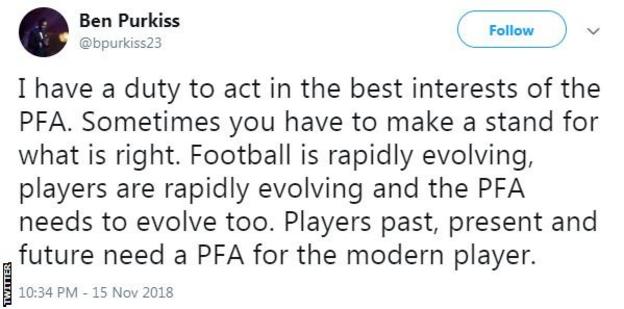 Purkiss, a former Port Vale, Swindon and York City full-back, told BBC Sport an independent review was needed to modernise the PFA.
Better communication with players and mental health are two key areas on his agenda.
He said: "The PFA needs to evolve otherwise you get left behind.
"We have discussed the need for evolution and the rapid pace the world is changing, and the pace at which football and footballers are changing.
"If you do not continue on that path, eventually other organisations will fill your space. From there, where do you go? You kind of become obsolete."
He added that he has the full support of the union's management committee over his proposals.
"We had a meeting a few weeks ago. We had a full and frank discussion," he said.
"I left the room, enabled them to talk about the direction they wanted to take the organisation, came back into the room and received unanimous approval from the management committee."