Lionel Messi: How Barcelona's 'alien' keeps changing, 15 years after debut
Last updated on .From the section European Football188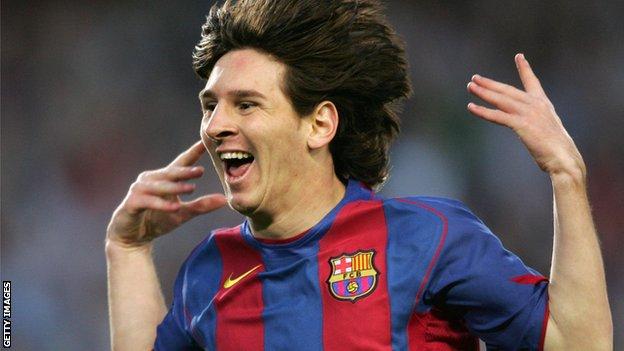 Fifteen years after making his Barcelona debut in a friendly, Lionel Messi is still going strong. So strong there is a theory he is an alien.
Almost half a lifetime ago, Messi played against Porto at the Nou Camp - and has gone on to break countless records.
The record goalscorer for Barcelona (566), La Liga (392) and Argentina (65), the five-time Ballon d'Or winner has won 33 trophies with Barca.
Now 31, and showing no signs of slowing down, Messi has scored 14 goals in 13 games in all competitions this season - and is the joint top scorer in La Liga with a goal every 87 minutes - despite being out for three weeks with a broken arm.
But how does he do it?
One potential explanation was raised on Thursday's BBC Radio 5 live Football Daily podcast by Spanish football writers Andy West and Guillem Balague - who have both written books on the Argentine.
"There is a theory that he is an alien. How else could he do it?" said West. "Barcelona defender Gerard Pique is a particular proponent of that theory."
Balague added: "On the alien theory, I wrote in my book that there are 11 things you need to be Messi and that is why he must be an alien. Only an alien can have that.
"The right family and football context - his family almost emigrated to Australia. Had he been born there would he be Messi? I don't think so. In Argentina, yes. You have to have the motivation, the ambition, the regularity of effort, commitment, sacrifice, confidence, leadership, emotional intelligence, the genes and you have to have luck.
"Put all that together and you get Messi. Why have there not been any more Messis? Because it is impossible to have all that together.
"He was a rock falling down a mountain, there was no stopping him and he would have destroyed whatever came in his way."
How did the best get better?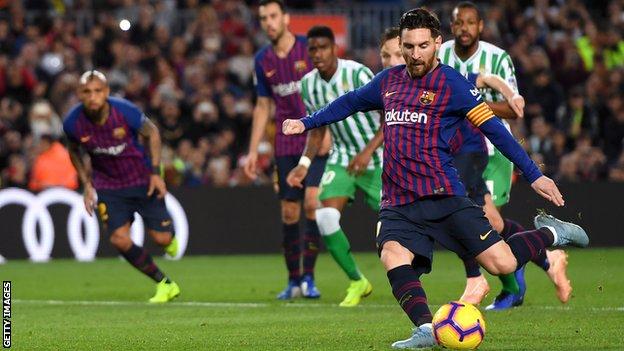 Messi, who has set up 219 goals in 650 appearances for Barcelona, has played under six managers at the Nou Camp and is now the club's captain after the departure of Andres Iniesta.
West said: "He has been open to adapting to new situations, new coaches, new team-mates, new playing positions and I think that is so important.
"If even the greatest player in history has to be open to changing the rest of us should be. He had to abandon the false nine role in which he scored 91 goals in a year [2012] because it stopped working.
"Consistently, every two or three years, he has taken on a new role, new team-mates. He hasn't chosen these. It hasn't been part of a big masterplan, he has had to react to circumstances.
"In the early days he was a dribbler - he could do other things as well, and I'm simplifying a bit - whose instinct was to get the ball and run as quickly as possible towards goal.
"The Spanish word 'pauza', where you just stop and take in the game - he didn't have that, he was a bit head-down. But you can see now how, over the years, he has developed other aspects to his game. He can still dribble but he has a much greater passing ability.
"He doesn't maybe still have the capacity to run past players from the halfway line, like in his famous goal against Getafe in 2007, but he can pass through teams. He is a more complete player and I think this is something we will see more of in the coming years."
How can you give Messi instructions?
Such is the influence of Messi at the Nou Camp, even manager Ernesto Valverde sometimes accepts his captain knows better.
Balague said: "Right now, Messi is the solution man. He understands the game in a way many don't.
"One thing that Valverde told me is that Messi delivers commentary on the bench. There was a game against Sevilla where he came on for the last half-hour and changed the game completely.
"Valverde started to point things out to Messi - 'You know Leo, you should... you... oh, do whatever you want.'
"He looked at him and thought 'what am I going to explain to this guy?'"
What does the future hold for Messi?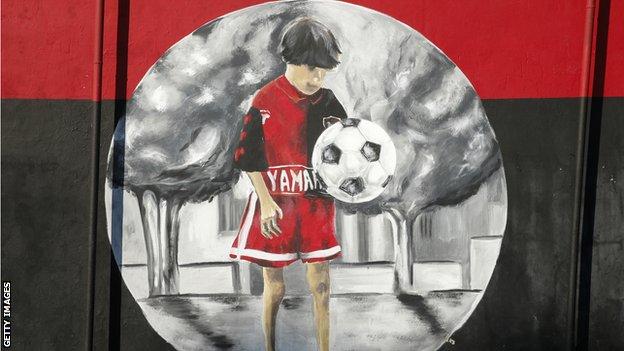 Messi is on a break from Argentina duty, having failed to win any senior trophies with his country in 128 caps, losing four finals. He is contracted until 2021 to Barcelona, and says boyhood club Newell's Old Boys are the only other team he could see himself playing for.
West said: "Messi's story tells us that it would be foolish to try to predict what he will do in the future.
"The changes that have happened have been forced on him. We don't know how this Barcelona team is going to evolve. If Ousmane Dembele is going to become an important player then it will force Messi to change the way he plays."
But it could all have been so different...
Imagine Lionel Messi leading Como to victory against Barcelona in the Champions League final.
It sounds ridiculous but, according to Italian football journalist James Horncastle, things could have been very different for Messi.
"He found the right club, environment and education because that can so often stunt a player's development," he said. "You always have to stimulate players' interest in the game.
"Fabio Capello tells a story when Juventus went to play Barcelona, he saw Messi and said: 'I want to take that player, I want him on loan'. Ultimately, he was frustrated.
"The president of Genoa claimed he had Messi on trial when he was at [now Italian fourth division side] Como and if Como signed him, the club would be champions of Europe and the world.
"It would have been interesting to see how he would have done under the tutelage of Capello and whether it would have worked out."
Messi is unlikely to play in the Premier League now but Balague added: "I asked Messi about people in England saying: 'You would not do so well on a cold, wet night in Stoke.'
"He said: 'They should have seen the pitches I played on in Rosario.'"