Nile Ranger: Oxford United boss Karl Robinson yet to decide on striker signing
Last updated on .From the section Oxford Utd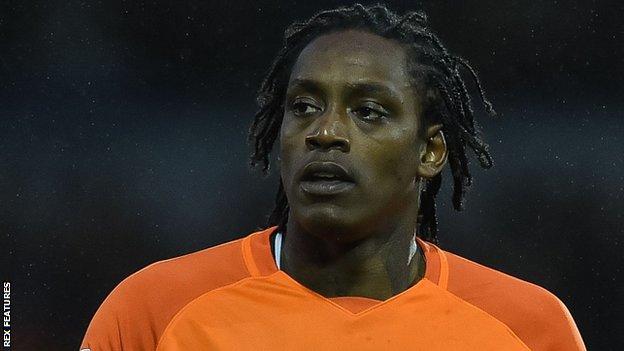 Oxford United head coach Karl Robinson says the club's league position will not dictate whether he decides to offer striker Nile Ranger a contract.
Ranger, imprisoned for eight months for online banking fraud in May 2017, has been training with the U's.
The 27-year-old last played for Southend United in January before the club terminated his contract.
"He still has a lot to prove to me," Robinson said. "It's a decision I have to make with the club in mind."
Oxford are currently 21st in League One, having won only three of their 17 games, scoring 20 goals in the process.
Former Newcastle United striker Ranger has a history of bad behaviour and poor timekeeping and had to miss an evening game for Southend due to a curfew on his electronic tag.
But Robinson says he has been "impeccable" in that regard during his time at Oxford so far.
"He's certainly performed well in training and in games whilst we've had him here," he told BBC Radio Oxford. "But, hopefully fans will appreciate it's a decision that's not just going to be a whim because it's desperate.
"It has to be right for the football club first and foremost. Hopefully, Nile falls into the morals and personal standards that I believe this club should uphold.
"But at the same time, I don't like to prejudge people without getting to know them, regardless of the past. You serve your sentence and you should be judged on who you are today."