England 3-0 USA: 'Wayne Rooney bids farewell, Jadon Sancho sparks squeals'

By Phil McNulty
Chief football writer
Last updated on .From the section England108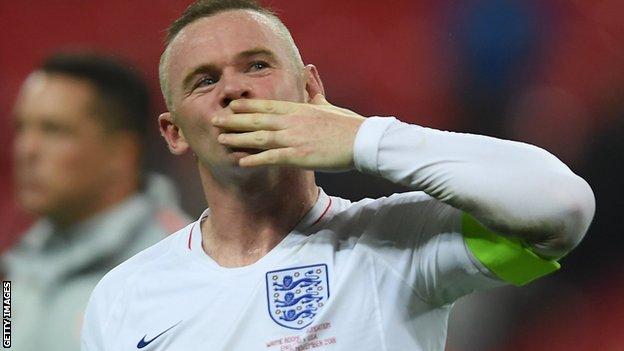 Wayne Rooney felt the full glow of Wembley's warmth as he made his 120th and final England appearance in a 3-0 friendly win against the United States, a match which served as a tribute to the country's all-time record goalscorer and a fund-raiser for his charitable foundation.
And, while Rooney could not write the fairytale finish with a goal, he saw enough in his brief England reunion to leave with a ringing endorsement of manager Gareth Southgate and the squad he leaves behind.
"It's my opinion that England are in very safe hands from what I've seen this week," said Rooney. "The way they are being coached is brilliant. It's a great group of young players who have a bright future.
"They will go close to being the next team to bring a trophy back for England."
And, as Southgate's England move forward into the next phase of development after reaching last summer's World Cup semi-final, more new faces were given their chance in Thursday's win.
The Americans' impotency in attack meant the focus fell on debutant Callum Wilson, as well as Borussia Dortmund teenager Jadon Sancho, making his first start.
There are vacancies in England's squad for attacking players, following Jamie Vardy's decision to make himself unavailable for selection and after Danny Welbeck suffered a serious ankle injury.
Bournemouth's Wilson enjoyed a goalscoring first appearance, the latest chapter in a story of spirit and persistence as well as quality after battling back from two serious knee injuries to win a deserved call-up. Those qualities were on show at Wembley.
The 26-year-old Coventry-born forward had endured a night of frustration despite all his hard work before his big moment came with 13 minutes left, perhaps even wondering whether his England debut might become a tale of what might have been.
He swept Jesse Lingard's delivery across the face of goal early on and saw penalty appeals rejected when he attempt to go around Brad Guzan seconds later.
Wilson saw another opportunity escape when he could not turn in Trent Alexander-Arnold's cross before his luck turned as he diverted Fabian Delph's cross in at the near post.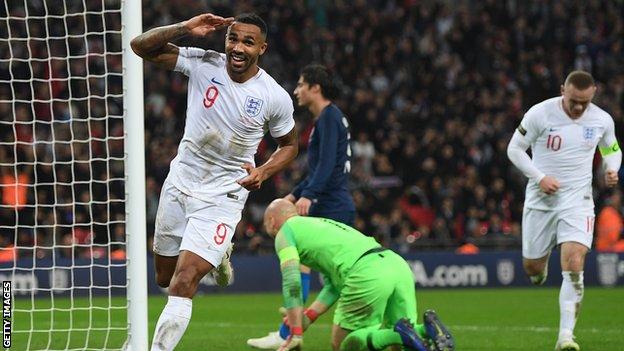 His joy was clear and deserved. It was also shared by his team-mates on the pitch - with Rooney first on the scene to celebrate - as well as Southgate and the rest of the squad when he was substituted seconds later.
It was not a defining debut that wrote Wilson's name indelibly into Southgate's plans but he demonstrated his physicality and goal threat. He made his impact, gave his manager food for thought and that is no mean feat on a first start.
Wilson will need to produce more against better opponents to push his way further into contention but one game, one goal - the first by a Bournemouth player for England - is a decent start. Does he have the quality to be an England regular? More evidence is required.
Sancho, at just 18, seems assured of a lengthy England career and has already shown his determination and ambition by leaving Manchester City for Borussia Dortmund in search of more game time.
He looked at home and full of confidence in the international environment, as he did in an impressive cameo behind closed doors in Croatia - and why not as someone who has flourished domestically and in the Champions League this season?
Sancho brought squeals of delight from the younger element in a decent Wembley crowd of 68,155 with some early flamboyant moments but there was substance to go with the style as he played his full part in a very good first 45 minutes from England.
The best moment came when he timed and weighted his pass to perfection for another talented youngster, Alexander-Arnold, to accept the invitation with a fine angled finish for England's second.
This moment provided a deeper look into what Sancho has to offer. It was maturity and game intelligence in a key moment. Impressive in one so young.
Sancho was not as prominent after the break but this was perhaps understandable as the 'Rooney Show' started after an hour and the atmosphere became somewhat artificial.
There was enough, here, however, to state with some conviction and little risk that this is a player who will play a very big part in England's future under Southgate.
Sancho shows all the signs of being a top-class addition to England's attacking resources alongside Raheem Sterling, Marcus Rashford and the spearhead Harry Kane.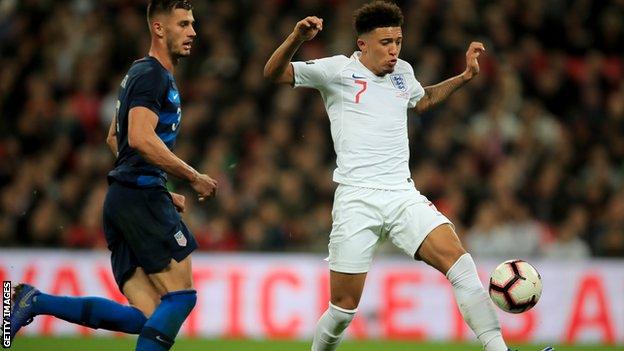 This all must be judged in the context of the very poor standard of the US opposition - Croatia will present a serious test back at Wembley on Sunday and it is unlikely either Sancho or Wilson will start. This is now a winner-takes-all occasion after Croatia's win against Spain in Zagreb.
If England win they qualify for next June's Uefa Nations League semi-finals, while defeat will relegate them from Group A4 and into the second tier.
Rooney's departure cuts another link with England's past and a glance around Southgate's squad shows how exciting the emergence of the likes of Sancho - with Manchester City's Phil Foden and Mason Mount, on loan at Derby County from Chelsea also on the radar - could be.
Southgate also has Alexander-Arnold, Ben Chilwell, Joe Gomez, Luke Shaw, Ruben Loftus-Cheek, Harry Winks - another standout at Wembley - in his new young pack.
And while there was an element of a benefit match about the closing stages of this friendly international, Sancho used the occasion to his full advantage to delight his manager and flag up another signpost to a bright future.