David McNamara: Referees plan to use 'rock, paper, scissors' in support of banned official
Last updated on .From the section Women's Football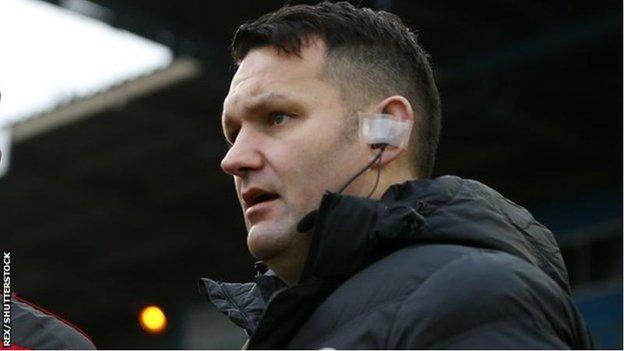 Referees at some grassroots football matches are planning to use the rock, paper, scissors game at kick-off to show support for a suspended official.
They are angry at the decision to ban David McNamara after he used the same method in place of a coin toss.
McNamara accidentally left his coin in the dressing room before the televised WSL match between Manchester City and Reading on 26 October.
A coin toss to decide kick-offs is a requirement under the laws of the game.
One referee told BBC Sport why he would use rock, paper, scissors at the start of a junior match this weekend.
Ryan Hampson, 19, said: "I'm doing rock, paper, scissors at my game on Saturday to stand up and support David, a fellow referee from Lancashire.
"I just find his treatment absurd, well scandalous if I'm honest.
"Both teams are happy to do it and there are lots of other referees who feel strongly."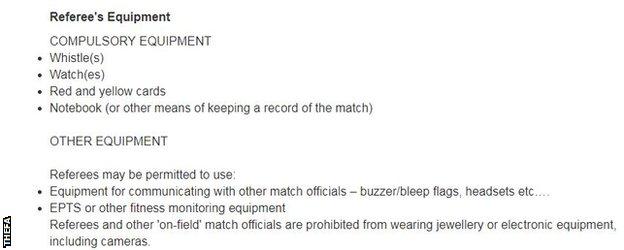 The BBC is aware of several others who, in protest at the Football Association's suspension of McNamara, plan to use RPS - as the rock, paper, scissors game is now being described among the referee community.
It is unclear how many officials at amateur matches will follow suit, with estimates ranging from dozens to hundreds.
Another referee pointed to the challenges they face and referred to Sunday's incident where Daniel Sweeney suffered a broken jaw when he was attacked following an amateur match in the Republic of Ireland.
"All current research shows a decline in the number of refs - I suspect because of the abuse and assaults they can suffer," he said.
"Yet here the FA is punishing a perfectly able and qualified ref for the most menial of things. Why would you want to take up the whistle?"
Former referees' boss Keith Hackett has questioned the suspension, and has written a letter of complaint to FA chief executive Martin Glenn.
"It's an injustice. I think he has been treated very harshly," said Hackett, who was a referee for 40 years and led the Professional Game Match Officials Limited (PGMOL) for six years until 2010.
"He's under time pressure and gone out to the middle and forgotten the coin. I know refs in a similar situation who put a whistle in one hand behind their back and said: 'Which one?'"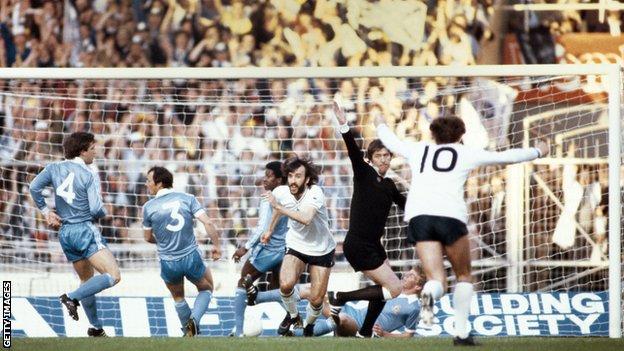 McNamara accepted a charge of "not acting in the best interests of the game" but is understood to be surprised by the subsequent sanction.
The laws of the game state that a coin toss must take place at kick-off to decide in which direction ball will be first kicked.
Yet unlike a whistle, watch and cards, a coin is not listed as a compulsory item of the match official's equipment.
FA women's refereeing manager Joanna Stimpson told The Times earlier this week that McNamara's lack of a coin was "very unprofessional".
She called it a "moment of madness" - a comment Hackett has described as unacceptable.
He said the official was under "time pressure" and that rather than a suspension "should have received a phone call and been given some operational advice".
The FA declined to comment further than its statement issued earlier in the week, which said that McNamara had been suspended for 21 days, and would return to duty on 17 December.
Privately it is thought the FA views the McNamara case as "unique" but that it has a duty to treat WSL matches in a similar way to the Premier League and he failed to carry out his duties.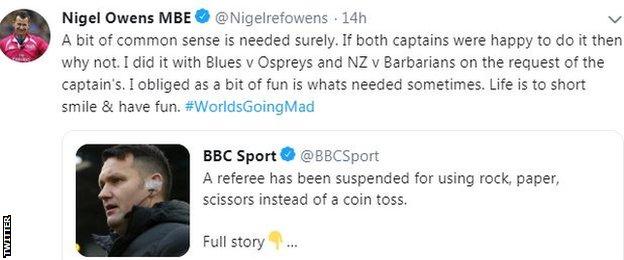 The potential need to deal with similar actions by other referees is considered "hypothetical" at this stage.
Ref Support UK, a charity which offers advice and information to the estimated 28,000 referees in the country, said those around McNamara's level might only be paid around £45 a match, plus expenses.
"Most Sunday league referees probably get £20," said chief executive Martin Cassidy.
His organisation has advised McNamara to appeal against the length of his suspension and has called for the equipment rule to be altered so that coins are included.
"This is a punishment that does not fit the crime," he added.
Asked about referees planning to use rock, paper, scissors this weekend, he said: "We cannot condone any action that could lead to a referee being charged by their county FA.
"However, we know there is a strength of feeling and a willingness from people up and down the country to show solidarity."