Women's FA Cup first-round tie to be replayed as pitch not wide or long enough
Last updated on .From the section Women's Football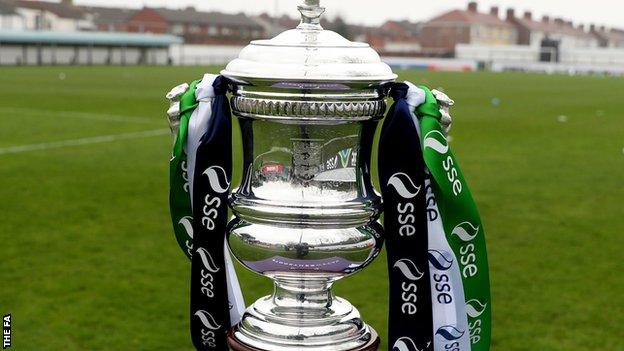 A Women's FA Cup first-round tie between city rivals must be replayed because the pitch was too small.
Cambridge City won Sunday's game 2-1, but visitors Cambridge United have had a complaint about the dimensions upheld by the FA Women's Football Board (WFB).
Pitches in the Women's FA Cup must be a minimum of 64 metres wide and 100 metres in length.
"The club is obviously disappointed and surprised with this decision," said a Cambridge City statement.
The tie will be replayed on Sunday, 25 November (13:00 BST) at Mildenhall Town FC, with United now given home advantage.
A statement from United - who play a league higher - said: "The match officials and home club were alerted of our concerns regarding the size of the pitch well in advance of kick-off. Unfortunately these concerns were not acted upon.
"After being independently measured following the game, the Trinity Fields playing surface was found to be both too short and too narrow.
"The pitch measured 94 metres long and 58.7 metres wide. It was almost 14% below the minimum requirement and in our opinion, this is a major irregularity."
An FA spokesperson said: "Following due consideration of correspondence from both clubs, and the match referee, the WFB upheld the protest and has ordered for the match to be replayed."